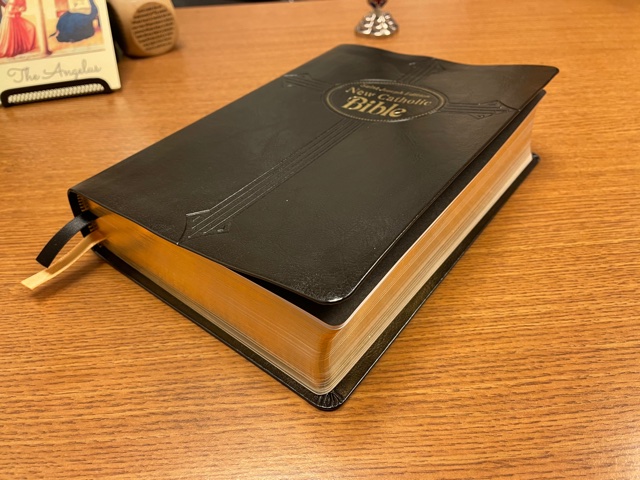 I just received my New Catholic Bible large print edition with a black Dura-Lux cover. I'll share my first impressions without going into details about the translation, as that's already been thoroughly covered in Marc's blog.
I purchased the giant print edition back when it first came out, excited by the prospect of a full edition of the NCB since I had enjoyed the New Testament and Psalm translations for some years. Though I still favor the RSV-CE and ESV-CE formal translations, the NCB does a decent job balancing readability and literalness. I purchased this one primarily for the notes, which I prefer to the NABRE's.
The giant print edition is bulky, and the font is annoyingly large, even for my middle-aged eyes. I don't like that the notes are at the end of each book. Endnotes are a pet peeve of mine; I find it distracting to keep going back and forth.
Despite my appreciation for the NCB, I only occasionally picked it up for reference. Then, in December I saw the new large print edition mentioned on Marc's blog and ordered it. I'm quite pleased with it. Like the giant print edition, it has colorful supplemental aids (such as a chronology of the last week of Jesus' life). These will be helpful for reading the Bible with my kiddos. And it's great to have the notes readily accessible at the bottom of each page.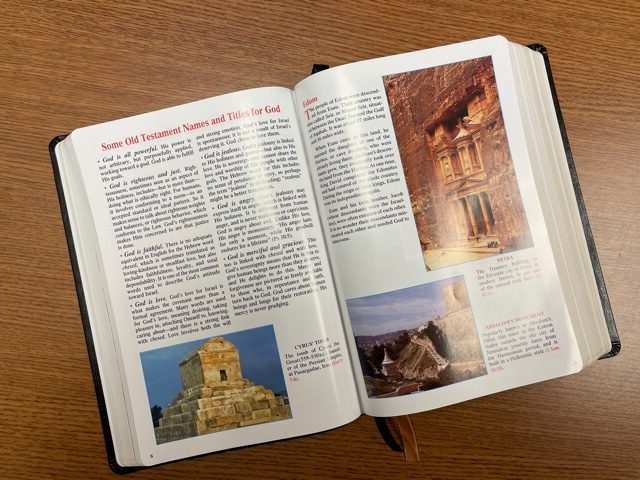 The font typically used in Catholic Book Corporation's bibles is not elegant by any measure, but it's easy on my eyes. It's bold and clean. I prefer bibles not to have red lettering for the words of the Lord (I find it distracting); this one has that feature, but I can deal with it. The bible itself is still somewhat large, but no more so than the New Oxford Annotated Bible editions. Thankfully it's not a brick, as the giant print edition is.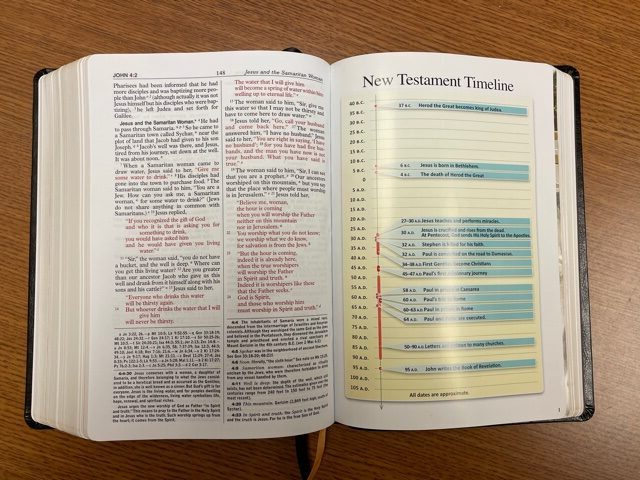 I would encourage CBC to make a big deal of the fact that their bibles are still made with sewn signature binding. With rare exception, I refuse to buy a bible that has glued binding— it's usually a make or break deal for me— so I'm grateful that CBC continues their tradition of quality bible bindings. I think they would be wise to exploit that feature. I didn't see it listed on the website. If they added a good genuine— or better yet premium— leather cover, they'd be amazing.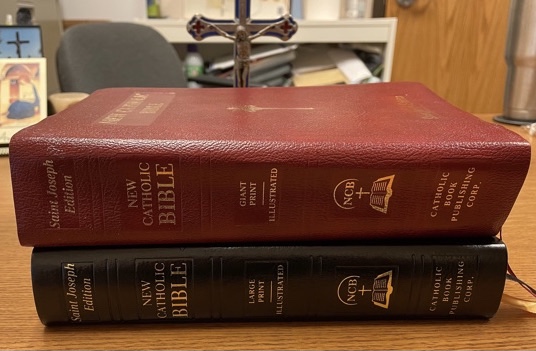 In addition to my "day job" in catechetical ministry, I'm an illustrator, and one of my favorite things about this bible is the wonderful black and white pen and ink illustrations that accompany several of the biblical book introductions. They add a lot to this edition. Unfortunately, I couldn't find information on the illustrator, but the drawings make this bible unique and are a welcome contrast to some of the dated, cheesy color illustrations that continue to embellish CBC bibles (including in supplemental pages of this edition).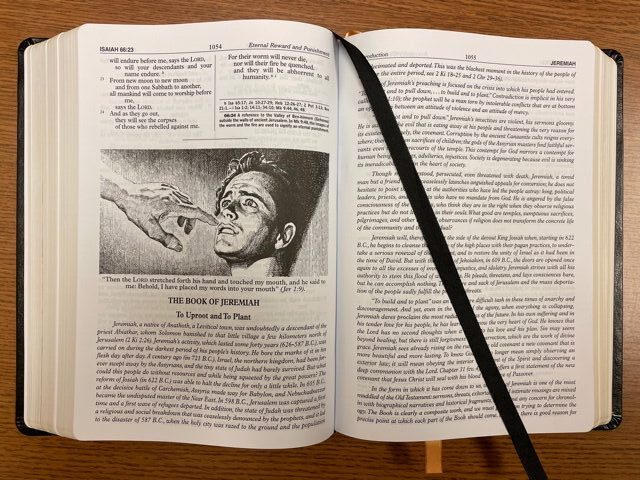 The Dura-Lux cover is nice, but this bible would be a good candidate for rebinding in premium leather by Leonard's. It would certainly be worth it, given this bible's overall quality. It's a keeper. I'll be using it a lot.