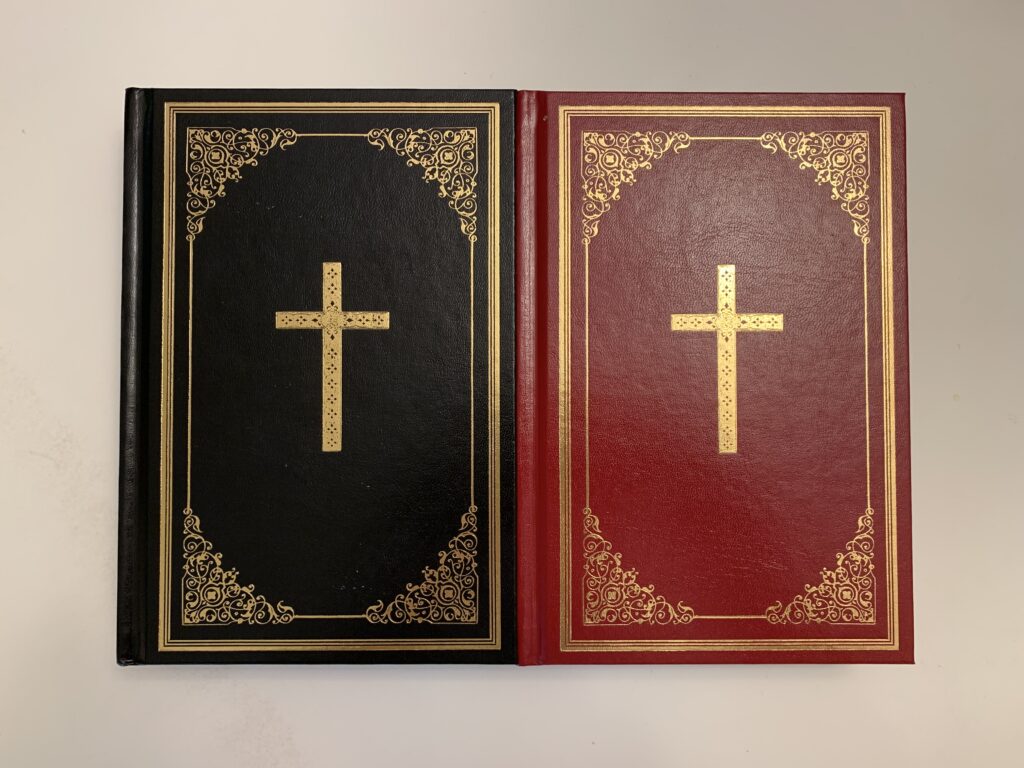 Even 400 plus years after its first publication, the Douay-Rheims translation still remains an option for Catholics today. Although never as popular or having the same impact as the King James Version in the greater English-speaking world, the Douay-Rheims maintains a loyal following and has found renewed interest due to the greater allowances for the pre-Vatican II Liturgy. Last year, Preserving Christian Publications (PCP) reprinted the classic John Murphy Co. – P. J. Kenedy & Sons 1914 edition of the Douay-Rheims, which was based off the Douay text of 1899.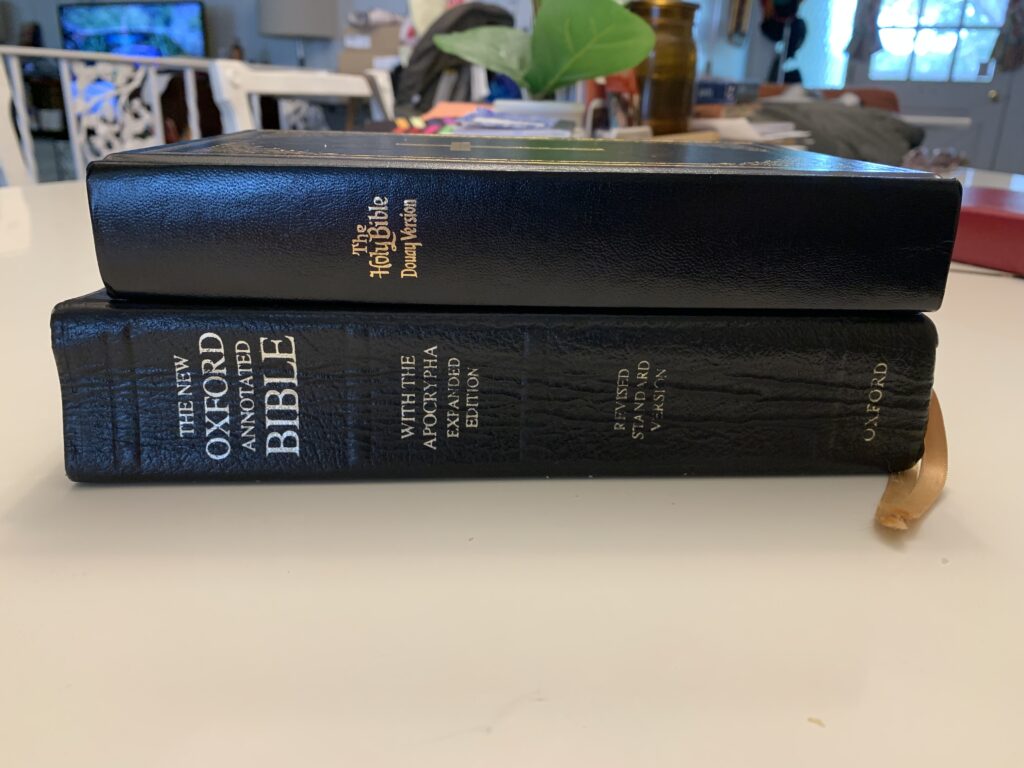 When I saw this edition online, I wondered why another reprint of the Douay-Rheims when there are at least three other publishers who are currently offering it? Reading the listing on the PCP site, I was happy to see their main reasons:
"Indeed, there are paperback editions of this Bible available, as well as hardbound editions in pocket size, standard size & large size. We do not want to belittle any of these editions insofar as the translations are the traditional Douay-Rheims text. And many of these reprinted editions are bound correctly in leather, imitation leather or cloth. They should last, for the most part, for many years. Moreover, they are also attractive. But to provide a more easily affordable Bible, we decided to publish an edition without some of the more deluxe features, making it more economical for the purchaser to obtain Bibles as inexpensive gifts for family and friends, or for personal use."
I very much appreciated that their intention is to provide a basic edition, without all the extras that are so often found in other versions currently available. A hardy, well-made Douay-Rheims would be welcomed by a number of people I know, including myself. So, I decided to reach out to see if they would offer a review copy of their Douay-Rheims. They were more than happy to send me two copies, one in red and the other in black, for an honest review.
One of the first things that struck me was the size. It reminded me of the now out-of-print blue hardcover RSV-CE from Ignatius Press. It is definitely a portable and sturdy hardback, which should last a long time. It is sewn, lays out flat on table or in one's lap, and had beautiful gold cross and border on the cover. The cover is made of imitation leather (Skivertex) over boards. The dimensions are 8 1/4″ x 5 5/8″ x 1 3/8″. One of the nice additions to this hardcover bible are the durable end sheets made of Permalex. It gives it a nice feel when opening the bible, which should also provide a bit more stability and longevity to the book.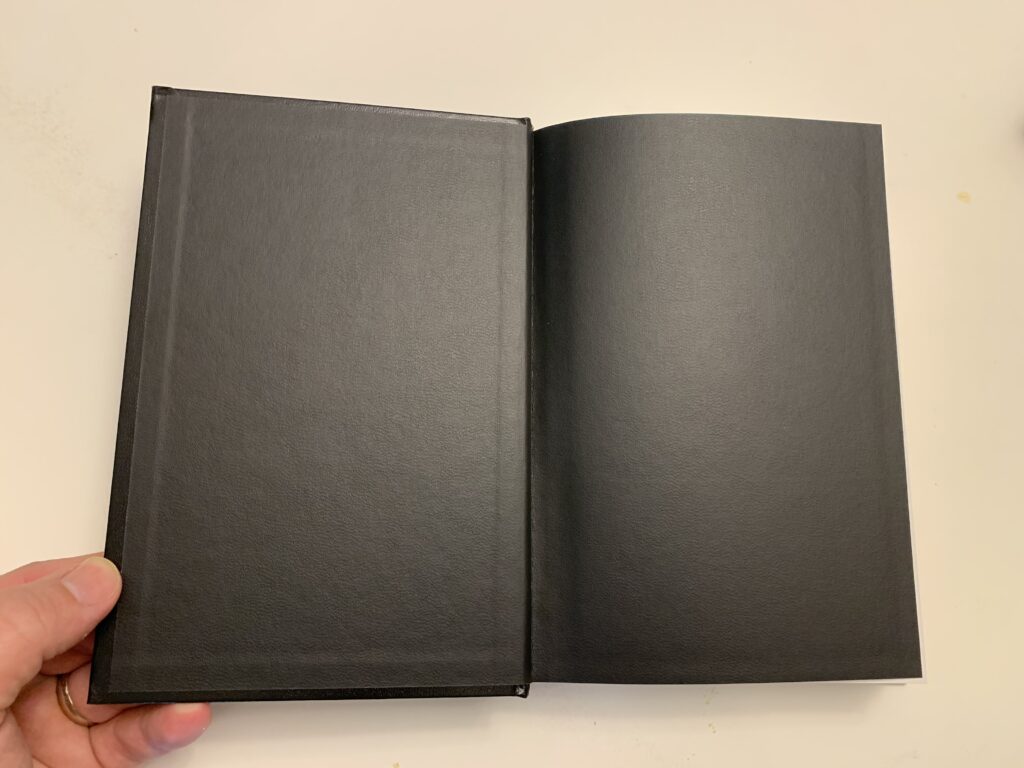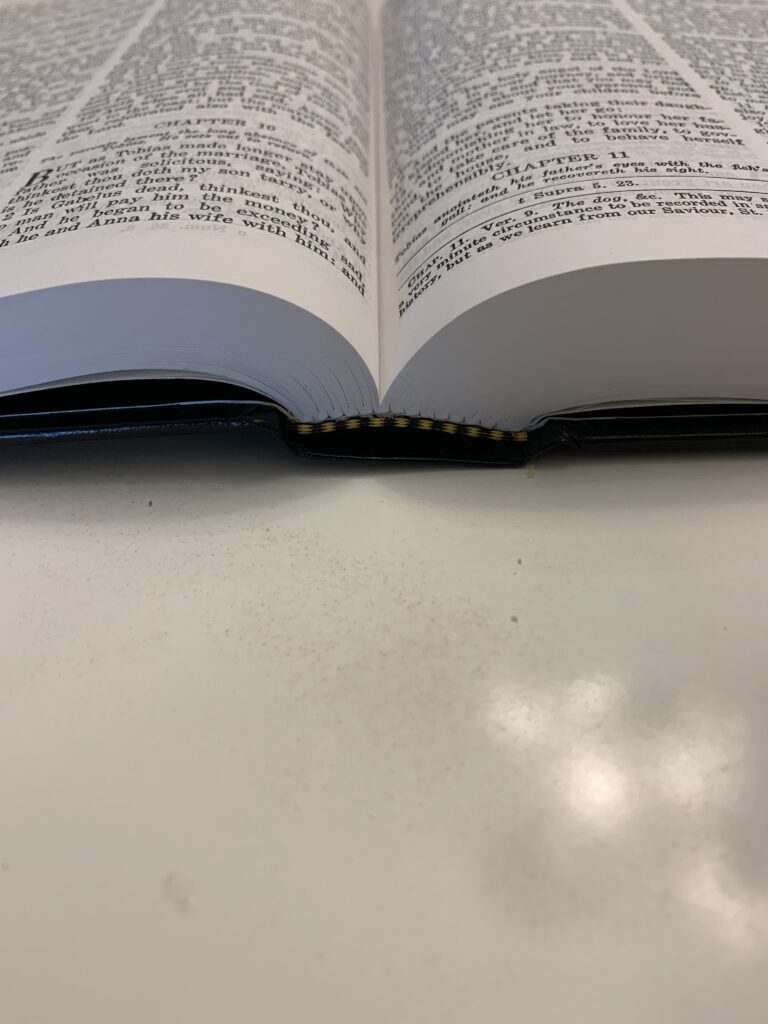 When you open this bible, you will find the exact same look as the 1914 edition. PCP explains: "We scanned the original edition and cleaned up the pages as needed." Having not seen an actual page sample before the bibles arrived at my home, I was concerned that the scanned pages would be poorly scanned, as seen in version of the Douay-Rheims printed thirty years ago. But, to my surprise and joy, the pages are very clear and bold. The paper is a thin, true white bible paper. While the lines are not matched, the combination of the white bible paper and the dark, bold printing makes it for an easy bible to read from. Ghosting hasn't been too big an issue for me, as I have read from it both early in the morning and late at night. All of chapter headings, 1899 notes and cross-references, and book introductions are there. The only other additions to this bible are historical and chronological tables of the Old and New Testaments, a table of references for apologetics purposes, and a list of Mass readings in the older Roman Calendar. Maps would have been a nice edition, as well as a ribbon marker, but the point was to provide an affordable edition, so those things were left out in order to keep the costs down. (One could easily add their own ribbons.)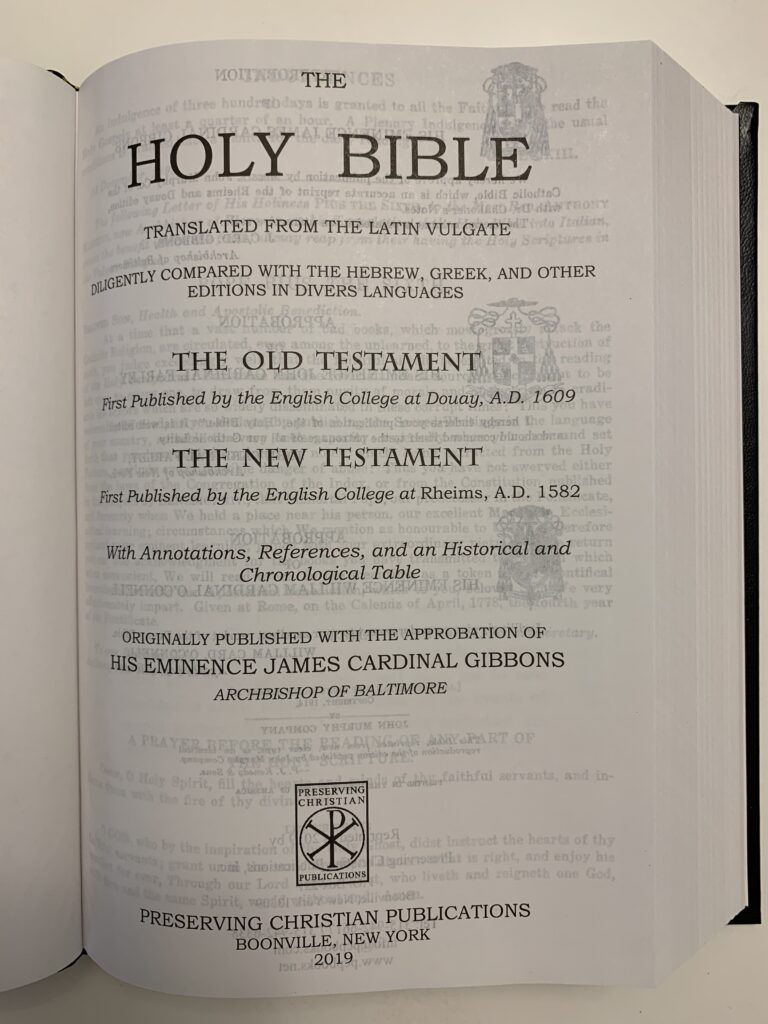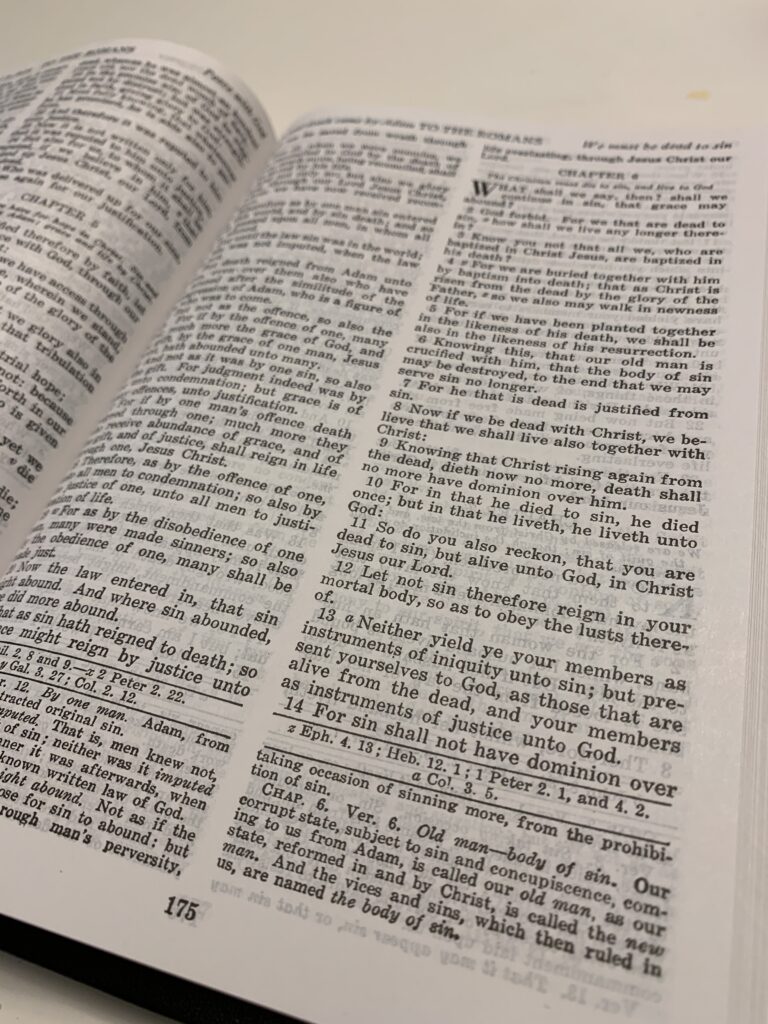 I think this editions does most things very well. It is a sewn bible that succeeds in being portable, durable, and easy to read from. My only real issue is that the sewn binding is very tight, which makes for some issues with the gutter. The insides of each page noticeably curves into the spine. I would imagine for most people this won't be a huge issue, but for some it may be.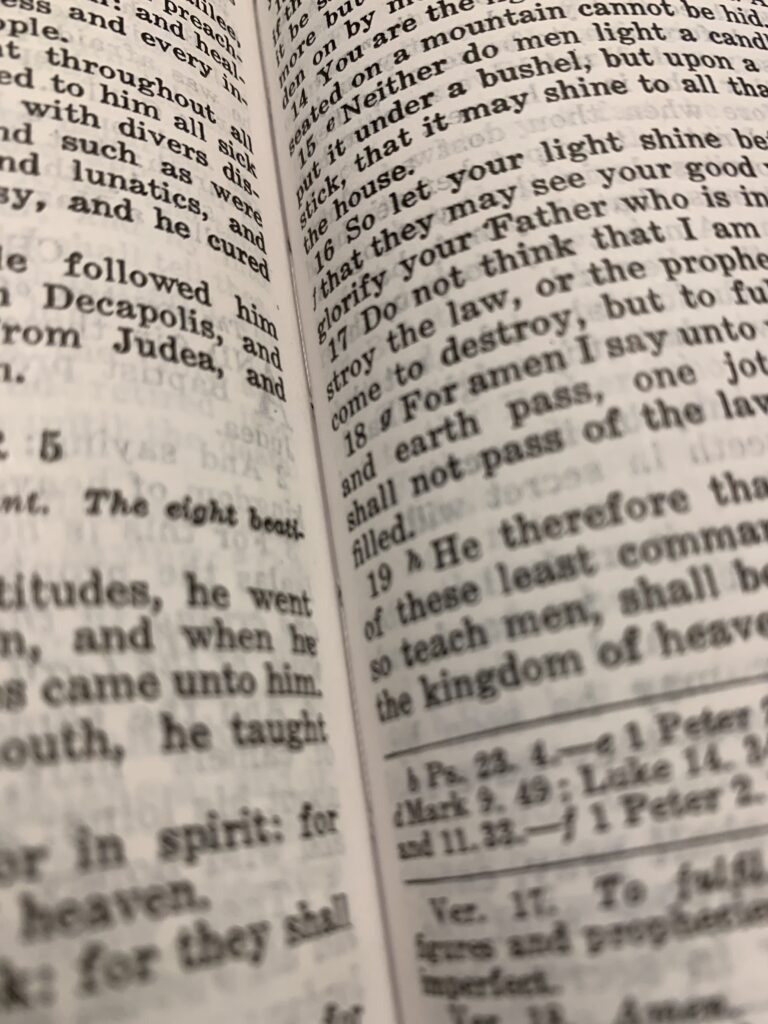 Again, this is a very nice edition that should meet the needs of people who want a Douay-Rheims that is portable but not compact, but also coming in a sewn binding. The cost of this edition is $32.00 and it comes in both a red and black edition. For more information, you can view the Preserving Christian Publications listing for this bible here.
PCP graciously sent me these two volumes for the purpose of an honest review. Thank you to Brian at PCP for helping to facilitate this.