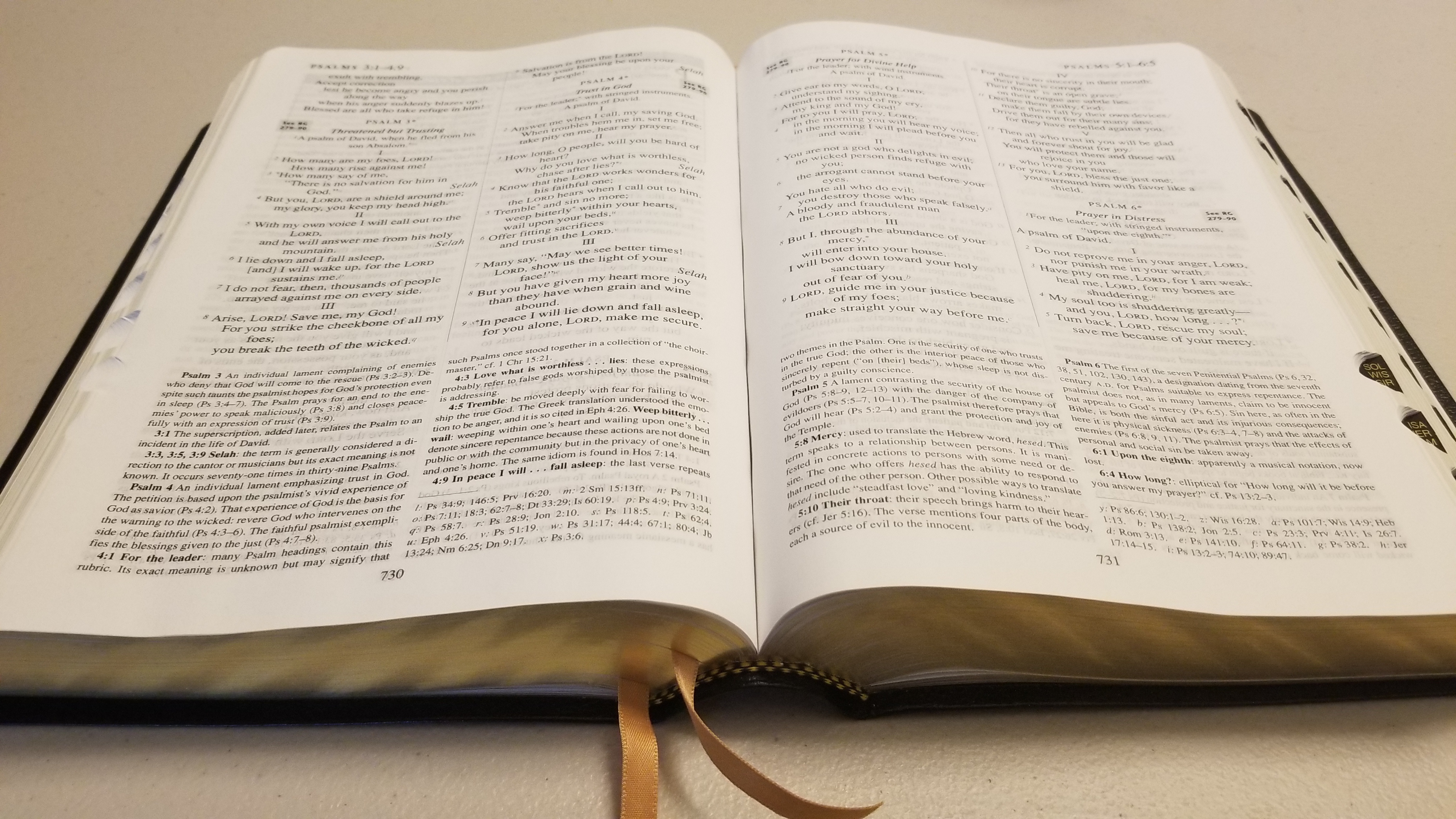 Since the New American Bible Revised Edition (NABRE) was released in 2011, the Catholic Bibles Blog has hosted multiple discussions of its excellence as a translation. The one that stands out most in my memory is Carl Hernz's guest post in 2015 entitled "The NABRE: A Masterpiece in the Making?". Carl masterfully elaborated the NABRE's virtues in that piece. As someone who is familiar with the biblical languages, Carl also provides a valuable perspective of the NABRE's accuracy and faithfulness to the original texts, while retaining good readability (and even beauty) in English.
Throughout the many discussions of the NABRE, though, I find relatively little mention of the NABRE Psalms, which I find particularly beautiful. In fact, I'd classify them among my favorite translations of the Psalms in existence. Their lyrical rhythm is unmatched by any other translation I've seen, aside from the Grail Psalms.
I suspect the main reason for this lack of attention is that the NABRE Psalms have been eclipsed by the Revised Grail Psalms, which were approved by the Holy See in 2010 — just one year before the NABRE was released. Since the original Grail Psalms have long been used in the English Liturgy of the Hours, and since the 2001 directive Liturgiam Authenticam mandated a single translation for liturgical use, the Revised Grail Psalms were an obvious choice. Many Catholics long for a future when they can have a bible that matches the lectionary at Mass, and with the approval of the Revised Grail Psalms, the NABRE psalms seem like an afterthought.
Futhermore, the Psalms in the New American Bible have a complicated history. The original translation, published in 1970, was apparently used in the NAB English Lectionary until 1998. In 1991, the United States Conference of Catholic Bishops (USCCB) approved a revision of the psalms, which used gender inclusive language. This version was rejected for liturgical use in 1994 by the Congregation for Divine Worship in Rome, due to inclusive language in reference to God and inclusive language in passages that have been traditionally understood in reference to Jesus. This debacle undoubtedly left a bad taste in the mouths of many Catholics. Since the Revised Grail Psalms were specifically translated to be in line with Liturgiam Authenticam, they come with a respectable repuation.
All of these considerations threaten to overshadow a truly masterful translation of the Psalms. Even the Revised English Bible (REB), which is my favorite translation of the Bible and renders poetry in the prophets with beauty and eloquence, does not match the beauty of the NABRE psalms, in my opinion. Consider the opening verses of Psalm 17:
Hear, LORD, my plea for justice;
    pay heed to my cry;
Listen to my prayer
    from lips without guile.
From you let my vindication come;
    your eyes see what is right.
You have tested my heart.
    searched it in the night.
You have tried me by fire,
    but find no malice in me. (Psalm 17:1-3 NABRE)
The text has a rhythmic quality that is not quite matched by the REB:
LORD, hear my plea for justice, give heed to my cry;
listen to the prayer from my lips,
for they are innocent of all deceit.
Let your judgement be given in my favour;
let your eyes discern what is right.
You have tested my heart and watched me all night long;
You have assayed me and found no malice in me. (Psalm 17:1-3 REB)
Consider another example from the royal wedding song of Psalm 45:
My heart is stirred by a noble theme,
    as I sing my ode to the king.
My tongue is the pen of a nimble scribe.
You are the most handsome of men;
    fair speech has graced your lips;
    for God has blessed you forever.
Gird your sword upon your hip, mighty warrior!
    In splendor and majesty ride on triumphant!
In the cause of truth, meekness, and justice
    may your right hand show your wondrous deeds. (Psalm 45:2-5 NABRE)
Once again, the REB chooses vivid vocabulary, but it does not match the NABRE's rhythm:
My heart is astir with a noble theme;
in honour of a king I recite the song I have composed,
and my tongue runs swiftly like the pen of an expert scribe.
You surpass all others in beauty;
gracious words flow from your lips,
for you are blessed by God for ever.
gird on your sword at your side, you warrior king,
advance in your pomp and splendour,
ride on in the cause of truth and for justice.
Your right hand will perform awesome deeds (Psalm 45:1-4 REB)
The NABRE Psalms are truly a hidden gem — a masterpiece filed away and rarely mentioned. They are a great resource for anyone who wants to read or pray the Psalms.