When Ascension Press first released the Great Adventure Bible in September of 2018, I was impressed with many of its features (see my original review here). The paper quality was first-rate (truly the highest quality bible paper I've seen in a Catholic bible outside of premium bibles like the Schuyler RSV). The font was clear and easily readable with minimal ghosting, and the imitation leather cover was made with some of the best material I've seen in recent bibles. But there were two drawbacks: the binding (glued) and the price ($59.95).
The first printing of this Bible had an unmistakably glued binding. In fact, the binding was beginning to split on the original copy I purchased. Ascension gladly replaced that copy, but the replacement also had a glued binding. I documented those issues here in a brief post.
Last year, Ascension released a paperback edition of the Great Adventure Bible with a clearly sewn binding. I recently had a chance to look at one in person, and the sewn binding is easily apparent:
After receiving multiple reports from readers that the recent printings of the imitation leather edition are also sewn, I ordered a new copy a few weeks ago. I'm happy to report that the copy I received is unmistakably sewn:
This is excellent news! There was a period last year when feedback from recent purchasers was conflicting. Some readers reported a glued binding, and others reported it was sewn. I received photos from multiple readers (thank you!), but I couldn't find clear evidence of sewn signatures. A couple of weeks ago, I ran across an edition that looked similar in a Christian bookstore. It was very difficult to tell whether the binding was sewn or simply glued, but after looking very closely and checking multiple areas for signs of stitching or sewn signatures, I came to the conclusion it was also sewn. Here's a picture of that bible for reference: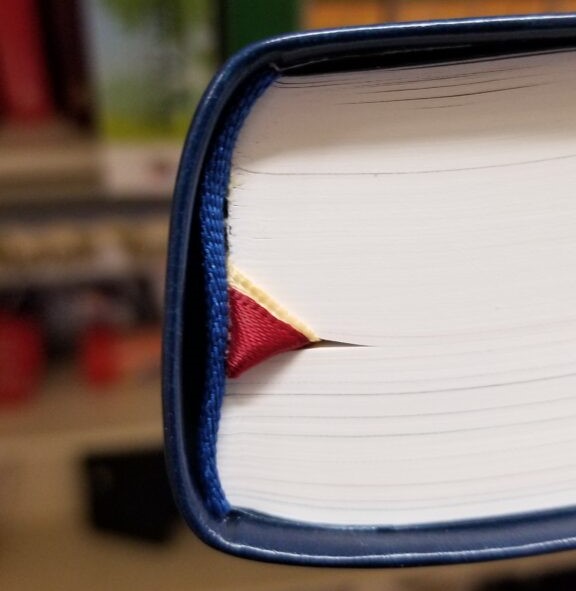 In light of this, I can confidently say that recent printings of both the paperback and imitation leather editions feature a sewn binding. When I reviewed the first edition in 2018, the binding was the only physical weakness in a bible that used high-quality materials in every other respect. It was a glaring weakness, though, because glued bindings traditionally do not hold up to long-term use as well as sewn bindings. There were Catholic bibles on the market for nearly half the price of the Great Adventure Bible that still featured a sewn binding. In light of that, I found it difficult to recommend the Great Adventure Bible to a general audience.
Now that the binding lives up to good quality standards, I can much more easily recommend the Great Adventure Bible. It's worth emphasizing that the other physical features of this bible are truly top-notch. It's difficult to find a non-premium Catholic bible with paper quality and readability anywhere close to this edition. If you're looking for a high-quality reader's bible with relatively few notes and distracting sidebars, but enough extra material to help with understanding the broad arc of salvation history, this is an easy choice.
My only reservation is the price. The imitation leather edition still sells for $59.95, and the paperback edition is $39.95. These are higher than average prices for similar binding styles from other publishers. Is the excellent paper and printing quality worth the extra price?
As a point of comparison, consider the RSV-2CE edition of the Didache Bible from Midwest Theological Forum. The hardcover edition is listed at $39.99, and it contains far more extensive notes keyed to the Catechism of the Catholic Church. For a person who wants to delve deeply into scripture and learn about how the Church interprets the Bible, the Didache Bible is probably a better choice than the Great Adventure Bible.
But for someone who is new to the Bible and wants to "get the lay of the land"—someone who doesn't want to lug around a heavy study bible with voluminous notes or who finds extensive notes distracting or annoying—someone who has never read the Bible before and wants to learn more about it—the Great Adventure Bible is an excellent choice.