Ascension Press released the Great Adventure Catholic Bible (based on Jeff Cavins' influential Great Adventure Bible Study) in September of 2018, and the first printing quickly sold out. I purchased a copy soon after the initial release, and I posted my review here. Many aspects of the bible are very nicely done. The imitation leather cover (called "alpha cowhide" on Ascension's website) is very good quality, the paper is opaque, the printing is large and readable, and the colorful information pages and bible timeline tabs offer good resources for anyone who is beginning to study the bible. Unfortunately, the bible I received featured a glued binding, rather than a sewn binding. At a price of nearly $60, this was a major disappointment, and it led me to recommend alternative bibles like the Oxford Catholic Study Bible (for serious study) or the HarperOne NRSV Standard Bible with Apocrypha (for a good quality bible with a nice type-setting).
About a month ago, reader Michael P. mentioned that he contacted Ascension Press to ask whether they plan to release this bible with a sewn binding in the future, and Ascension replied that the bible is already printed with a sewn and glued binding. I contacted Ascension for more details and included a picture of the glued binding on my bible (which arrived with a split in the binding when I first received it). Ascension promptly sent a replacement bible. As the photo below shows, the new edition also has a glued binding: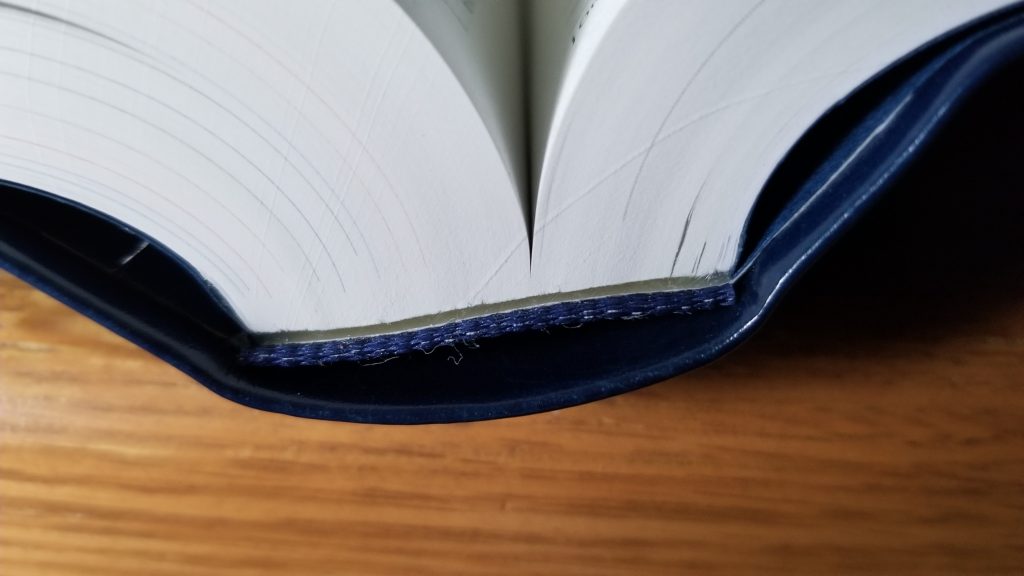 I exchanged emails with two customer service representatives before Christmas, both of whom assured me that the Great Adventure Bible is printed with a sewn and glued binding. When I provided photos of the replacement bible, one of the representatives promised to look into the matter further. I have since sent two follow-up emails over the course of a few weeks with no response. With no further information, I am forced to conclude that the Great Adventure Bible continues to be printed with a glued binding.