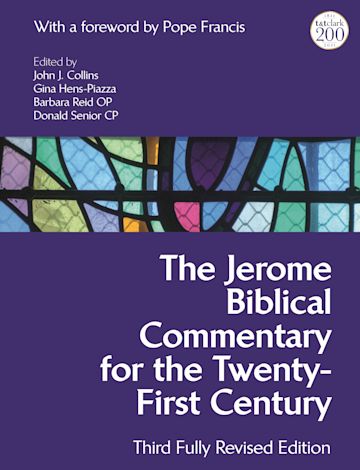 Bloomsbury Publishing will be releasing a new, fully-revised edition of the Jerome Biblical Commentary on November 18th. This will be the third revision of the commentary, which was originally published in 1968. I expect this to be a major revision under the direction of a brand-new group of general editors.
The first two editions (published in 1968 and 1990 respectively) were edited by Fr. Raymond Brown S.S., Fr. Joseph Fitzmyer S.J., and Fr. Roland Murphy O.Carm. All of these editors were among the most well-known Catholic biblical scholars of the late 20th century. The upcoming third edition features a brand new list of editors: John J. Collins, Gina Hens-Piazza, Sr. Barbara Reid O.P., and Fr. Donald Senior C.P.
The marketing material for the new third edition indicates that much of the commentary has been extensively revised:
…the entire content of the commentary has been revised to bring it up-to-date with the very latest scholarship, featuring the leading international Catholic scholars of our day

Bloomsbury Publishing, The Jerome Biblical Commentary for the Twenty-First Century
Pope Francis has also written a foreword for the new edition, and a short quote from him is featured on the product website:
The Bible is the book of the Lord's people, who, in listening to it, move from dispersion and division towards unity. The word of God unites believers and makes them one people. That is the importance and mission of biblical scholarship at the service of the community of faith, the type of scholarship exhibited in this volume of biblical commentaries.

Pope Francis
The current list price for pre-orders is $90 for a hardcover edition and $72 for an e-book. Many thanks to a reader for alerting me that this project is in the works!