There are two things left to cover about the NLT-CE: the book introductions and notes, and the physical quality of the hardcover edition printed by Tyndale.
Introductions and Notes
The introductions to each biblical book are quite short. Most of them take up about half of a page. The introduction offers a brief synopsis of the book and its primary message. Alongside the introduction, there is a bulletted list of key information about the book, including the name of the author (if known), the date it was written, the purpose and themes of the book, and an outline of its basic structure.
The introductions and bulletted information are written from a literary and traditional perspective with almost no trace of modern historical-critical scholarship. In fact, the bullet-points on authorship definitively ascribe the New Testament letters to their traditionally attributed authors with no discussion of modern scholarly debates. I've attached a photo of the introduction to 2 Peter, which says very simply, "Author: Peter the apostle" even though a majority of modern scholars would argue strongly that Peter did not write 2 Peter. The same is true for the pastoral epistles (1 and 2 Timothy and Titus), where the introduction states: "Author: Paul the apostle" with no mention of the common scholarly opinion that Paul probably did not write them.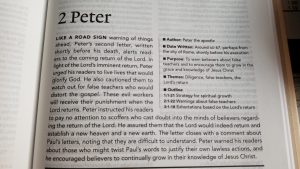 There are no explanatory footnotes throughout the text — only textual notes pointing out variant manuscripts or offering a more literal translation of the rendering in the main text. This is definitely a reader's bible with few study helps to distract from the flow of reading. There are also no independent cross-references, although the textual notes do identify a few major cross-references (usually when the biblical author quotes another passage of scripture).
Physical Characteristics 
The Bible is near the sweet spot of size and thickness for a multi-purpose Bible, in my opinion. The pages measure 9 inches by 6 inches, and the thickness is about 1.5 inches. Tyndale lists the font size as 8.83 (very exact!), and I can confirm that it appears slightly larger than the 8 pt text in my hardcover Cambridge REB. The line spacing is also more generous than the Cambridge REB, making the text easier to read.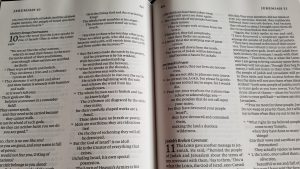 The pages are thin, but they are line-matched — an impressive and welcome feature on a simple, inexpensive bible like this. The result is that although there is an average amount of ghosting from text on subsequent pages, it never interfered with my reading.
There is a single, 1/4-inch, blue, double-sided ribbon, and plain white head and tailbands. The one drawback is that this is a glued binding. It's one of the most practical glued bindings I've seen, since the Bible easily lays flat from Genesis through Revelation. But as with any glued binding, it is likely to be less durable than a sewn binding.