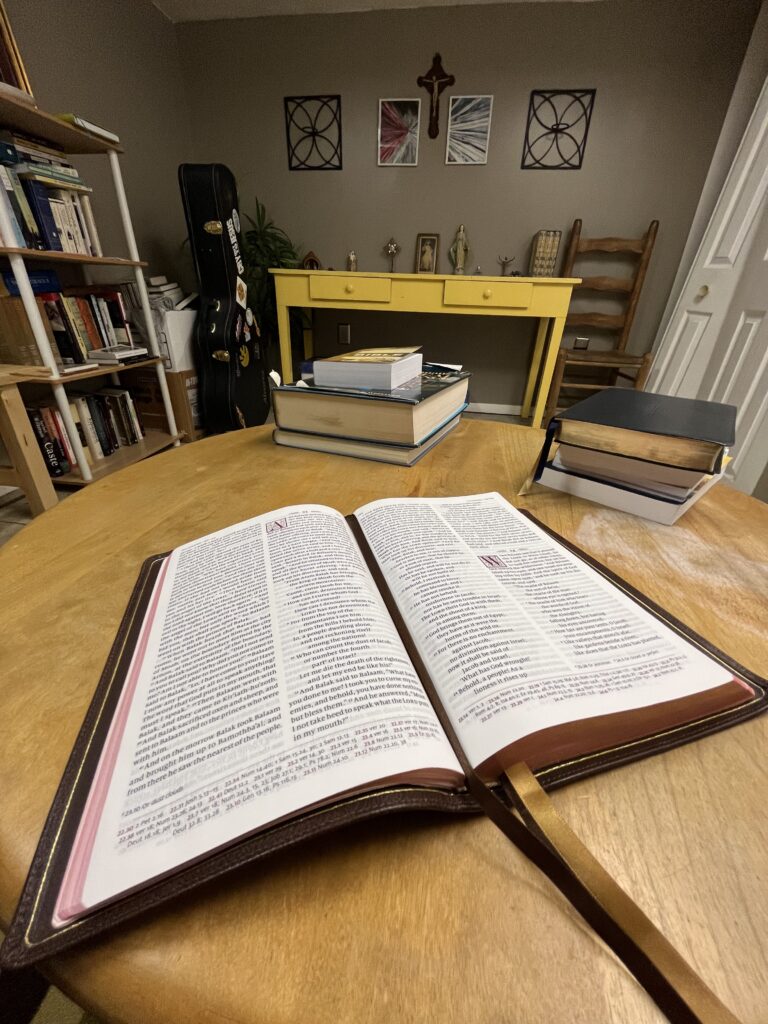 There is no comparison. The Schuyler's Quentel Series RSV w/Apocrypha is the best all-around bible I have ever possessed and, even more importantly, used on a daily basis. It checks all the boxes that I have been pinning about for well over fifteen years, dating back to the origins of the old Catholic Bibles Blog. Ah yes, you might say that this bible isn't technically a Catholic edition. Well, that would be true, but it contains all the books in the Catholic canon (as well as the Orthodox ones) with the inclusion of the Apocrypha/Deuterocanonical section at the back of the bible, much like the beloved NOAB w/Expanded Apocrypha. Fifteen years ago, that might have been a put-off, but I have moved on from desiring to a truly high-end bible in a specific Catholic edition. Cambridge came close with their Cornerstone, but it isn't in the same league with this one.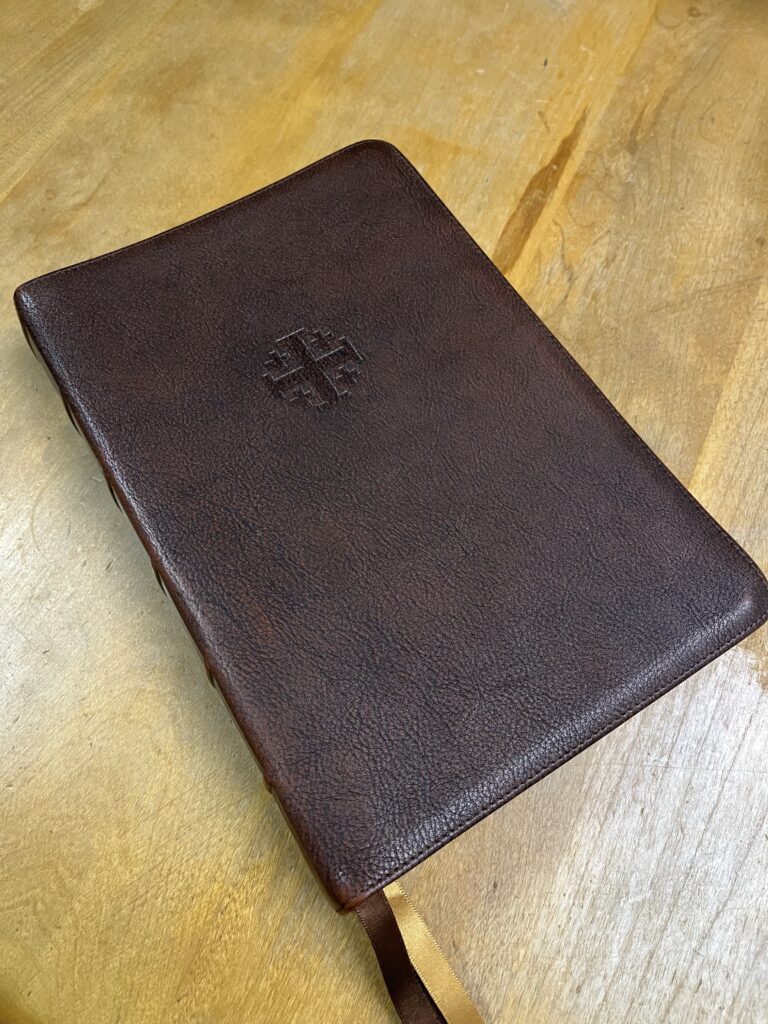 But before I go any further, here are the specs, as from the EVBible site:
Marbled Mahogany Natural Grain Calfskin Cover with calfskin leather linings (dark brown)*
10 point Milo font
Line Matching
28 GSM Paper
Page size: 6.1″ x 9.13″ x ~1.1″ (155 mm x 232 mm x ~29 mm)
3 x 1 cm Dark Brown, Gold, Dark Brown Ribbons
Art-Gilt edging (red under gold) with gilt line (gold line inside the cover)
Gold embossing on the Spine.
Raised Spine Ribs
Smyth Sewn
Ornamental drop caps
Black letter text (chapter numbers, headers and page numbers in red)
Cross references
Expanded Edition of The Apocryphal/Deuterocanonical Books
Glossary concordance
Presentation pages
Extensive Schuyler Bible Maps
*Mine is not the full-yapp edition
If you haven't already, there are some fantastic YouTube reviews out there for you to look at concerning this bible. I would certainly recommend you to check out the reviews by Tim Wildsmith and my friend Paul Stevenson for more details. They both do a great job at giving their helpful and experienced impressions of this bible. The Schuyler RSV (both with and without the Apocrypha) is in its second printing. A few editions are already sold out, so if this bible is something you might want to purchase, you might want to consider getting it sooner rather than later.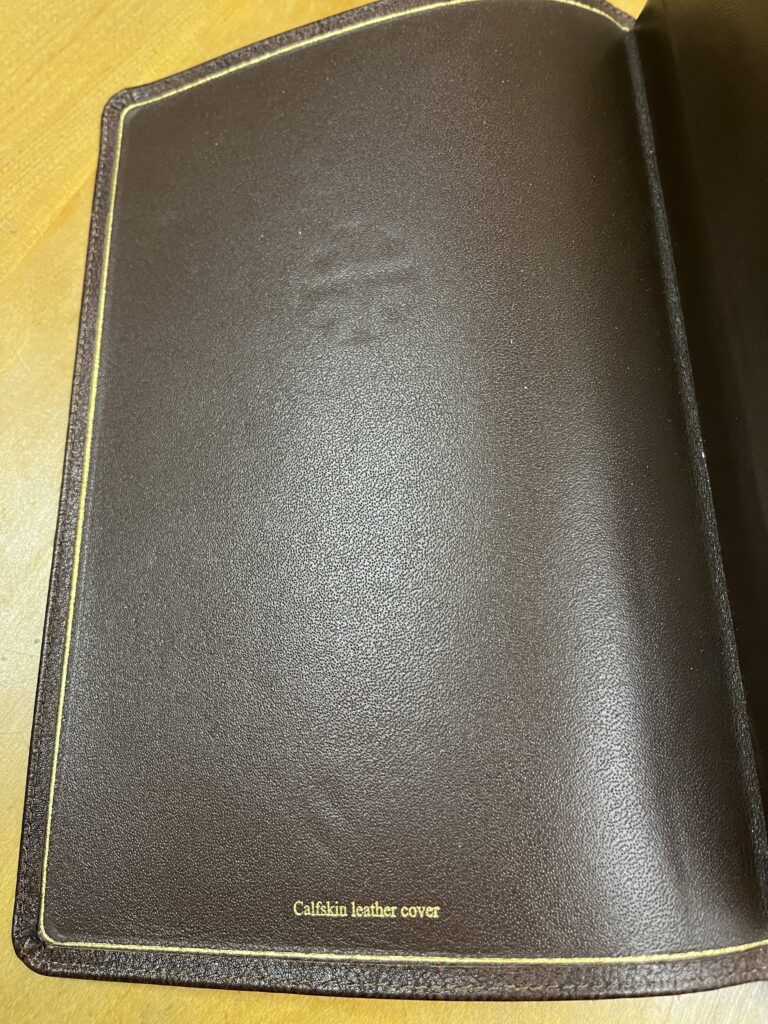 Let me say two things upfront. First, I did not receive a review copy from the publisher, rather, it was gifted to me by a good friend. So, I am under no pressure to give you a non-critical review because a publisher provided a review copy. In all my past reviews, I have tried to be as honest as possible in my assessment, no matter if a particular bible was a review copy or not. This has been the case here on Marc's blog as well as my original one.
Secondly, I have waited until now to give a review because I wanted to "live in it" for a while. I have had my copy since the fall of 2021. Perhaps you have noticed that it has been included in various pictures of other bibles I have reviewed, as means of comparison. Since 2008, I have been searching for the "perfect" bible. That has been documented on the old blog as well as here. And in every case, there was always something that was either missing or just didn't meet my needs. (And yes, this is totally a subjective thing, but it did make for some fun blog posts and great interactions with readers over the years.) Around 2017-2018 or so, I was feeling a bit burned out, so I ended the blog as well as stepped away from some bible teaching. I withdrew to reading more dynamic translations, which led me to spending a long season in The Message: Catholic/Ecumencial Edition and writing a book about that experience. It was a necessary retreat that I needed at the time and my soul emerged from that period being refreshed and renewed. Everything that I wrote about in the book remains true to this day, particularly the importance of daily struggling with the bible as well as finding the edition which you love to read from. I loved the MSGCE single-column format, and even though my days of reading it daily are over, it remains close at hand for the occasional comparison.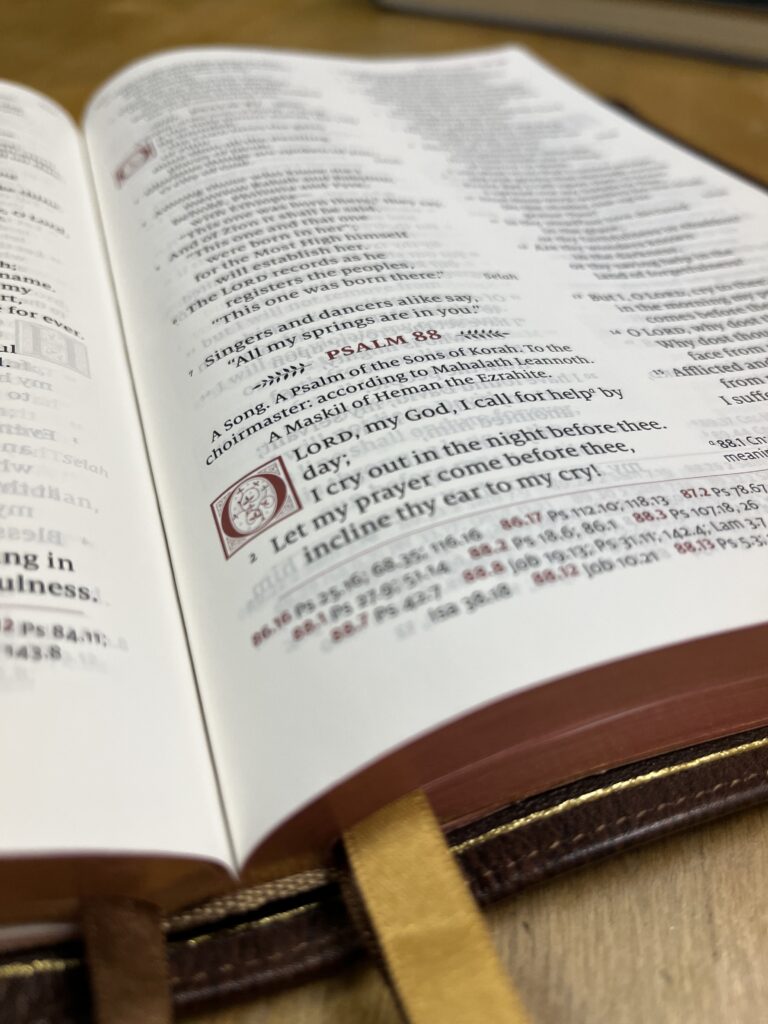 So, when it was made public that Schuyler was going to be publishing a new RSV w/Apocrypha in their Quentel Series, I was initially really excited about it. But I was a bit apprehensive of spending over $200 on a bible which I wasn't sure was going to engage me in the same way the MSGCE had done for the prior few years. It wasn't a single-column bible, and I wasn't sure I would want to engage the text by writing and highlighting in such an expensive bible. Enter my friend, who gifted me with a new copy of the Marbled Mahogany edition you see in these pictures.
I wasn't sure what to expect when my copy arrived at my front door in late September 2021. It turned out to be a sort of quasi-religious experience. Immediately upon opening the clamshell box and holding this bible in my hands, I knew that this bible was something different. The feel of the calfskin leather cover (and liner) was unlike any bible I had previously handled. It was so smooth and flexible. The simplicity of the Jerusalem Cross on the front cover was attractive, and the raised hubs on the spine were a real treat as well. The cover and the art-gilt edging along with the three high-end ribbons, made this bible a beauty to behold and handle. (I felt like the character Tim Taylor around a new set of power tools in the 90's TV show Home Improvement.) I had held other high-end bibles, but nothing compared to this one.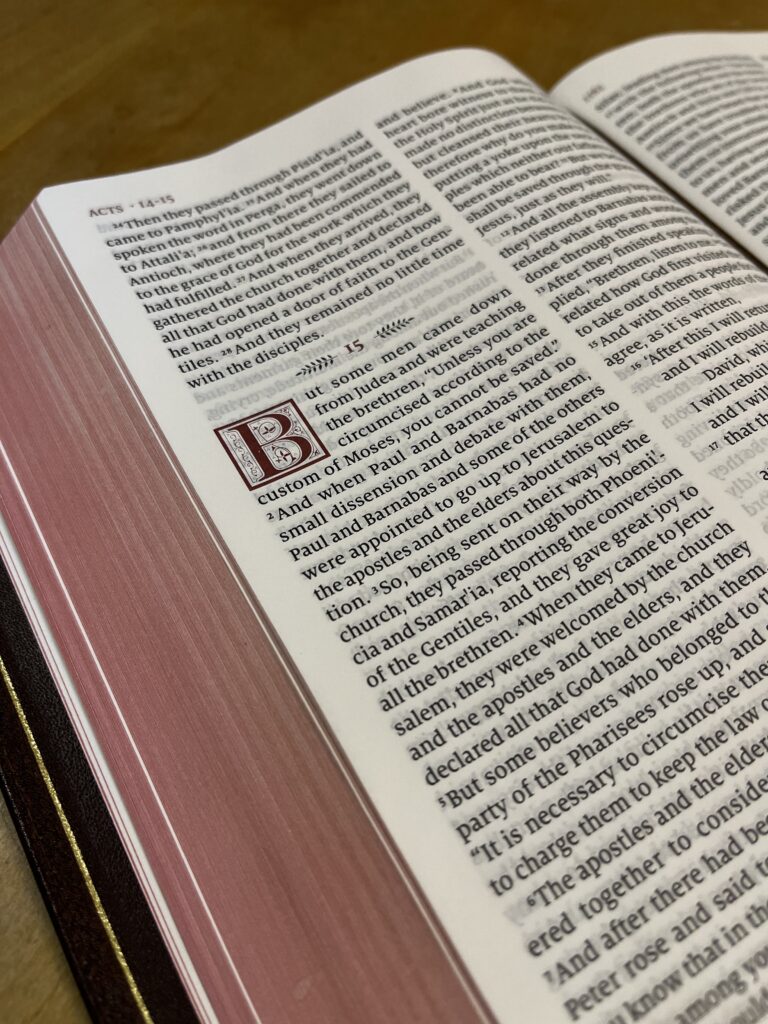 Opening the bible, I worried that I was going to miss the single-column format that I had grown to love. But my fears quickly evaporated as I began to read this bible, starting in the Psalms. The line-matched 10-point Milo font, the spacing, the glorious drop caps, the smart use of red, and the white 28 GSM paper made reading from this bible an instant joy. This is a bible that I read from early in the morning (in our prayer room) to later in the evening when our family room is more dimly lit. Because there are no paragraph headings (which I have grown to appreciate) I was initially concerned that reading through long passages (like in the historical books of the Old Testament) might become difficult. It never has been an issue due to the design of the page and the clarity of the font. This is a bible that I can grow old with. I am 45 years old, as of last month, so legacy has been something that has been on my mind in relationship to my role as a disciple of Jesus, a husband, father, and teacher. This bible edition has the potential to grow with me as I get older and (presumably) as my eyesight diminishes over time. (No issues now, but almost everyone in my family wears glasses.) There is ample room for writing in this bible as well as numerous blank pages and end pages where I have already been adding verses and comments to.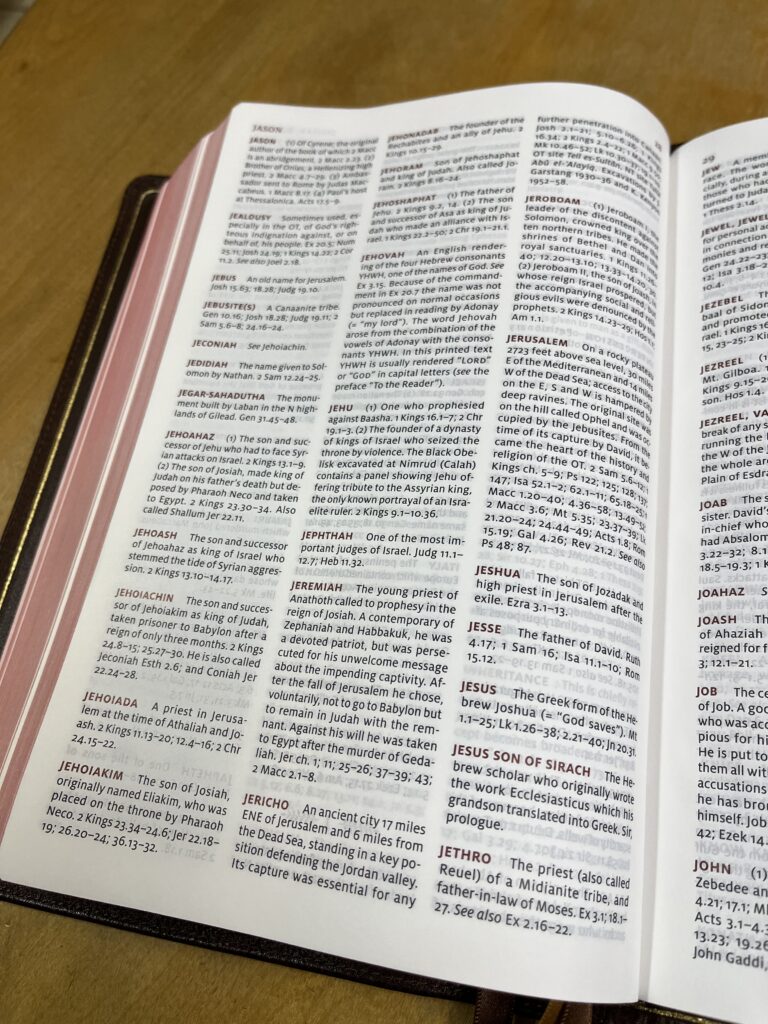 The final element I want to highlight here are the resources that this bible provides. First, the numerous page-bottom references provide ample verses to look up, but also are positioned on the page in a way that is easy to navigate while not being a distraction. Verses are listed at the bottom of the page by red verse numberings with its corresponding cross-references in black. It is super easy to use. It seems they are a corrected form of an older set belonging to a previous NRSV edition. Secondly, there is a familiar 65-page glossary/concordance in the appendix. This is the same glossary/concordance that was in the Cambridge NRSV Reference Bible w/Apocrypha that I used during my seminary classes. I have found it to be far more useful than the usual concise concordance, which have now become a bit redundant with the use of smart phones. This glossary/concordance has short definitions for major names, places, and other items, including in the Deuterocanonical books, which can be helpful in a pinch. Finally, the Schuyler maps are probably my favorite set of bible maps I have seen. I just like the overall look to them and the information that each map presents. It includes 12 maps, along with a chart of OT rulers and prophets during Israel's United and Divided Kingdoms. (There is also an index to the maps.)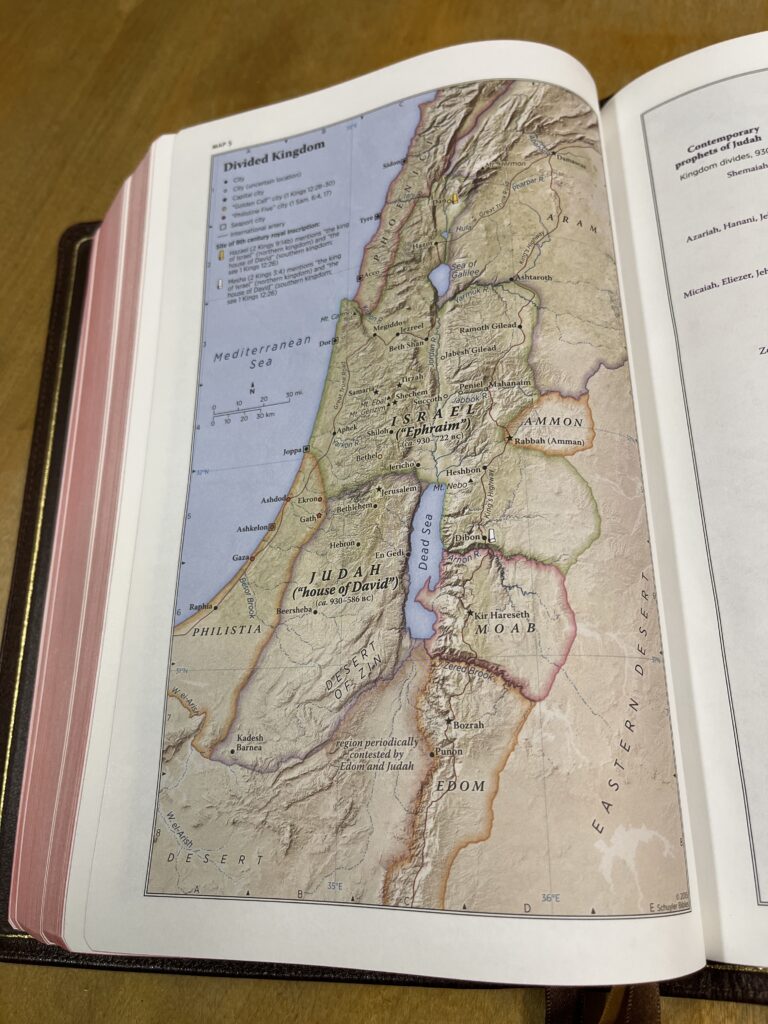 In conclusion, let me just say that the price point for this bible may be a deterrent for some people. I get that, truly. However, if you are desiring a premium bible that includes the Deuterocanonical books, in a literal translation like the RSV, this is the bible you should consider purchasing. If you want to wait until Schuyler publishes the ESV w/Apocrypha later this year or next, I totally get that as well. Having spent time last year in the ESV, as well as reading Mark Giszczak's book, I understand the appeal of the ESV. However, this Quentel RSV is a beauty. It really is an all-purpose bible which I have used in every setting. Over the past year and a half, it has been with me when I pray and study in the morning, while at school or the parish teaching, and even in the evening as I pray before sleep. It is a premium bible that has everything I need for every occasion, while being crafted in a way which will last a lifetime. There is no comparison.