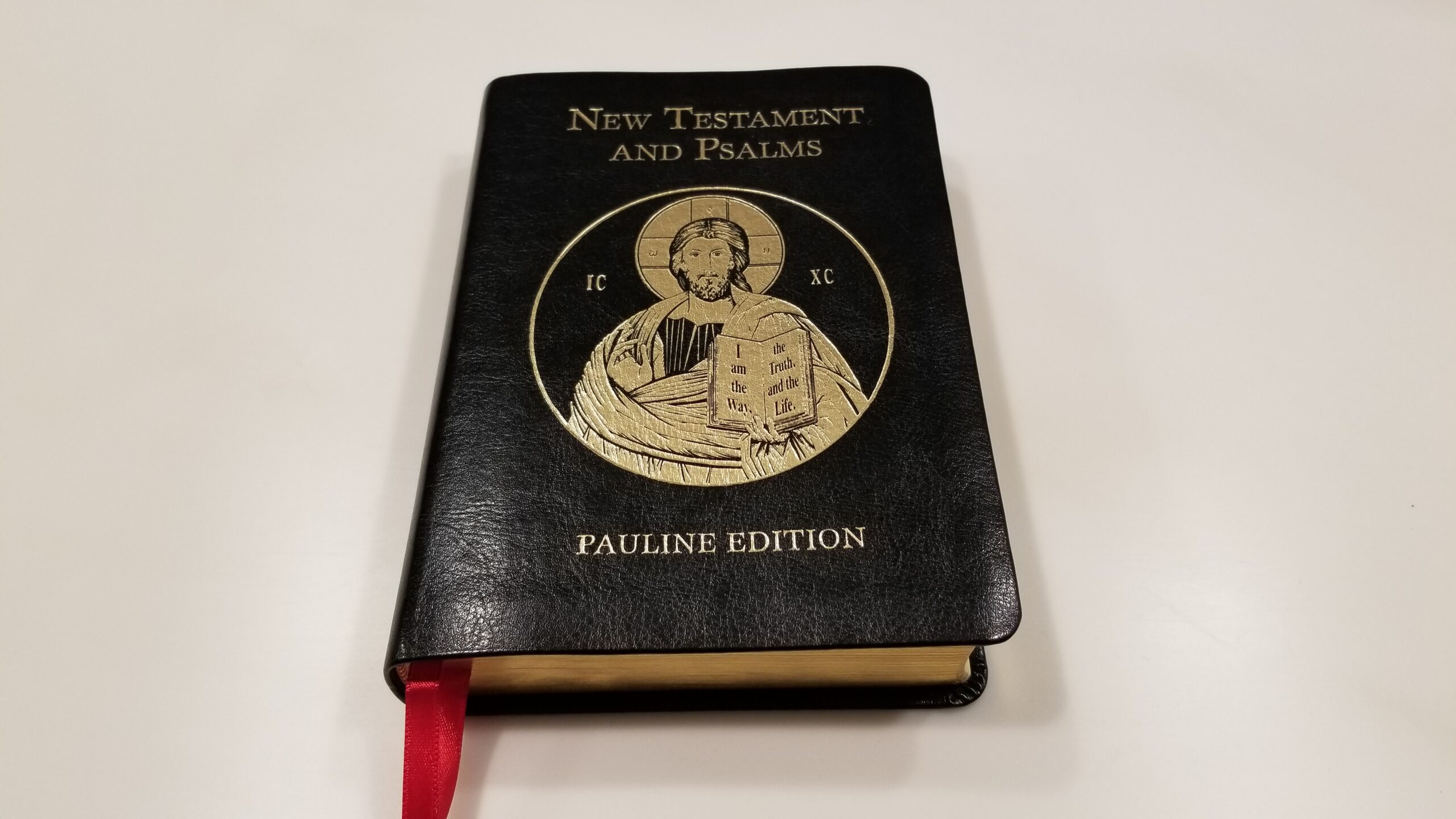 In 2017, Pauline Books and Media published a New Testament and Psalms featuring the New American Bible Revised Edition (NABRE). I found this edition several months ago in a Christian bookstore and have used it intermittently over the past few months. There are so many things to like about this edition, but its biggest downfall is the significant ghosting of text from subsequent pages. Here is a brief overview of its features:
Single-column text layout
Footnotes are printed as endnotes at the conclusion of each biblical book, rather than at the bottom of each page.
Sewn binding
Two thin ribbon markers
Good quality imitation leather cover
Good quality gold gilding on page edges
The book measures 5 inches wide by 7 inches long and is a little over an inch thick — too big to qualify as a pocket New Testament but a very nice size to hold and read. Here are a couple of comparison photos between the Pauline New Testament and Psalms and my Revised English Bible (REB) New Testament, which is small and thin enough to carry in a large pocket:
The typesetting is well-done. The font size is easy to read, and there is generous spacing between lines. The single-column layout is especially nice in the Psalms, where lines of poetry are kept intact, rather than overflowing onto subsequent lines like so often in double-column bibles. If the pages were more opaque, this might be one of the most readable NABRE editions on the market. Sadly, the pages are translucent enough to produce a lot of ghosting from adjacent pages. The ghosting is frustratingly bad, and it leads me to leave this edition on the shelf even though the rest of the page design is excellent.
As a comparison, here is a side-by-side photo of a typical page in the Cambridge REB New Testament and the Pauline NABRE New Testament and Psalms:
The Cambridge New Testament's white-colored paper is much more opaque, despite being significantly thinner than the Pauline New Testament and Psalms.
Sadly, the ghosting makes it difficult to recommend this edition, even though almost everything else about it is excellent. If Pauline Books and Media improved the paper, this would be an amazing New Testament. The imitation leather is very similar in texture to the "alpha cowhide" imitation leather on the Great Adventure Bible. It's a high-quality imitation. The gold gilding is very good — significantly better than many other low-cost offerings on the market. The typesetting is excellent, and a sewn binding is always a positive. If you can endure the ghosting and would enjoy the other positive aspects of this edition, it's very reasonably-priced. Currently, it's available for $17.99 at Amazon and $20.66 at Christianbook.