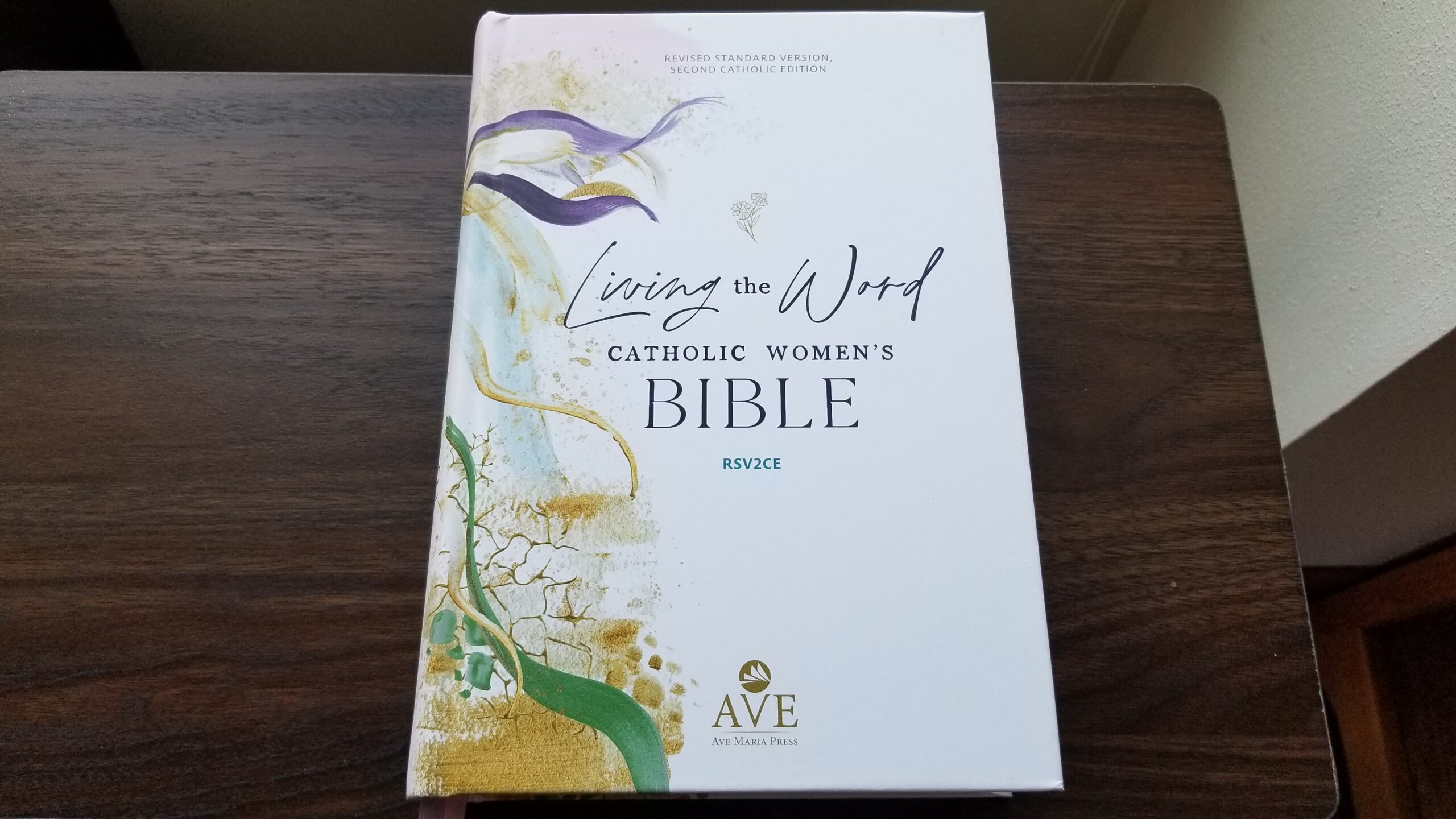 Many thanks to Ave Maria Press for sending me a review copy of the Living the Word Catholic Women's Bible, which was recently published in December 2022. I've spent a few days reading the introductory essays and informational articles throughout the text, both in the Old and New Testaments.
Overview
This is the second Bible produced by Ave Maria Press. Their first Bible, the Ave Catholic Notetaking Bible, was released in early 2021 (see my review here). In many ways, the new Living the Word Bible shares the basic building blocks of the Ave Catholic Notetaking Bible:
Revised Standard Version, Second Catholic Edition (RSV-2CE)
Single-column page layout with wide margins for notetaking
Two ribbon markers
Cross-references to the Catechism of the Catholic Church
The font in both editions appears identical, and the paper is reasonably opaque with minimal ghosting of text from subsequent pages.
The Living the Word Catholic Women's Bible differentiates itself by including essays, book introductions, and a generous variety of reflections by Catholic women who are scholars, teachers, and evangelists. There are also a wealth of quotes from female saints scattered throughout the text. Sarah Christmyer served as editor for the included essays, and the foreword was written by Mary Healy, one of the editors of the excellent Catholic Commentary on Sacred Scripture series. All the supplemental material bears an imprimatur from Bishop Kevin C. Rhoades of Fort Wayne-South Bend, Indiana.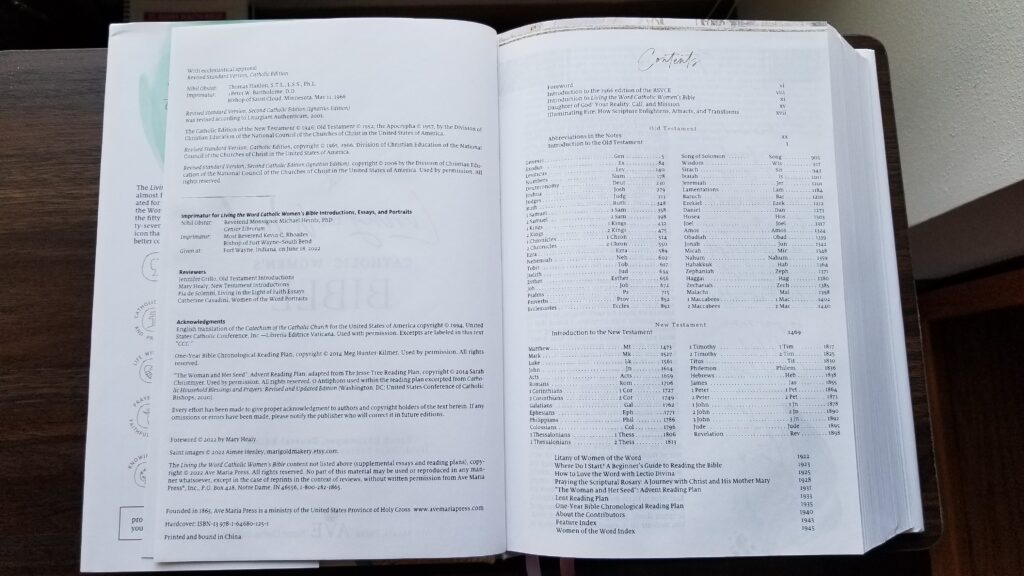 Physical Construction
This is a large hardcover Bible. Its overall size is similar to the largest bibles on my shelf. My copy measures 9 13/32 inches long and 6 9/16 inches wide. The thickness is just over 2 inches. This is a bit thicker than the Ave Catholic Notetaking Bible, and slightly smaller than the giant print New Catholic Bible. Here are a few photos for reference:
The bible features a dust jacket, unlike the clothbound hardcover Ave Catholic Notetaking Bible. The cover art on the dust jacket is duplicated on the surface of the hardcover also. The Bible looks exactly the same with the dust jacket removed.
The binding feels solid. I've carried the Bible to church, and it doesn't feel "sloppy" or overly malleable. I appreciate the solidity when carrying a large Bible like this. I have a few large Bibles that tend to "flop" around (the spine bends and twists) when carrying them, especially when my hands are full with multiple things at once. This Bible keeps its shape well when carrying it.
The Purpose of this Bible
Sarah Christmyer sets out the motivation for this edition in her introduction:
This Bible is intended for daily reading and prayer. It is a Bible you can live in, a place where you can carry on a dialogue with the Lord. Generous margins invite notes and provide space to write when you hear a word to you, or to record times when scripture has an impact on your life. It is not a study Bible, so you won't find exhaustive notes and explanations (there are plenty of Catholic Bibles and commentaries that offer that benefit). What you will find is an invitation to grow not only in knowledge but in understanding of the ways of God and in holiness.
As I've read through the essays and reflections, I think this description captures the design of this Bible well. If I had to put it in my own words, I would say this Bible is designed to guide an individual woman who reads it and makes it her own to grow in her knowledge and relationship with God and gain wisdom about how to live a life faithful to God.
The contributors have not tried to comment on every passage. There are extended sections when the Biblical text is uninterrupted by commentary. The essays and reflections are also strongly geared toward applying the lessons and teaching of scripture to everyday life. There is excellent teaching and practical insight in these pages.
The in-text reflections cover two broad themes: Women of the Word and Living in the Light of Faith. The Women of the Word pages reflect on individual women who are part of the scriptural narrative. The reflections guide readers to ponder an aspect of each woman's story — either a positive example of how she lived a virtue, or a negative example of how one of her vices had negative effects on her and those around her.
The Living in the Light of Faith pages fall into several subcategories:
Catholic Social Teaching — exploring the scriptural basis for themes in Catholic Social Teaching
Inner Sabbath — reflections on the importance of rest and how to live it out in modern life
In Pursuit of Virtue — reflections on virtues and vices using examples from women in scripture
Prayers of Faithful Women — exploring the prayers of eight women in scripture, culminating with Mary's Magnificat
The Sacraments — reflecting on each sacrament in the context of scripture
The Inner Sabbath reflections were especially meaningful and challenging to me. Here's an excerpt from one of them, commenting on Numbers 3:12:
The book of Hebrews cautions us away from fear by reminding us of the story of the Exodus, including the passage in Numbers, where the Israelites are unable to enter the Promised Land after repeated refusals to trust God in the desert. […]

The wilderness wandering of the children of Israel is a metaphor for unrest. Conversely, the Promised Land is presented as rest. Rest is the absence of fear—even in deprivation, even when our enemies surround us. […]

We might put it this way: fear=unbelief=unrest. The paralysis of fear is why we must grow out of unrest into mature love. The only way to learn that God is trustworthy is to trust him when there is nothing else to lean on—and that is what the desert is for. So take him at his word, step out in faith, and act on what he says.

Sonja Corbitt — Inner Sabbath reflection on Numbers 3:12 — Living the Word Catholic Women's Bible
This excerpt exemplifies a few features that are common throughout the essays and commentary: It makes a passage relevant by connecting it to everyday life. It also connects the passage to other parts of scripture that delve into the same theme, citing Hebrews and Exodus. Finally, it provides a challenging exhortation to put God's word into practice and apply the lessons of scripture. These general features occur throughout the in-text reflections. I'm especially impressed by how effectively the reflections tie together the New and Old Testaments and integrate insights from both.
Why a Women's Bible?
A Bible that focuses on life applications and cultivating a deeper relationship with God and His Word does not necessarily need to be specialized for women or men. In fact, as a man, I've found a lot of meaningful reflections in this Bible. Still, this Bible is motivated by the conviction that women have unique gifts from God and benefit from learning from other faithful women. Sarah Christmyer comments in her introduction:
Scripture is not self-interpreting; it comes to us through the Church and is meant to be understood within the tradition and teachings of the Church. In addition, its truths are passed down personally, by other people. Consider how St. Paul speaks to Timothy of his "faith that dwelt first in your grandmother Lois and your mother Eunice" (2 Tim 1:5) and then reminds him to continue in what he has learned, "knowing from whom you learned it and how from childhood you have been acquainted with the Sacred Writings." (3:14-15)

He also instructs Titus to teach older women to guide younger women in the faith (2:3-4). Women play an enormous role in teaching, discipling, and forming others in knowledge and love of God and one another.
Johnette Benkovic Williams, in her introductory essay, reflects on Scripture and the teaching of the Church to sketch the broad outlines of the unique role women play in God's plan. She refers to St. John Paul II's writings on the feminine genius, St. Paul VI's address to women at the close of Vatican II, and the creation narrative in Genesis to elucidate women's importance, without which men and the world are incomplete. Reflecting on Genesis 2, she writes:
As the only human person, Adam sees nothing in creation that reflects him to himself. He doesn't know who he is. Incomplete and unfulfilled, he is adrift in a primordial identity crisis.

God determines to rescue Adam. He casts a deep sleep upon him, takes a rib from his side, and fashions woman. Upon arising, Adam beholds her and cries, "This at last is bone of my bones and flesh of my flesh" (2:23). At the very sight of the woman, something wonderful awakens in Adam. Seeing her, he sees the essence of who he is. Her very presence intuitively informs him about his reality and purpose and sets him on the path to achieve it. Eve—the woman—is Adam's North Star. Without her, he is lost. With her, he is anchored.
She closes by reminding women that Scripture contains examples of both virtue and vice in women. She exhorts women to face the question, "whom will we emulate?"
That is a fitting way to introduce this bible to readers. It does not take an overly sappy, shallow approach, and it doesn't sing women's praises indiscriminately. It joyfully affirms God's unique gifts to women and calls them to develop virtue and follow him.
Approach to Controversial Passages
Unlike many study bibles, this Bible does not feel the need to comment on every passage that many modern readers find anti-woman. The introduction to the book of Sirach makes a few general comments about the author's view of women, placing Sirach in historical context and emphasizing the importance of reading scripture as a whole. But the commentators do not make derogatory notes about Sirach and his attitude, and they pass over his comments in silence as the reader moves through the text.
In the New Testament, a Living in the Light of Faith reflection places Paul's instructions on wearing veils in 1 Corinthians 11 in historical context, and another reflection on Ephesians 5 does an excellent job explaining the significance of Paul's instruction to "be subject to one another out of reverence for Christ."
As a final example, a Woman of the Word insert focuses on Phoebe, who Paul calls a "deaconess" in Romans 16:1 (RSV-2CE). Sr. Sara Butler MSBT surveys the history of deaconesses and places them in continuity with the Church's life today:
Deaconesses were initially recruited and consecrated for the pastoral and sacramental care of women in order to preserve modesty and propriety in cultures where the sexes were strictly segregated […] Deaconesses did not share the deacon's liturgical duties, but in a monastic community, the deaconess-abbess might read the gospel and give Holy Communion to the nuns in the absence of a priest or deacon […] The heirs of the deaconess in the Christian West are abbesses, consecrated women in institutes of apostolic life, and women in lay ministry.

Sr. Sara Butler MSBT — Women of the Word reflection on Romans 16:1 — Living the Word Catholic Women's Bible
Conclusion and Pricing
There are a lot of positive features to recommend this edition. It has a solid, sewn binding that can be carried without twisting and flopping. The single-column page layout and font are easy to read. There is minimal ghosting of text from adjacent pages. The commentary strikes an excellent balance of extolling the unique gifts of women in the Church and world while exhorting readers to grow and follow God, shunning sin and vice and living the virtues.
This is also a bible that is designed to be "lived in" — something Timothy has eloquently argued for in his book Confessions of an Ugly-Bible Reader. There is plenty of room for notes in the margins and ample reflection on how to apply Scripture to everyday life. Key verses that are highlighted in the in-text reflections are already highlighted by the publisher, encouraging readers to break out a highlighter and mark other verses that are meaningful.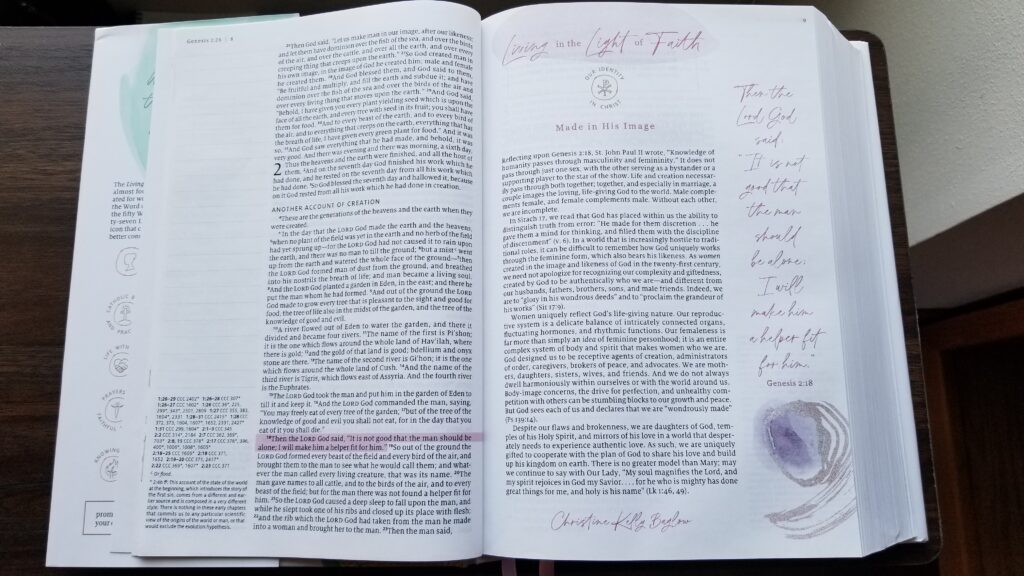 The two potential drawbacks I can imagine are the size and the price. This is certainly a large Bible — large enough that people may think twice before bringing it with them outside the home. Ideally, this would be an excellent resource to bring to adoration and pray with Scripture using Lectio Divina. Will the size discourage people from doing that? It's also heavy enough to be tiring to hold for long periods. As I've read it for this review, I've mainly kept it on my desk, laid it on my lap, or used a bookstand to prop it up. The solid binding makes it less cumbersome to hold compared to other more floppy large bibles, so it doesn't feel as unwieldy. But it is still large.
The price is also on the high side. The list price is $64.95 — the same list price as the Great Adventure Catholic Bible from Ascension Press. By comparison, the Ave Catholic Notetaking Bible is listed for $49.95; the hardcover version of the excellent Didache Bible RSV-2CE edition is listed for $39.95; and the hardcover giant print New Catholic Bible (similar in size) is listed for $38.00.
Realistically, the price probably makes sense. This is a specialized Bible with color printing from a small publisher. The cost of printing cannot be spread over a large number of mass-market Bibles as easily as some other editions. Further, the Catholic bible market is smaller than the protestant market. As a point of comparison, the ESV Women's Study Bible from Crossway (for a protestant audience) is listed at $49.99 and is currently available on Amazon for $38.49.
As a final note, the first copy I received contained a couple of printing defects. A repeated signature in the book of 1 Kings resulted in the same 8 pages appearing twice in succession, and an ink spot was present at the bottom of one page in the book of Wisdom. I contacted the publisher, and they quickly sent me a new copy which did not have these issues. They also said none of the other copies they checked exhibited these issues. I am satisfied that the first copy I received was likely an anomaly that made it through the quality control process. In any case, neither of the problems I found affected reading in a serious way.