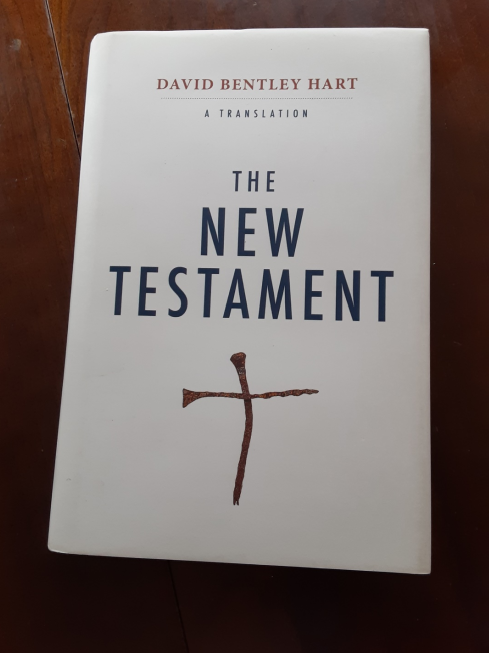 David Bentley Hart has emerged as quite the controversialist these last few years, and I suppose it's time to bring the controversy to the pages of Catholic Bible Talk with a multi-part review of his translation of the New Testament.
In 2016 David Bentley Hart was an Eastern Orthodox academic theologian with a column in First Things and a devoted fan base who loved him for his delightful yet cutting wit—usually applied to dismantling the arguments of the New Atheists, Calvinists, and golf fans. By 2020 he is writing about the apocatastasis in the New York Times, getting into public spats with NT Wright, and getting condemned for heresy by James Martin, SJ. What happened?
Well, he translated the New Testament.
The first hints were in an article he wrote entitled "Christ's Rabble: The First Christians Were Not Like Us", published in the September 2016 issue of Commonweal. The article begins,
For two and a half years I have been working on a translation of the New Testament for Yale University Press, which I recently completed. It should not have taken me that long, but an extended spell of ill health disrupted my life just as the project was getting under way. The only good result of this is that the delay forced me to take an even more reflective and deliberate approach to the task than I might otherwise have done; and this, in turn, caused me to absorb certain conclusions about the world of the early church at a deeper level than I could have anticipated. Most of them I already knew, admittedly, if often as little more than shadows glimpsed through a veil of conventional theological habits of thought—for instance, how stark the dualism really is, in Paul's letters and elsewhere in the New Testament, between "flesh" and "spirit," or how greatly formulations that seem to imply universal salvation outnumber those that appear to threaten an ultimate damnation for the wicked.

David Bentley Hart — "Christ's Rabble: The First Christians Were Not Like Us" Commonweal, 27 Sep 2016
When it was published about a year later, it earned press in the usual places that review new biblical translations, but also the Atlantic (where Garry Wills reviewed it), the Los Angeles Review of Books, England's The Literary Review (which magnificently titled their review "The Unauthorised Version) and other secular publications. Reviews honed in on the strangeness of the translation. Exceedingly literal—Hart called it "pitiliessly literal"—its vocabulary was quite different from that of traditional translations. Where was "hell"? Or "eternity"? Or "righteousness"? Or "justification"?
A bad review by NT Wright in The Christian Century provoked Hart to vent some bile on the Eclectic Orthodoxy blog. In part he criticized Wright for even publishing the review, considering Wright already had his own translation of the New Testament and it was bad form to review competitors. He then rolls up his sleeves and meets the popular retired Anglican Bishop point for point. The broadsides merited a write-up in Christianity Today.
In the fall of 2019, he followed this work with a slim book that he viewed as an epilogue to his entire project of biblical translation: That All Shall Be Saved: Heaven, Hell, and Universal Salvation, basically a collection of essays presenting proofs that all will eventually be saved. Far from a broadminded pantheism, as you might reasonably assume, he draws from classical philosophy, the scriptures, and the Church Fathers, chiefly Gregory of Nyssa, Maximus the Confessor, and Origen.
Let me say here that the Catholic Church's magisterium does not allow us this amount of certainty. The Catechism affirms Hell and its eternity, though the outer limits of the Church's theology on the subject has been explored in work by some the most important 20th century theologians in works such as Hans urs von Balthasar's, Dare We Hope that All Men Be Saved? (While that particular book is indeed controversial, it would be less so if people took the trouble of actually reading it.)
David Bentley Hart began writing occasional opinion pieces for the New York Times in the summer of 2019, causing a small fuss with a piece named "Can We Please Relax About Socialism?", but that was nothing compared to an article where he questioned how one could believe in an eternal Hell. This provoked none other than Father James Martin to describe it as, "a strange piece that neglects Jesus speaking about Hell often and in detail." The priest then detailed several scripture citations on his Twitter, which provoked a wag going under the handle @WB_BASKERVILLE to label the high profile Jesuit priest, "Fr James 'Hammer of the Heretics' Martin, SJ".
Something about David Bentley Hart makes people lose their minds. It might be his intelligence, but more likely it is his belligerence and comfort in "naming names" and engaging in petty intellectual squabbles that give people pause about him. For others, it is his lack of discretion taking an intramural theological squabble to the opinion page of the New York Times.
One thing you ought to know if you are unfamiliar with the Eastern Orthodox tradition, is that thinkers of Hart's sort are not unwelcome in their communion. While we Latins have our rich dogmatic tradition, in the Christian East, if it is not in the first seven ecumenical councils or the historic creeds, it can be up for debate. Hart's progenitor Sergius Bulgakov, the Russian Orthodox theologian active in the 1910s through his death in 1944 was also a strong defender in the apocatastasis who wrote about the eventual salvation of even the unclean spirits. While some aspects of his theology were criticized through official channels, his belief in the apocatastasis was not.
As for the opinion of history that Origen was a heretic, his theology was not condemned until long after his death, the condemnation is now believed to have been maliciously inserted into the canons of an ecumenical council when they had never been discussed at that council, and at any rate it is unclear what the condemnations have to do with Origen's actual theology as we have it today. It seems likely that it was the work of those who built upon his speculative works who formulated the doctrines that were condemned.
I hope I have conveyed that, whatever emotions this brings up in you, this is a complex topic, but I've gone on for too long already. We are here to talk about something else.
The book itself is what appears to be a sewn hardcover, and a large one at that—over 9 inches high and 6 inches wide. Here it is compared to the recent Ruden translation of Augustine's Confessions, Benedict XVI's Jesus of Nazareth, and my breviary. Its size makes it a pleasure to hold in the lap, but a pain to read in bed.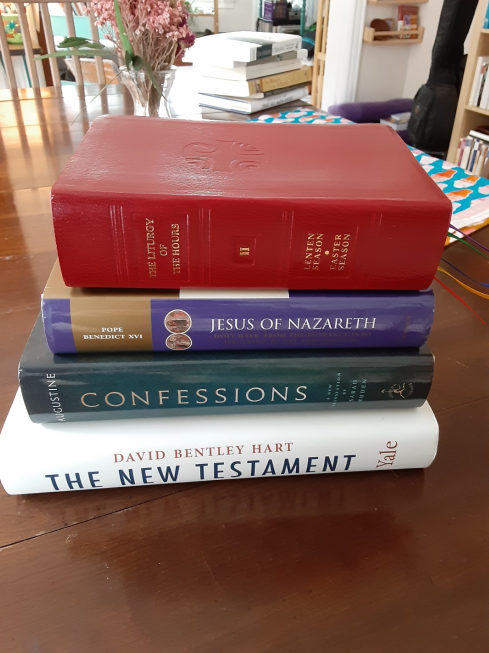 We will continue with some of the preparatory material—of which there is much, but to whet your appetite, here is how his translation does the start of John 18.