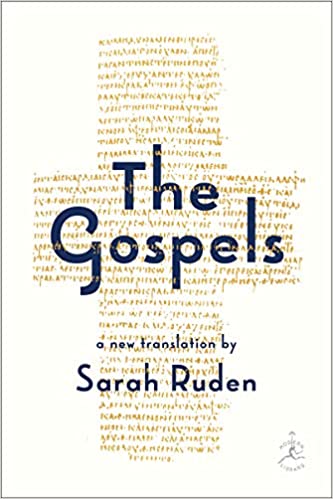 In March of this year, a new translation of the four gospels by a single translator (Sarah Ruden) was published. Sarah Ruden has been a translator of Greek and Roman classical literature, with published editions of Homer, Virgil, Aristophanes, Petronius, and Augustine. In the last several years, she has turned her attention to the New Testament. In 2011, she published Paul Among the People, which was an attempt to describe Paul's teaching in the context of his culture and pare away modern misconceptions and stumbling blocks to understanding. In 2017, she followed that work with The Face of Water: A Translator on Beauty and Meaning in the Bible. That book appears to fall in the venerable tradition of translators talking about the nuances of their work and offering examples of how they would translate differently from traditional renderings in common Bibles. Fr. Ronald Knox's On Englishing the Bible comes to mind as another example in the same category.
Ruden has now published a translation of the four gospels after reflecting on the task of biblical translation in her previous work. Overall, her aim is similar to a number of recent translations: to bring the reader back to the original Greek and pare away traditional language that has taken on new meanings over the centuries of theological reflection in the Church. Like David Bentley Hart's translation of the New Testament or the Common English Bible, she embraced using language that is not traditional in the hope of helping modern readers to connect with the text on its own terms.
There are benefits to that approach, especially for Bible readers who are used to the traditional language they hear at Mass and can easily "tune out" nuances that they've heard countless times. On the other hand, traditional language is what many people remember and pray, and it has meaning and familiarity in their life of faith. This review by Casey Cep in The New Yorker reflects meaningfully on the positive and negative aspects of avoiding traditional language in Bible translations.
I have not heard much buzz about this translation, and I have not yet purchased a copy. If any readers have purchased it, I'm very interested to hear your views of it. Interestingly, non-believer and economist Tyler Cowen read sections of it and was very impressed. His brief comments are here.