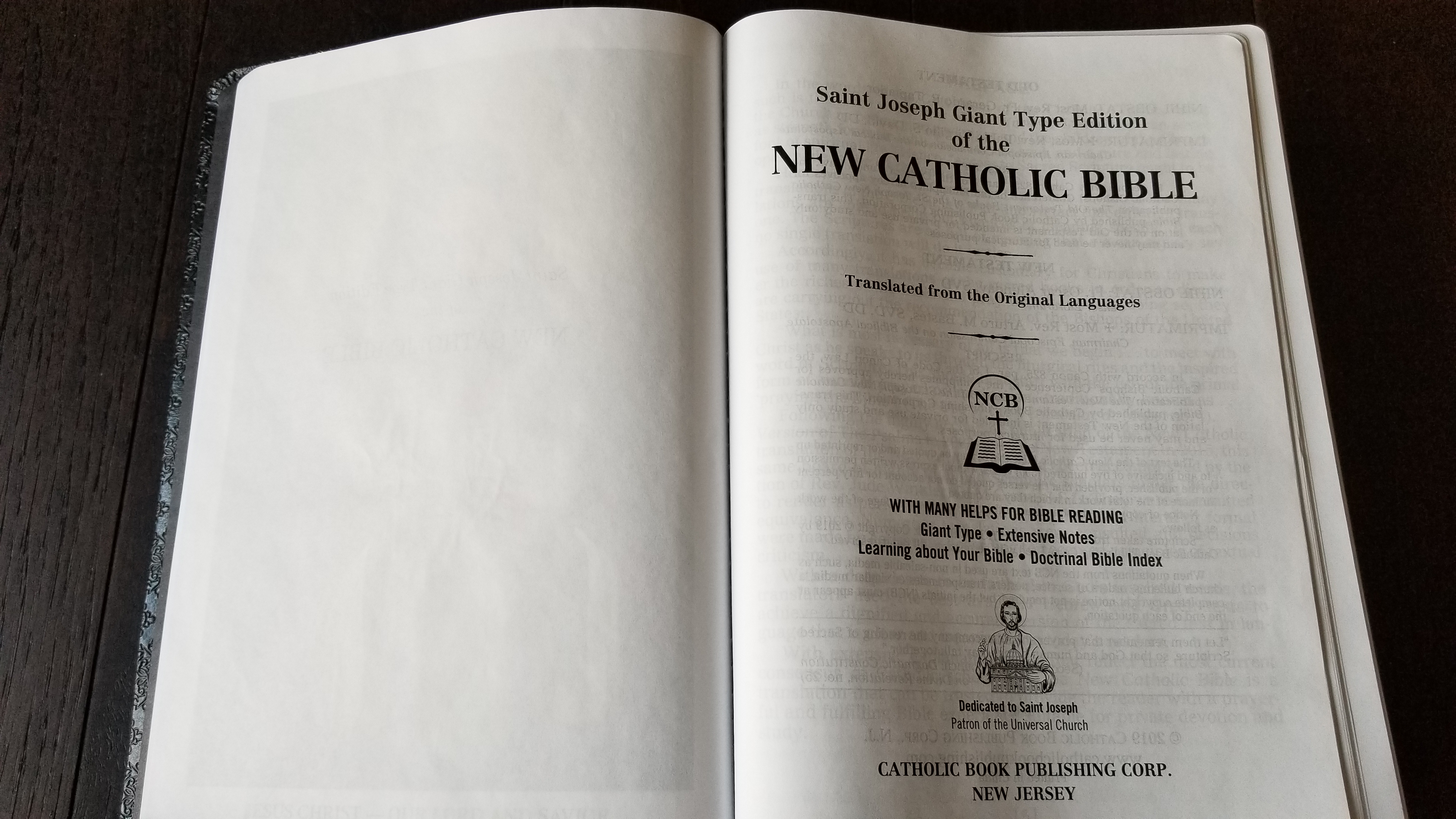 In late October of 2019, I reported on the recent release of the complete New Catholic Bible (previously called the New Catholic Version) by Catholic Book Publishing Company. This project was in progress for several years. The Psalms were published in 2002, followed by the complete New Testament in 2015, and finally, the complete Bible in 2019.
Then, in early November, I posted a first look at the black imitation leather edition of this bible, which Catholic Book Publishing Company graciously provided for a review. At the time, I planned to compare the New Catholic Bible (NCB) with the New American Bible Revised Edition (NABRE) for the Gospel of Luke, St. Paul's Letter to the Galatians, and selections from the Old Testament. I quickly realized that I committed to more than I could do at the time, but I've returned to my original plan and it is now complete!
Over the past month, I've spent quality time with the NCB, reading extended passages and comparing the NCB with the NABRE verse-by-verse throughout all of Luke and Galatians. Additionally, I've read all the footnotes on Luke and Galatians in both translations and compared them. I've also read sections of the Old Testament and Psalms in the NCB. This process yielded 60 typewritten pages of notes, documenting differences that caught my eye as I was reading.
I will be distilling my notes into a series of two posts on the NCB. The next post will deal with the translation: How does it read, and how does it compare with the NABRE? Then, the following post will address the introductions and footnotes: What are the overall objectives of the footnotes in each translation, and how do they compare?
I think this translation deserves a thorough examination. To my knowledge, it is the first brand-new, church-approved English Bible translation for Catholics in many years. Every other Catholic Bible in English has been a revision of an older translation in recent years (the RNJB, the NABRE, etc). Despite this, the NCB was released with very little fanfare, and many Catholics are completely unaware of it. What is this Bible like, and how does it compare to the NABRE that so many of us are used to hearing at Mass? Stay tuned!