The new flexible cover edition of the Knox Bible ($59.95) from Baronius Press was published late last year. The previous edition was a bonded leather hardcover, which is now out of stock. I had mine rebound in goatskin almost nine years ago, but I was really excited to get a copy of this edition as well.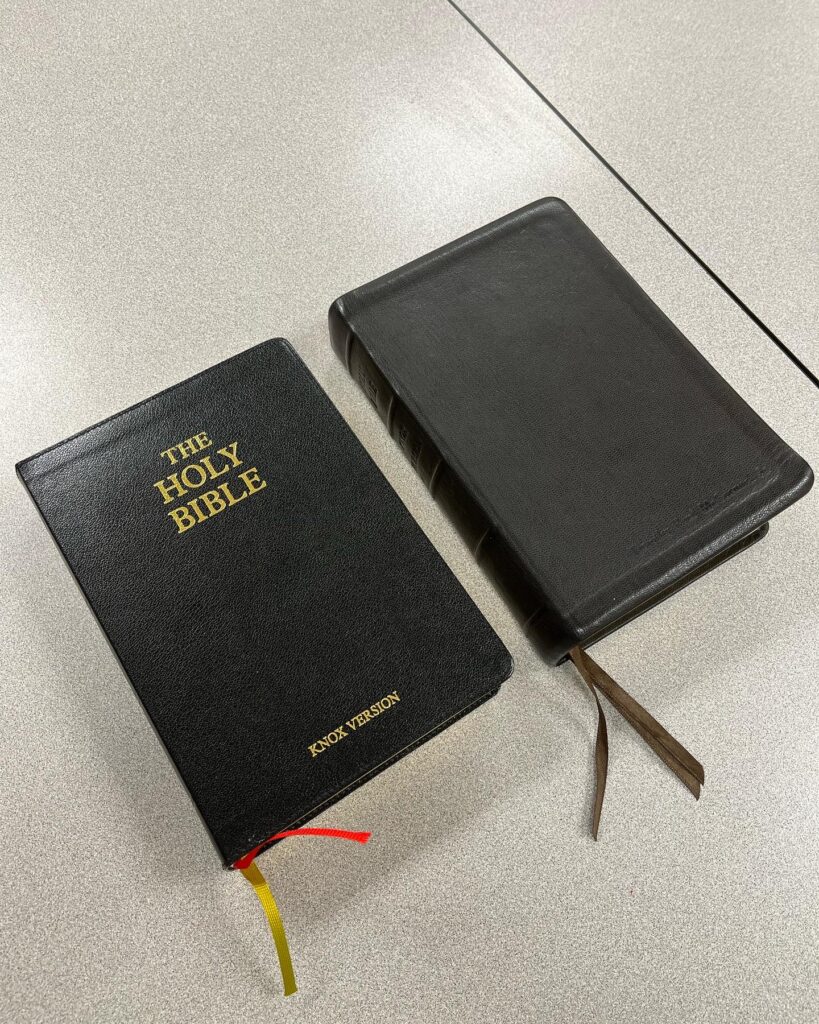 This new edition is almost identical to the 2012 edition. The page layout is the same as the 2012 edition, as well as the margins. It is a single-column format with Msgr. Knox's notes and cross-references at the bottom of the page. The main difference is the flexible cover. According to Baronius: "The flexible cover books are made using leather, hand covered over flexible boards, which are specially designed to flex many times without breaking. The corners are rounded and the edges are then meticulously stitched to create an elegant and durable appearance. " This makes the flexible cover edition lighter than the hardcover edition. Also, the page corners are rounded. One other minor difference is that flexible edition is being printed in India compared to the hardcover one which was printed in the Philippines.

The flexible cover Knox Bible is another high quality (though not premium) Bible from Baronius Press, as you would expect. It feels similar to the Douay-Rheims editions with the same flexible cover. Just like their earlier hardcover edition, as well as all their other premium books, the flexible cover Knox Bible is smyth sewn, gold gilded, contains two ribbons, head and tail bands, and endpapers. These are the elements which make a Bible a lifelong companion which can be passed on to future generations. While it would be nice to be able to purchase a Knox Bible in some of the premium leather editions we are are seeing from Cambridge and like the Schuyler Quentel RSV, I am sure Msgr. Knox, himself, would be satisfied with this new flexible cover edition.

So, if you never purchased the hardcover Knox Bible from Baronius this might be a good time to do so. As I mentioned above, the hardcover is now out of print. The Knox Bible is still one of my most favorite bibles. My rebound edition has remained with me over these many years. I remain a "fan" of Msgr. Knox, both in his translation of the Bible as well as in his other writings. His Bible translation continues to provide moments of surprise and joy.

(I would like to thank Baronius Press for providing a review copy for my honest review.)