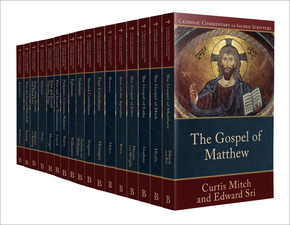 Last year, the complete Catholic Commentary on Sacred Scripture (a 17-volume commentary on the New Testament) was available for 50% off the list price in late January. After debating with myself on such a large purchase and asking for advice from readers who have experience with it, I decided to go for it. I've been working my way through St. Paul's letters over the last several months, reading the commentary volumes on First and Second Corinthians, Galatians, and now First and Second Thessalonians.
Overall, these books are a good resource. I'm learning a lot from them, but I am finding the reading to be tedious at times. I think their design is more suitable for classes and small-group bible studies than individual reading, and their verse-by-verse nature makes reading more arduous than a commentary that is more focused on broader themes like the Eerdmans Commentary on the Bible.
The style of commentary is very consistent from one volume to the next, in spite of the fact that most volumes were written by separate authors. Each volume begins with a brief overview of the history behind the New Testament book which will be examined. The rest of the volume is dedicated to dissecting the biblical writing a few verses at a time, delving into historical details, word studies of relevant Greek terms, information bars with quotes from the early Church fathers, and importantly, application and reflection sections for each segment of a few verses.
As I see it, there are a few basic strengths of this approach. The verse-by-verse commentary makes it possible to pull a volume off the shelf and quickly find commentary related to a daily Mass reading, for example, without having to read a thematic commentary on the entire biblical book. It also breaks each biblical book into bite-sized pieces that lend themselves to a parish Bible study. A lay leader could organize a study group to meet over a series of weeks and work through a book of the New Testament piece-by-piece with one of these volumes serving as the textbook. The application and reflection sections are perfect to spur discussion in study groups on how a passage is relevant to living the Christian life.
Another virtue of the commentary is its focus on integrating historical and grammatical insights with the theology and practice of the Church. Many study bibles focus on historical and grammatical information to the exclusion of later theology and practice, and the result is a jarring difference between the ways of thinking, speaking and acting of people who lived 2000+ years ago and our current lives. These commentaries actively bridge the gap between historical-critical study and theological and pastoral reflection. In that sense, they are working in the tradition of Pope Benedict XVI's Jesus of Nazareth series, which actively focused on integrating the historical-critical insights about Jesus with the Christian faith.
The features I just outlined can simultaneously be drawbacks, though, depending on what a reader is looking for in a commentary. For personal study, I prefer thematic commentary that encourages me to read longer sections of a biblical book and then delve into the themes and history to understand the context and meaning better. As I've been reading the Catholic Commentary on Sacred Scripture, I often find myself "missing the forest for the trees." I become disconnected from the flow of the letter I'm studying. Every so often, I put the commentary down and re-read a few chapters of the letter to re-familiarize myself with the flow of thought Paul is trying to convey. To their credit, the commentary authors make a strong attempt to remind readers of broader themes throughout the verse-by-verse analysis, but despite their best efforts, I still find myself losing Paul's original train of thought and going back to the Bible to read longer sections uninterrupted.
The authors' excellent efforts at bridging the gap between history and modern life also leave me conflicted at times. At its best, the commentary gives me a new insight about how a passage relates to later theological tradition and to modern Christian living. Other times, I find myself wanting more historical focus and feeling like the original import of Paul's words is not as center-stage as I would like.
In closing, this commentary series is undoubtedly useful for the Church. It would be a great resource for parish Bible studies or formal classes in high school or college. For anyone who finds historical-critical study resources to be too dry, speculative, or skeptical, these commentaries strike a better balance between history, theology, and Christian living that might be more fruitful. On the other hand, if you prefer a commentary that encourages reading longer sections of the Bible at a time and focuses on broader themes, this commentary was not designed to fill that need.