Many thanks to two readers who have sent me information on a few new Bible resources:
New Large Type Edition of the New Catholic Bible (NCB)
Catholic Book Publishing Corporation has released a large type edition of the NCB in four colors: burgundy, black, blue, and brown imitation leather. The length and width of this edition (6 1/2 X 9 1/4 inches) are reported to be the same as the Giant Print edition which I reviewed in a series of posts here. It's difficult to tell from the promotional photos whether the thickness of the new large type edition is significantly different from the giant print volume. The new edition is formatted with footnotes at the bottom of each page (unlike the endnotes at the end of each book in the giant print edition). It is also a red-letter edition, with the words of Jesus printed in red throughout the New Testament. Here is a link to a PDF preview of selected study and devotional material and selected biblical texts from Catholic Book Publishing Company. The new editions are priced at $52.
Coming in March: The Ave Catholic Notetaking Bible
Ave Maria Press has announced plans to publish a single-column, wide-margin notetaking bible in the RSV-2CE translation. Both hardcover and leathersoft editions will be available, priced at $49.95 and $59.95 respectively. The Bible will feature cross-references to every Bible verse and passage that is referenced in the Catechism of the Catholic Church, as well as essays, study guides, and reading plans from a list of Catholic authors. The text will be printed in line-matched 9-point font with a sewn binding and two ribbon markers.
New Typesetting Sample from Schuyler's Upcoming RSV with Apocrypha
Schuyler is currently working on typesetting for their upcoming Quentel version of the RSV with Apocrypha. The full Bible is expected to be released in mid-2021. Here is a sample of the typesetting from the second chapter of Genesis, which they recently shared with subscribers to their RSV email list: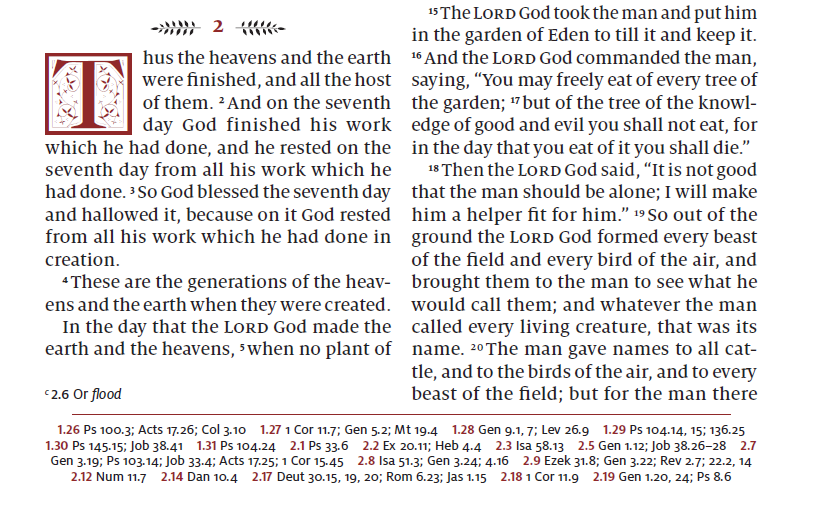 Check out the dedicated webpage for Schuyler's RSV project here.