I just received my pre-ordered copy of Robert Alter's complete translation of the Hebrew Bible. If you're unfamiliar with Alter's work, check out the pre-release announcement I made here.
The translation and commentary are divided into three hardcover volumes: The Five Books of Moses (Genesis through Deuteronomy), The Prophets (the major and minor prophets, as well as Joshua, Judges, 1 & 2 Samuel, and 1 & 2 Kings), and The Writings (Psalms, wisdom literature, Lamentations, Ruth, Esther, Daniel, Ezra, Nehemiah, 1 & 2 Chronicles). Each volume measures approximately 6.5 inches wide by 9.5 inches tall. All three volumes fit into an included paperboard slip case.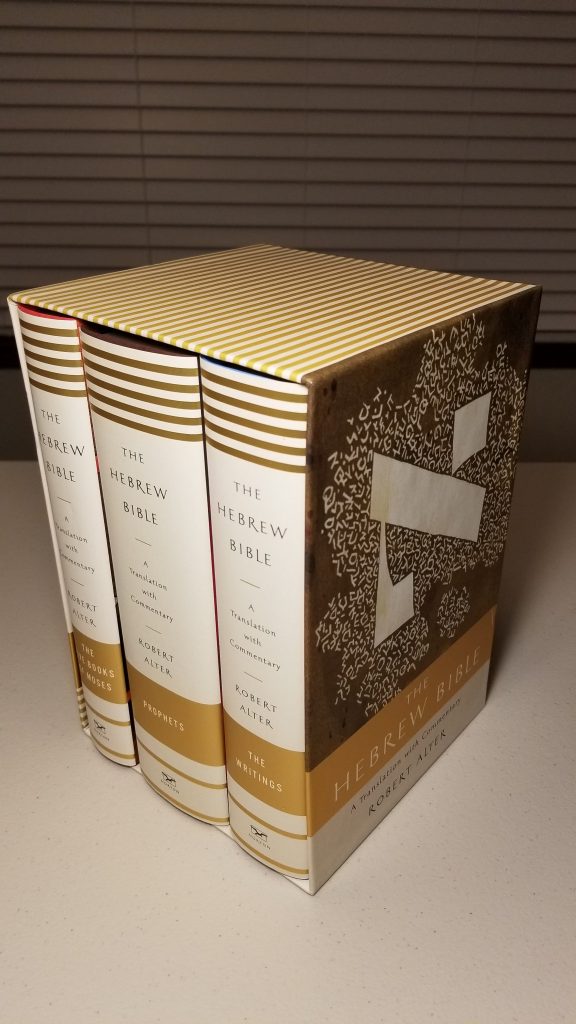 Each of the volumes features excellent production quality. The bindings are sewn, the font is very readable, and most pages are line-matched. I've seen a few pages where the lines are not perfectly aligned with lines on subsequent pages, but they are the exception rather than the rule. The most striking feature is the paper. Most popular hardcover books feature paper that feels rough to the touch. When I first opened one of these volumes, I was struck by how smooth the paper was. Finally, each volume features unique cover art on its dust jacket. Here are the three side-by-side: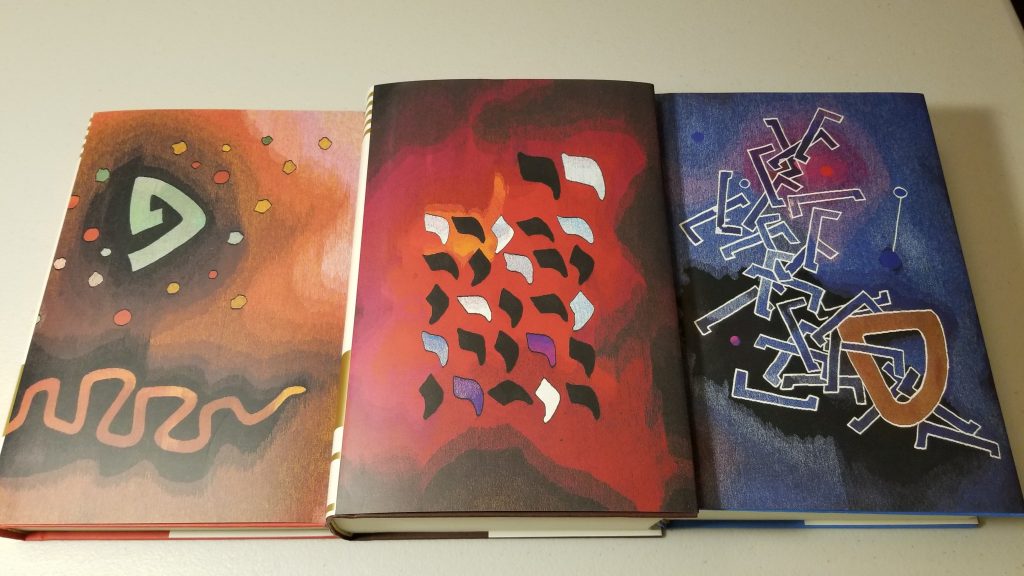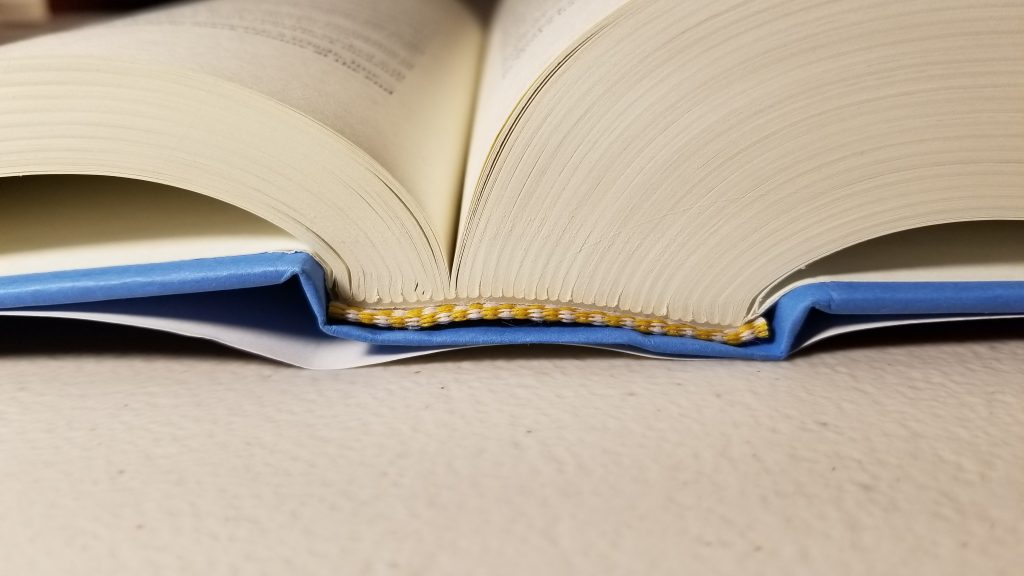 Robert Alter's commentary is extensive throughout the translation. He offers introductions to each biblical book (or to a set of books, in the case of Ezra and Nehemiah, or 1 & 2 Kings for example). It's quite common for half of any given page to be filled with footnotes. The photos below show the first page of the introduction to 1 & 2 Chronicles and a page from the Psalms showing the copious notes.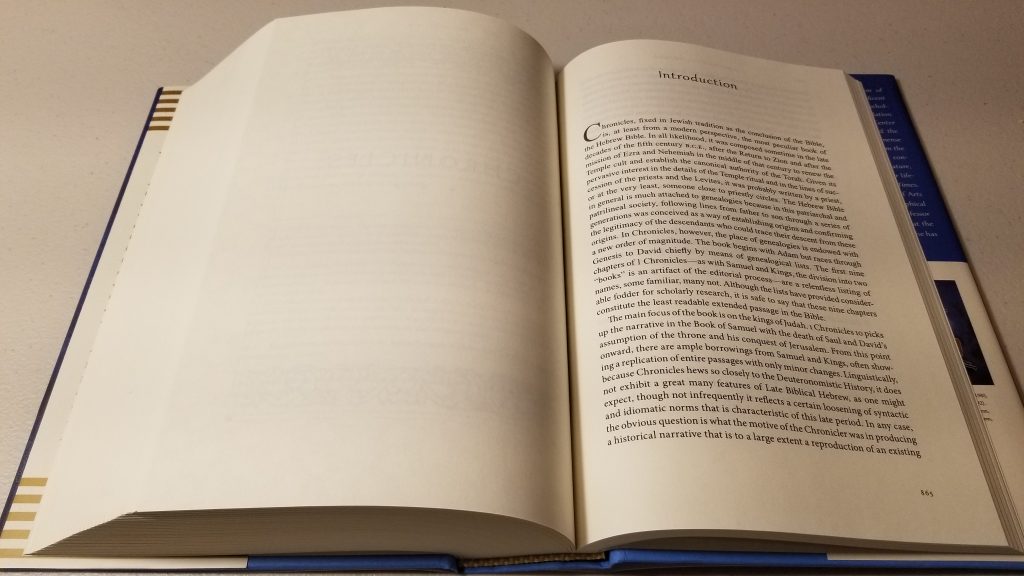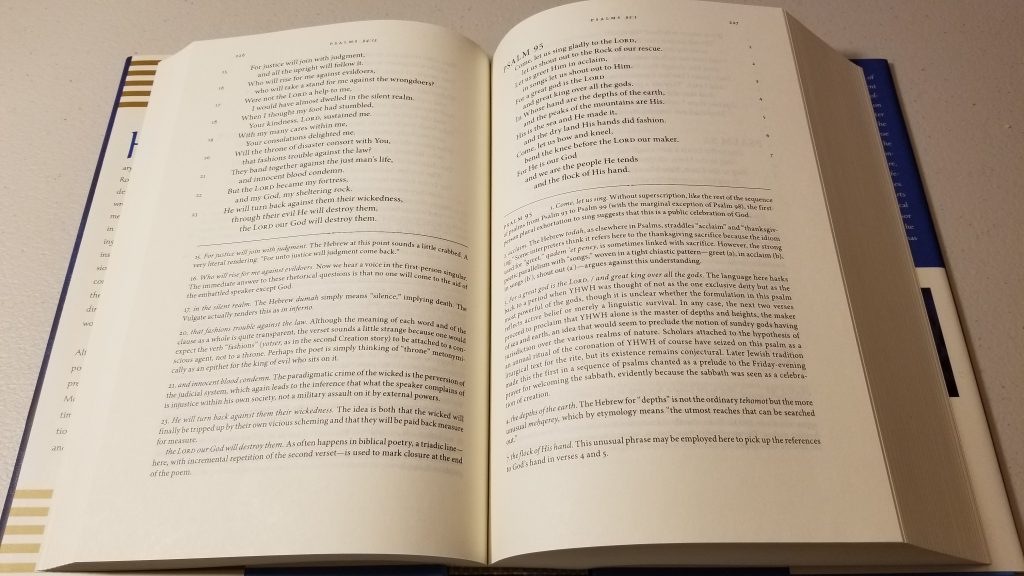 Each volume begins with Alter's extensive preface to his translation, in which he explains his translation philosophy and offers multiple examples to illustrate the principles he intends to follow. He argues in-depth that most modern bible translations are impoverished by their single-minded focus on conveying the meaning of a text while ignoring its literary style and imagery. I'm looking forward to spending more time with this translation!