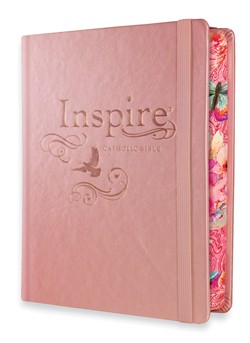 Tyndale House Publishers has just released a Catholic edition of their Inspire Bible NLT, which is designed for journaling and coloring. New copies begin shipping today (Monday, November 12th).
The bible features a single-column text layout with size 8.65 font. The outside margins measure 2 inches wide and are lightly ruled for note-taking. Numerous black and white designs for coloring are scattered throughout the bible. To view a sample of the page layout in the book of Esther, click here.
The bible is currently available in imitation leather-wrapped hardcover. The page edges feature a colorful floral design. I am unable to tell from any of the promotional materials whether the binding is sewn or glued.
Emily Davis wrote a review of the bible with a few photos of what it looks like in person on her blog. Judging by her photos, it looks like ghosting of text from the other side of the page is noticeable, but not excessive.
For more information, visit Tyndale's promotional website for the Inspire Catholic Bible NLT here.
For those of you on Facebook, Tyndale also has a Facebook page dedicated to the Inspire Catholic Bible.