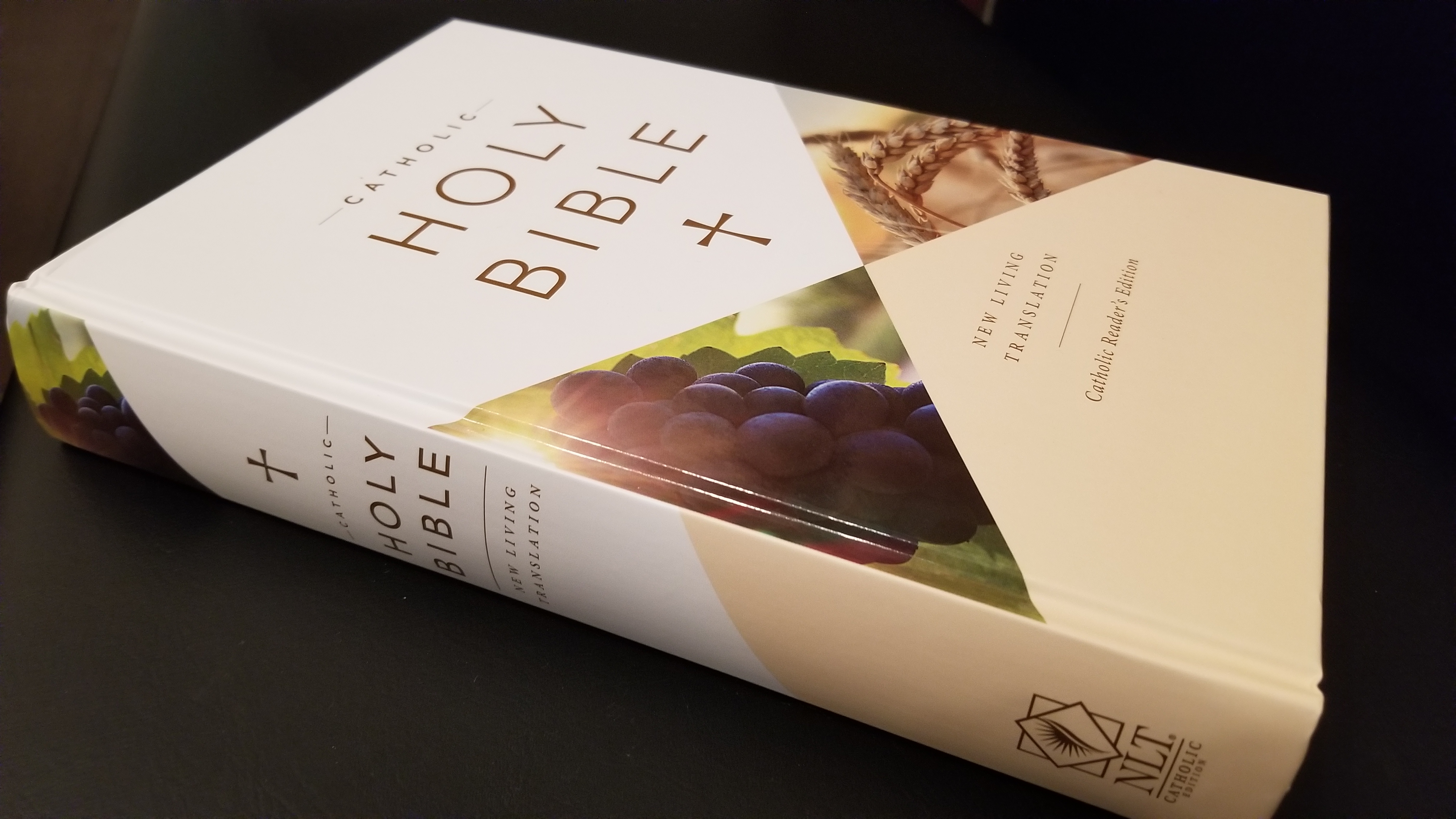 I've now had a chance to read the Gospel of Matthew and 1 Corinthians in the NLT-CE. This translation reads very smoothly and easily. In its best moments, it does a good job of expressing the emotional and rhetorical strength of a passage in a way that many literal translations cannot touch. In my view, that is one of the main strengths of a well-done dynamic translation. A literal translation can obscure the rhetorical power of a passage under difficult or stilted language. A reader can intellectually understand the force of the words in a literal translation, but a well-done dynamic translation can convey the rhetorical power in an immediate, intuitive way. Here's a passage where this quality struck me:
Jesus replied, "And why do you, by your traditions, violate the direct commandments of God? For instance, God says, 'Honor your father and mother,' and 'Anyone who speaks disrespectfully of father or mother must be put to death.' But you say it is all right for people to say to their parents, 'Sorry, I can't help you. For I have vowed to give to God what I would have given to you.' In this way, you say they don't need to honor their parents. And so you cancel the word of God for the sake of your own tradition. You hypocrites! Isaiah was right when he prophesied about you, for he wrote,

'These people honor me with their lips,
but their hearts are far from me.
Their worship is a farce,
for they teach man-made ideas as commands from God.'"

Then Jesus called to the crowd to come and hear. "Listen," he said, "and try to understand. It's not what goes into your mouth that defiles you; you are defiled by the words that come out of your mouth."

Then the disciples came to him and asked, "Do you realize you offended the Pharisees by what you just said?"

Jesus replied, "Every plant not planted by my heavenly Father will be uprooted, so ignore them. They are blind guides leading the blind, and if one blind person guides another, they will both fall into a ditch." – Matthew 15:3-14 NLT-CE
This passage is an excellent sample of how the NLT-CE reads throughout Matthew and 1 Corinthians. The text is easy to read. It communicates sharp criticism and rhetoric forcefully, but it also shows the translators' tendency to explain the text as it goes, introducing interpretations to aid understanding which do not exist in the original text. Consider Matthew 15:11. The NLT-CE reads:
It's not what goes into your mouth that defiles you; you are defiled by the words that come out of your mouth.
By comparison, the NABRE reads:
It is not what enters one's mouth that defiles that person; but what comes out of the mouth is what defiles one.
The NLT-CE has added the clarification that Jesus is talking about the words that come from a person's mouth. Literal translations leave that implication to the reader.
There are many examples of these interpretive clarifications throughout Matthew and 1 Corinthians. Here are a few others, with interpretive words highlighted in bold and the NABRE listed for comparison:
Matthew 3:10:
Even now the ax of God's judgment is poised, ready to sever the roots of the trees. – NLT-CE

Even now the ax lies at the root of the trees. – NABRE
Matthew 3:11:
But someone is coming soon who is greater than I am — so much greater that I'm not worthy even to be his slave and carry his sandals. – NLT-CE

but the one who is coming after me is mightier than I. I am not worthy to carry his sandals. – NABRE
Matthew 5:38:
You have heard the law that says the punishment must match the injury: 'an eye for an eye and a tooth for a tooth.' – NLT-CE

You have heard that it was said, 'an eye for an eye and a tooth for a tooth.' – NABRE
Matthew 8:12:
But many Israelites — those for whom the Kingdom was prepared — will be thrown into the outer darkness , where there will be weeping and gnashing of teeth. – NLT-CE

but the children of the kingdom will be driven out into the outer darkness, where there will be wailing and grinding of teeth. – NABRE
Matthew 9:9:
"Follow me and be my disciple," Jesus said to him. – NLT-CE

He said to him, "follow me." – NABRE
So far, these clarifications are minor, and they don't change the meaning of the passage. On balance, I think they're valuable, since our culture is so far removed from Judea and Galilee in the first century. In the case of Matthew 3:11, the extra words help to communicate the implication that a slave would be the one carrying sandals. A modern reader might otherwise miss that connection. However, the NLT-CE also introduces clarifications in places where they narrow the meaning, as compared with the NABRE:
Matthew 5:3:
God blesses those who are poor and realize their need for him – NLT-CE

Blessed are the poor in spirit – NABRE
Matthew 7:16:
You can identify them by their fruit, that is, by the way they act. – NLT-CE

By their fruits you will know them. – NABRE
Matthew 10:28:
Fear only God, who can destroy both soul and body in hell – NLT-CE

be afraid of the one who can destroy both soul and body in Gehenna. – NABRE
Matthew 13:12:
To those who listen to my teaching, more understanding will be given, and they will have an abundance of knowledge. but for those who are not listening, even what little understanding they have will be taken away from them. – NLT-CE

To anyone who has, more will be given and he will grow rich; from anyone who has not, even what he has will be taken away. – NABRE
Matthew 22:38-39:
This is the first and greatest commandment. A second is equally important: 'Love your neighbor as yourself.' – NLT-CE

This is the greatest and the first commandment. The second is like it: You shall love your neighbor as yourself. – NABRE
Finally, I noticed a couple instances where the NLT-CE substitutes modern examples or images for similar ancient ones:
Matthew 6:17:
But when you fast, comb your hair and wash your face. – NLT-CE

But when you fast, anoint your head and wash your face – NABRE
Matthew 27:35:
After they had nailed him to the cross, the soldiers gambled for his clothes by throwing dice. – NLT-CE

After they had crucified him, they divided his garments by casting lots – NABRE
In both of these cases, the NLT-CE includes a footnote indicating the literal translation of the Greek. This is fairly common throughout the text. If the translators decided to paraphrase a passage, they often included a note with a more literal rendering for reference. Frustratingly, they did not include notes for many of their clarifying additions, such as in Matthew 3:10, 3:11, 7:16, 9:9, 10:28, 13:12, and 22:38-39.
As I noted, many of the clarifying additions are reasonable and good, but the clarifying additions that narrow the meaning of the text are a sticking point for me. Sometimes a text allows multiple interpretations, and sometimes scholars continue to debate the meaning of difficult passages. In these cases, I would strongly prefer that the translators retain the ambiguity and provide the explanatory reading as a footnote. If scholars struggle to understand the meaning, the translators should not smooth away the difficulty.
That being said, I believe the NLT-CE still has value as a translation — especially for readers who want to read the Bible at length and are not aiming to study passages in-depth. After moving through the Gospel of Matthew carefully with a fine-toothed comb, I decided to read the passion narrative and 1 Corinthians with less concern for individual word choices, trying to experience the translation more broadly. As I noted at the outset, the translation reads very smoothly. I read through swaths of 1 Corinthians effortlessly, and the NLT-CE clarifies Paul's language in a much more natural English style. Here's a good sample from 1 Corinthians 9:22-27:
When I am with those who are weak, I share their weakness, for I want to bring the weak to Christ. Yes, I try to find common ground with everyone, doing everything I can to save some. I do everything to spread the Good News and share in its blessings.

Don't you realize that in a race everyone runs, but only one person gets the prize? So run to win! All athletes are disciplined in their training. They do it to win a prize that will fade away, but we do it for an eternal prize. So I run with purpose in every step. I am not just shadowboxing. I discipline my body like an athlete, training it to do what it should. Otherwise, I fear that after preaching to others I myself might be disqualified.
In Part 3, I'll say a few words about the physical construction of this US hardcover edition from Tyndale, and I'll touch on the quality of the book introductions, which were produced by a team from the Conference of Catholic Bishops of India.