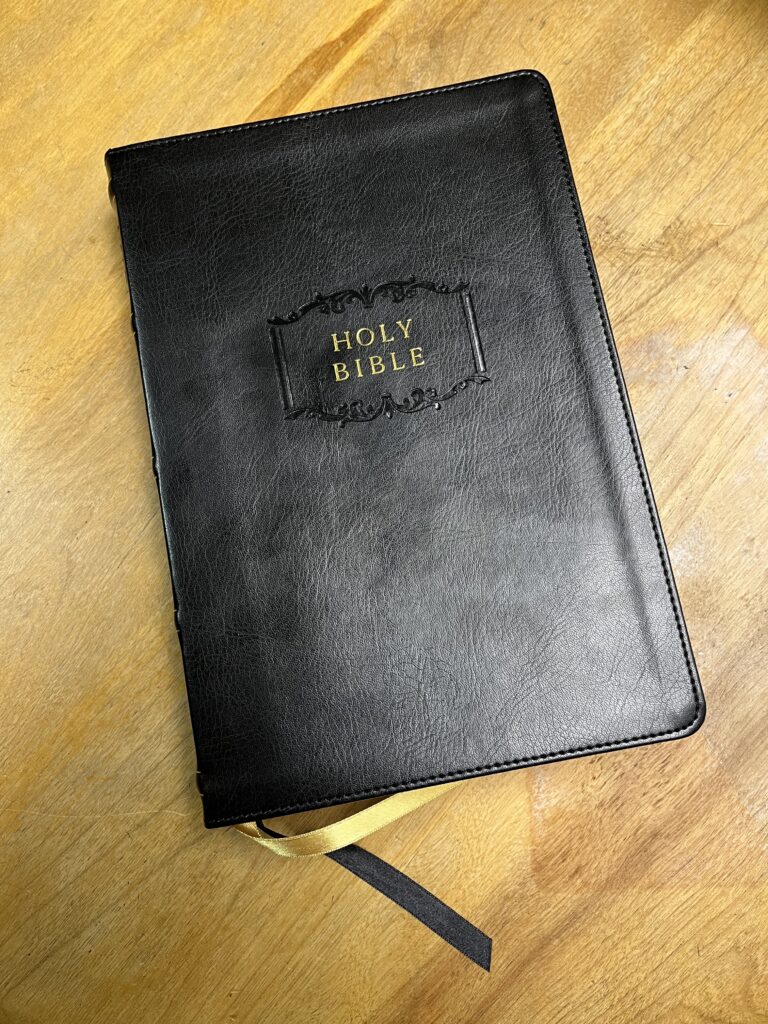 I recently did something that I haven't done before: I purchased my own KJV Bible. Now while I have been gifted a copy or two over the years and have certainly had parallel Bibles that included the KJV, this was really the first time that I had actually purchased a copy for myself. I was spurred on to acquire this edition through the combination of a comment in a previous post and a well-timed advertisement from Thomas Nelson. It seemed that it was meant to be or perhaps just a coincidence or maybe my phone was analyzing and sharing my data! 🙂 Either way, I decided to go with the Black Leathersoft edition simply because I didn't want to spend a whole lot of money on a Bible I may not use that often. I ended up spending under $50 with free shipping from christianbook.com. The Leathersoft is pretty much what you would expect from that material, but the perimeter stitching is a really nice touch.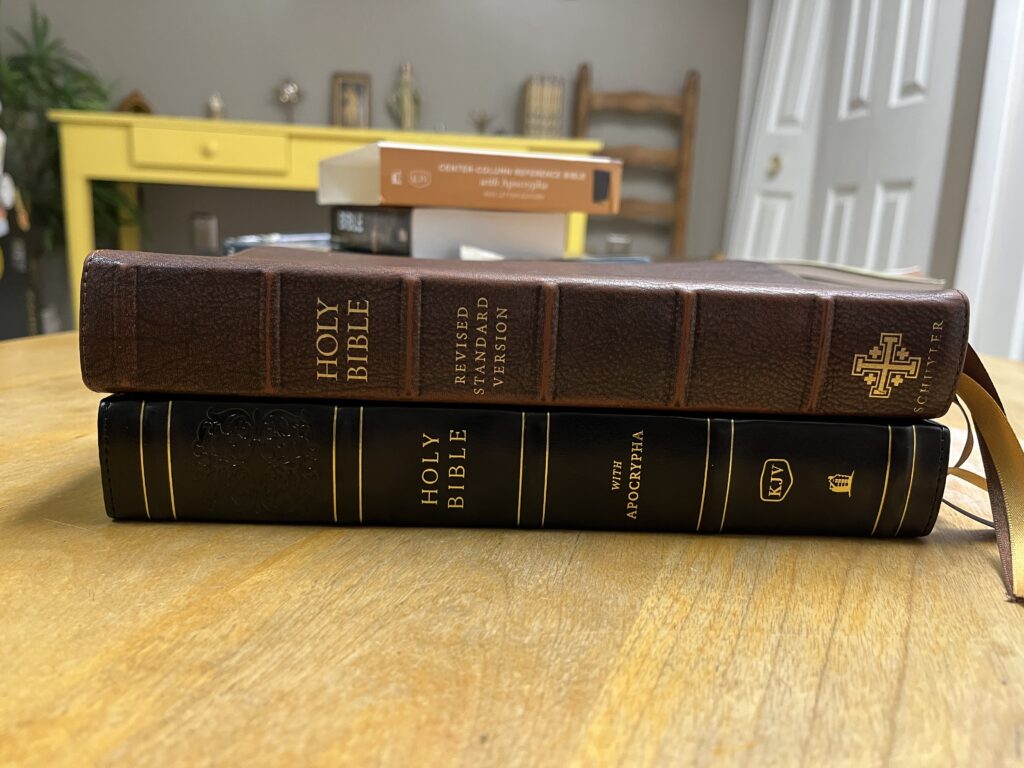 Here are the listed features for this Bible:
Presentation page to personalize this special gift by recording a memory or a note
15 Books of the Apocrypha placed between the Old and New Testaments for spiritual insight and historical context for certain books of the Bible
Old Testament and New Testament books include over 73,000 center column cross-references and translator notes allow you to find related passages quickly and easily
Book introductions for Old Testament, Apocrypha, and New Testament provide a concise overview of the background and historical context of the book about to be read
"About the Apocrypha" article describes what the apocrypha is and its importance
"About the Bible" article
"How to Study the Bible" article for tips on how to find deeper truths in Scripture
"Getting to Know God" article is a guide to a personal relationship with God
"Between the Testaments" article for historical context leading up to the New Testament
The History of the Red-Letter Bible" article
"30 Days Getting to Know God" reading plan for key passages for a better understanding of key characteristic of God
"30 Days Getting to Know Jesus" reading plan for a highlight of key moments in Jesus' earthly ministry
Full-color maps show a visual representation of Israel and other biblical locations for better context
Two satin ribbon markers for you to easily navigate and keep track of where you were reading
Durable Smyth-sewn binding lies flat in your hand or on your desk
Clear and readable 9.5-point KJV Comfort Print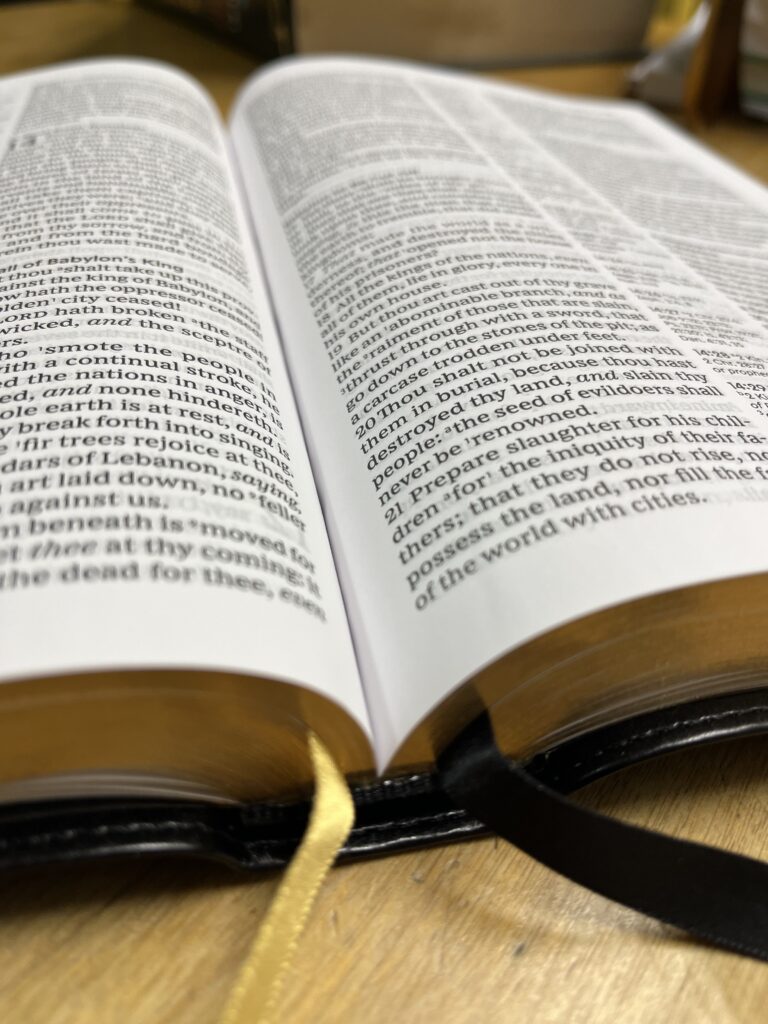 Let me just give a few first impressions after spending about a week with this Bible: 1) Even though I am not a huge fan of the "Easy to Read Comfort Print" font, I find this Bible super easy to read from. This is due primarily to the dark print and line-matching, but also the spacing on each page, which includes a generous one inch margin. The 9.5 font and the 30 gsm paper are perfect for a Bible like this. 2) The Apocrypha books do not contain center-column references. You will notice that the columns are larger than the rest of the bible because of that. They include the standard Catholic Deuterocanonicals as well as 1-2 Esdras, Prayer of Manasses, and 3 Maccabees. 3) The red-lettering is done well. I am not a huge fan of red-letter Bibles, but this isn't a huge distraction at all. 4) The center-column references contain 73,000 references as well as modern renderings of certain English words that may need to be made clearer for the modern reader or perhaps have changed their meaning since this version of the KJV was done. 5) This Bible opens up flat immediately after taking it out of the box. You may need to "work-in" the first and last Biblical books which are closer to the cover, but this is to be expected. 6) It contains seven glossy Zondervan maps. 7) The article on the "History of the Red Letter Bible" was a pretty interesting read, since it wasn't something I had any prior knowledge of. 8) The intros to each book (including the Apocrypha books) are traditional, focused, concise, and helpful.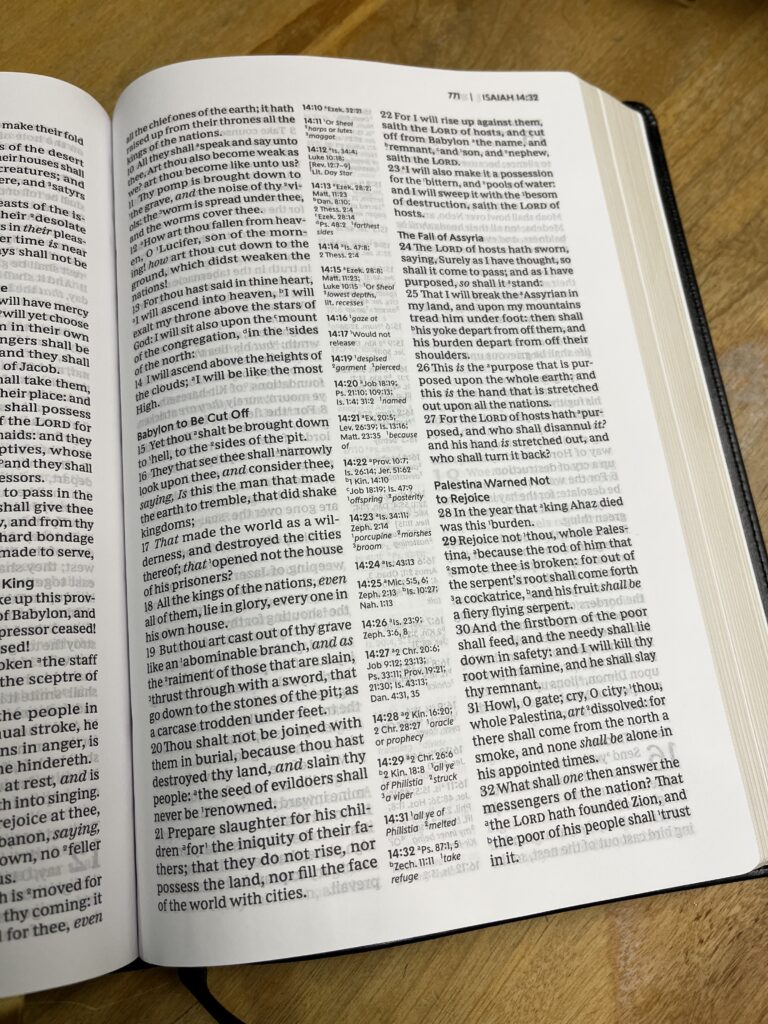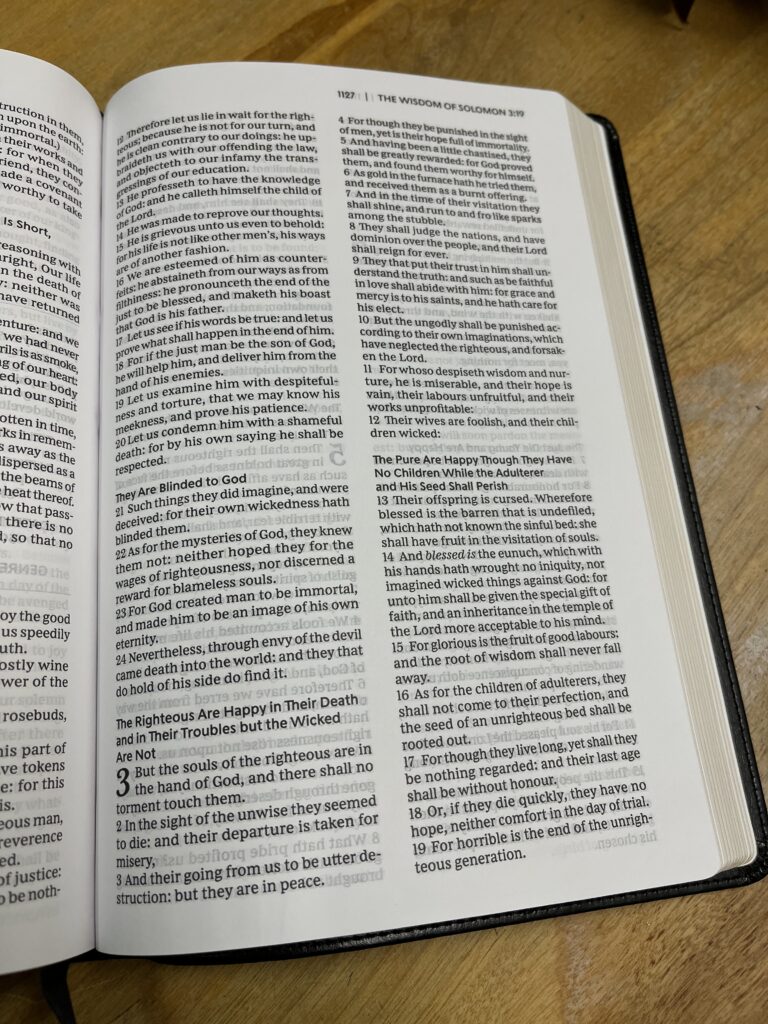 A thought always comes to me when I am looking at newer Bible editions based on older translations: It is remarkable that older translations like the KJV remain popular and available in more modern formats and editions. There are editions like this one, youth editions, study editions, and others which have taken the older language of the KJV and have packaged it in a modern Bible edition. When I think about the Douay-Rheims (or even to a lesser extent the Knox) the options are simply not there. For all the good work that publishers like Baronius or Loreto have done to keep the Douay-Rheims in print, these editions have the look and feel (even if newly re-typeset) of a Bible from around 1908. And I understand that an edition like that will certainly appeal to a certain crowd, but it is my belief that for the popularity of the Douay-Rheims to grow it needs to be offered in the style and format of a modern Bible. Could you imagine a Douay-Rheims Quentel from Schuyler? (BTW, that would never happen.) Or perhaps something like this lovely Thomas Nelson Center-Column KJV w/Apocrypha?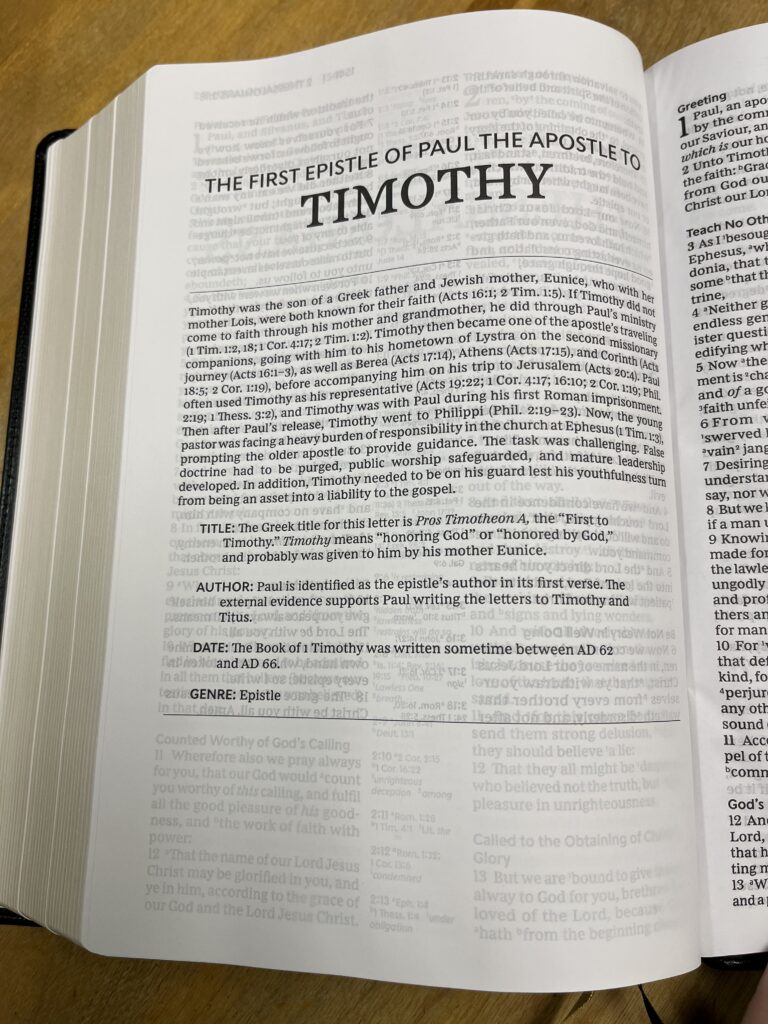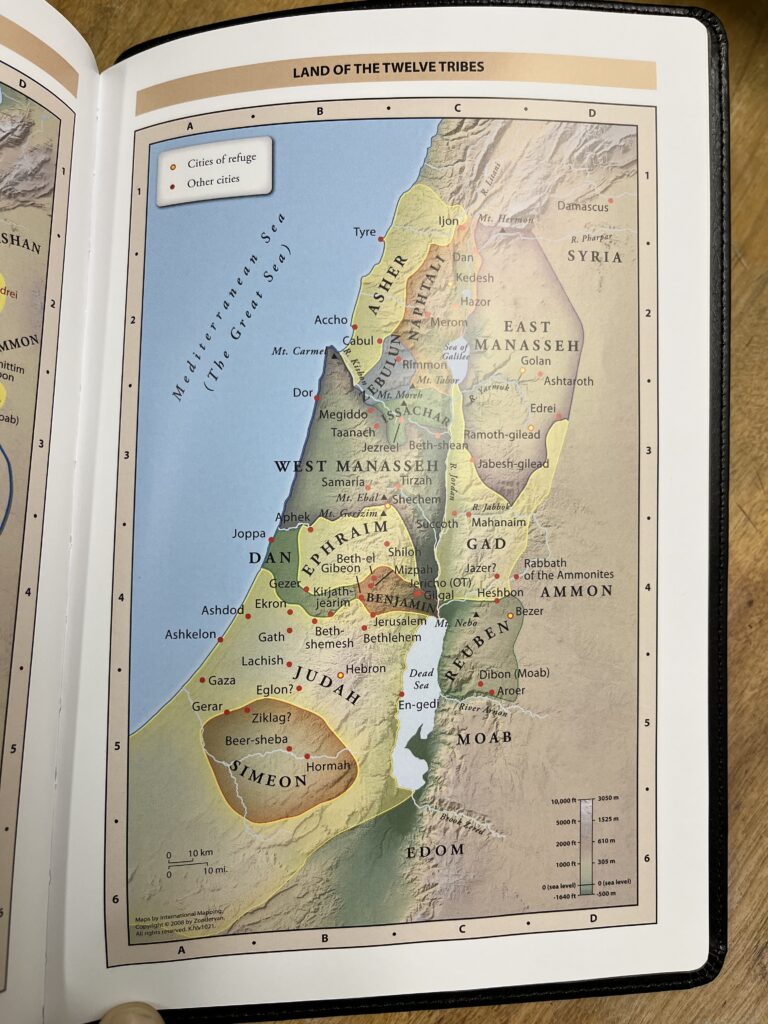 Overall, I am really happy to have purchased this KJV Bible. You can check out the various editions of this bible by heading over to the Thomas Nelson website.