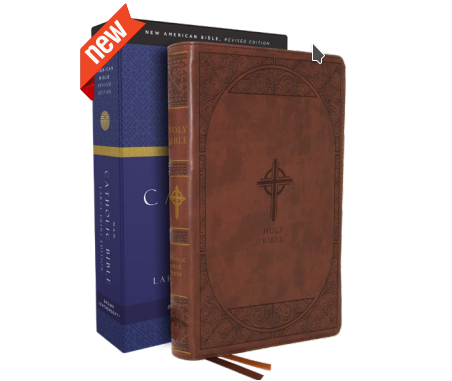 Thomas Nelson Catholic Bible Press has released details and product listings for a large print NABRE (New American Bible Revised Edition) which is due to be published on October 6th. Their 2020 catalog (available here) shows that the new edition will feature the same "Leathersoft (R)" imitation leather cover as their NRSV-CE editions (one of the best imitation leathers I've seen), and it will be available in two colors: black and brown. This edition will feature all the normal NABRE introductions, notes, and cross-references. Some other notable details:
Smyth-sewn binding
11-point font size
Double-column text layout
Two ribbon markers
Gold-gilded page edges
A newly-designed font called "Catholic Comfort Print (R)"
The product listings for these editions are already live on Amazon (black and brown) and ChristianBook (black and brown). The catalog listing indicates that this bible will measure 6 3/16 X 9 3/16 inches. This is a bit smaller than the Oxford Large Print NABRE (which measures approximately 6 3/8 X 9 1/2 inches in the genuine leather edition). The Oxford edition advertises 12-point type, but it is plagued by moderate ghosting and no line-matching.
I have high hopes for this edition. The NRSV-CE personal edition from Catholic Bible Press is excellent. If they produce a similar level of quality in this NABRE, it will be an exciting achievement. And with a pre-order price of $39.99 from ChristianBook, I expect it will deliver plenty of quality to match the price.