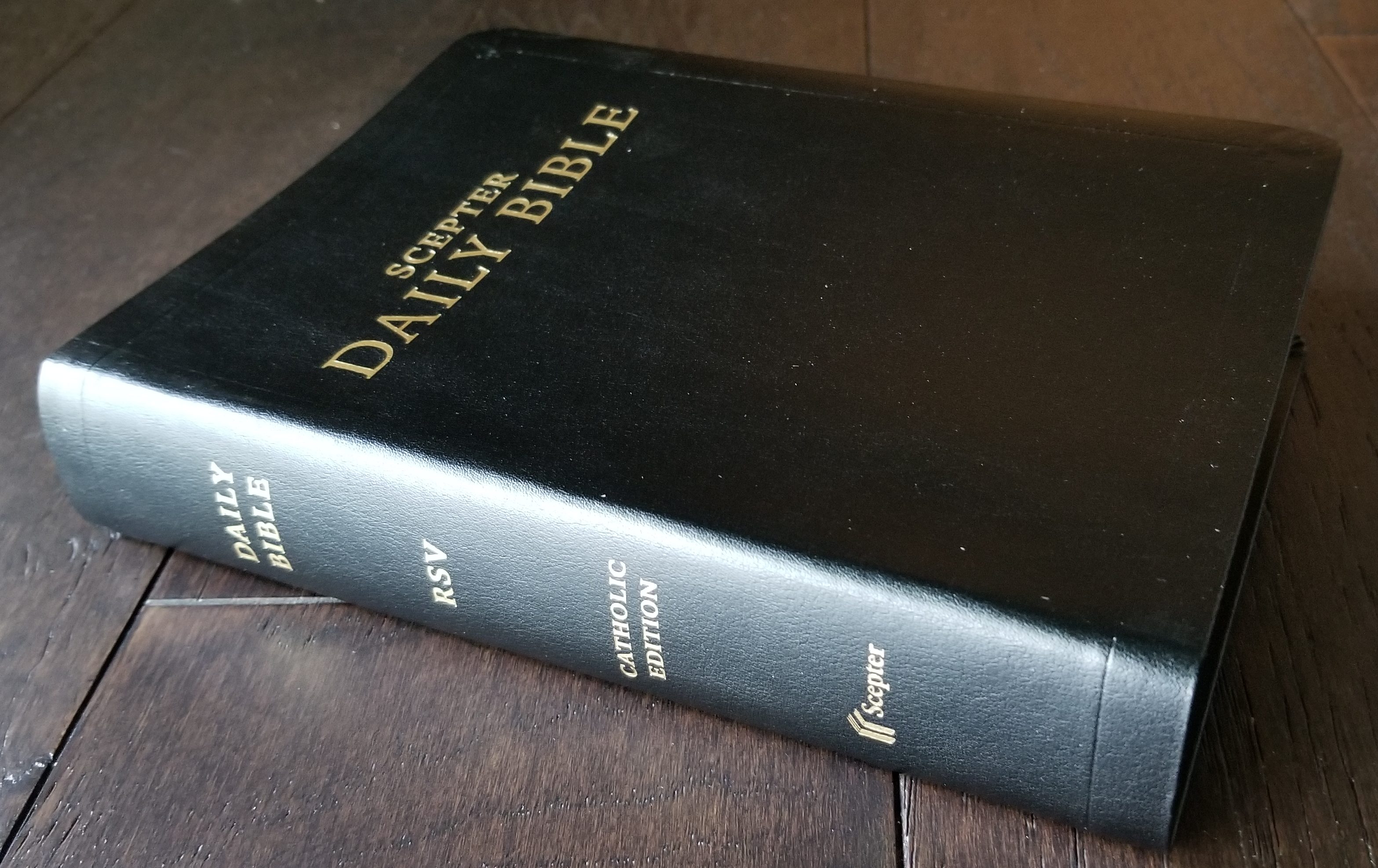 A few weeks ago, I found an imitation leather copy of the Scepter Daily Bible RSV-CE in a Catholic book store and posted my first impressions of it. I have now received a review copy of the bonded leather edition from Scepter Press, and I have some photos to share. The bible is now in stock at both Scepter Press and Leaflet Missal.
Firstly, if you are interested in purchasing this Bible, I highly recommend paying the extra $5 for the bonded leather edition. The cover is much nicer than the imitation leather, and it features gold gilding on the page edges which is quite decent for a bible at this price point. In my first impressions post, I mentioned that the imitation leather felt rubbery in my hands. The bonded leather is much closer to what a leather cover truly feels like. It is certainly thinner and more plastic-like compared to a premium leather cover, but it has a soft, flexible feel to it. It's the kind of book that I would enjoy picking up and reading — just because of its texture.
The binding is sewn, and it features one single-sided, 1/4 inch, red ribbon marker.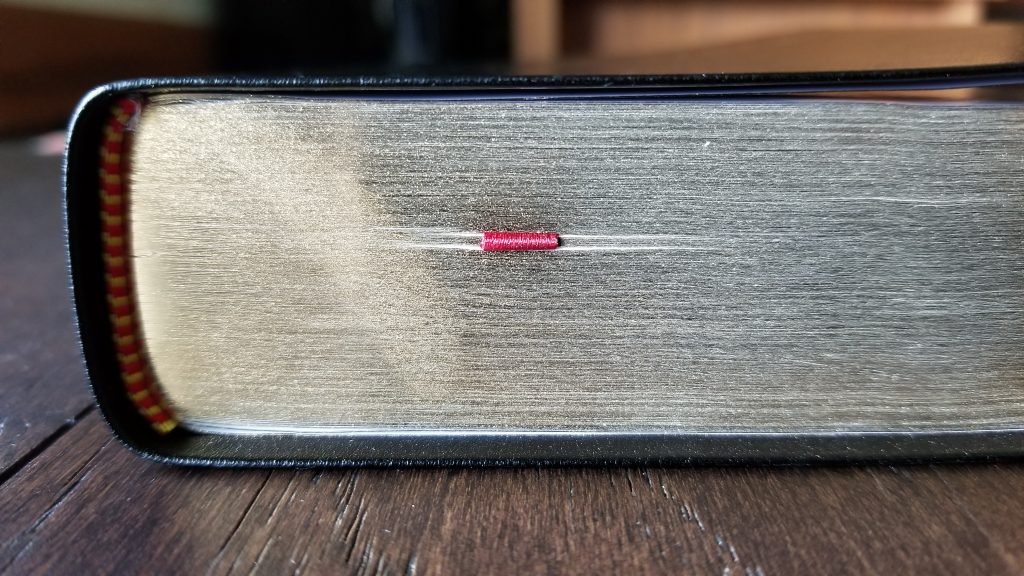 It's worth emphasizing that the font size is quite small. Here is a photo with the Scepter Daily Bible RSV-CE on the left and the Cambridge hardcover REB on the right. The Cambridge has size 8 font, and the Scepter bible's font is notably smaller (probably a size 6 or 7). If you find small print difficult or frustrating to read, this bible would be a source of grief for you.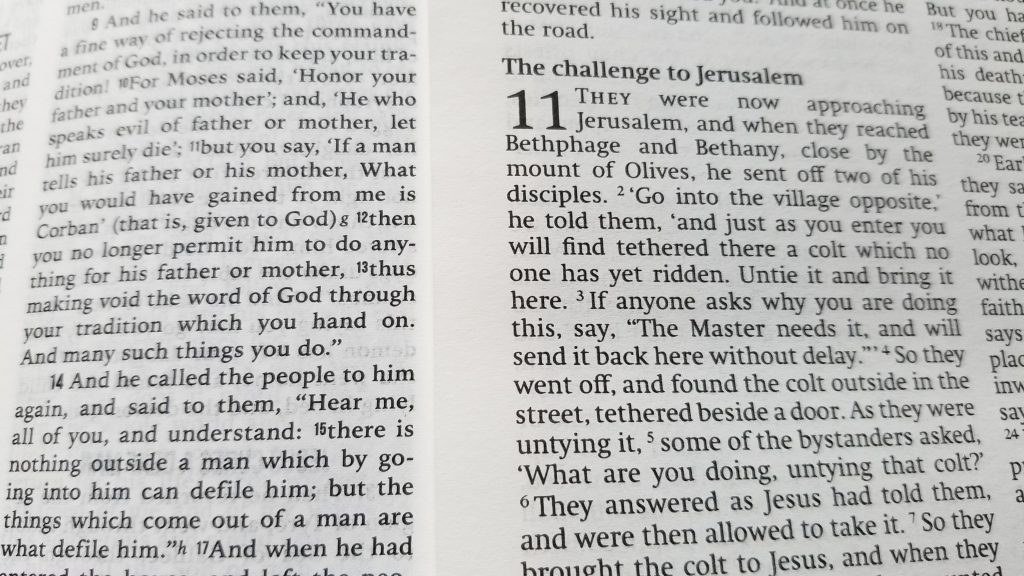 On the positive side, though, the small font allows this bible to have a very nice size for carrying and reading. It is made to be easily portable and not bulky. It has a similar height and width to the Saint Paul Daily Missal which I reviewed a few months ago (although the Scepter bible is not nearly as thick).
The pages are thin enough to make ghosting noticeable. Many of the pages are line matched, which helps to make the ghosting less obtrusive, but there are a lot of pages where there is no line matching. I haven't found the ghosting to be extremely distracting, so it would not be a deal-breaker for me. If you prefer minimal ghosting, though, this bible is probably not for you.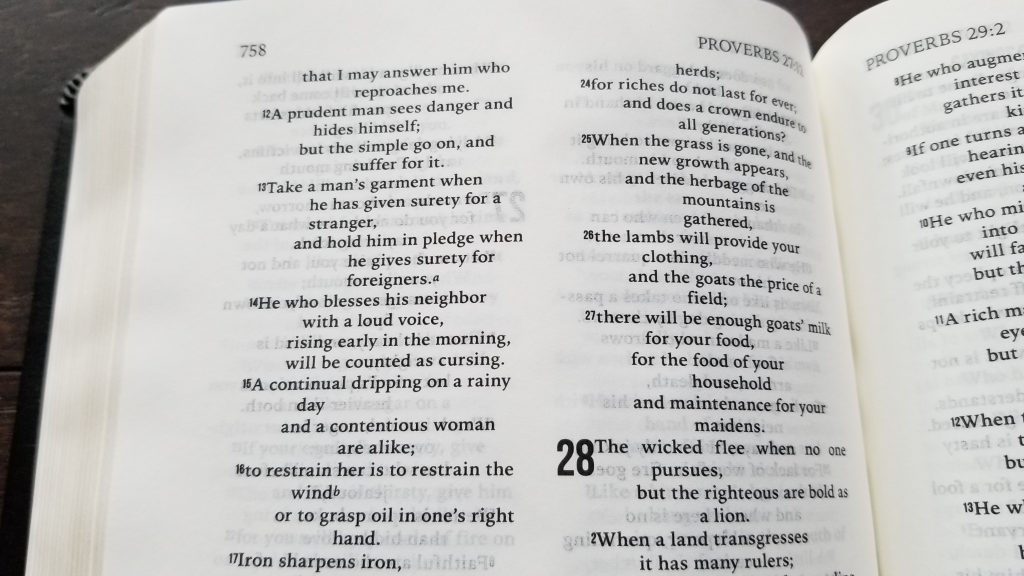 Overall, I would say this bible is a good choice for its intended purpose: a bible that can be easily carried anywhere you go for daily use. It's a very nice size to hold, transport, and read. If the small print and moderate ghosting are not major obstacles, I think this will be a useful bible for a lot of people. The bonded leather edition is especially nice and worth the small $5 upgrade.