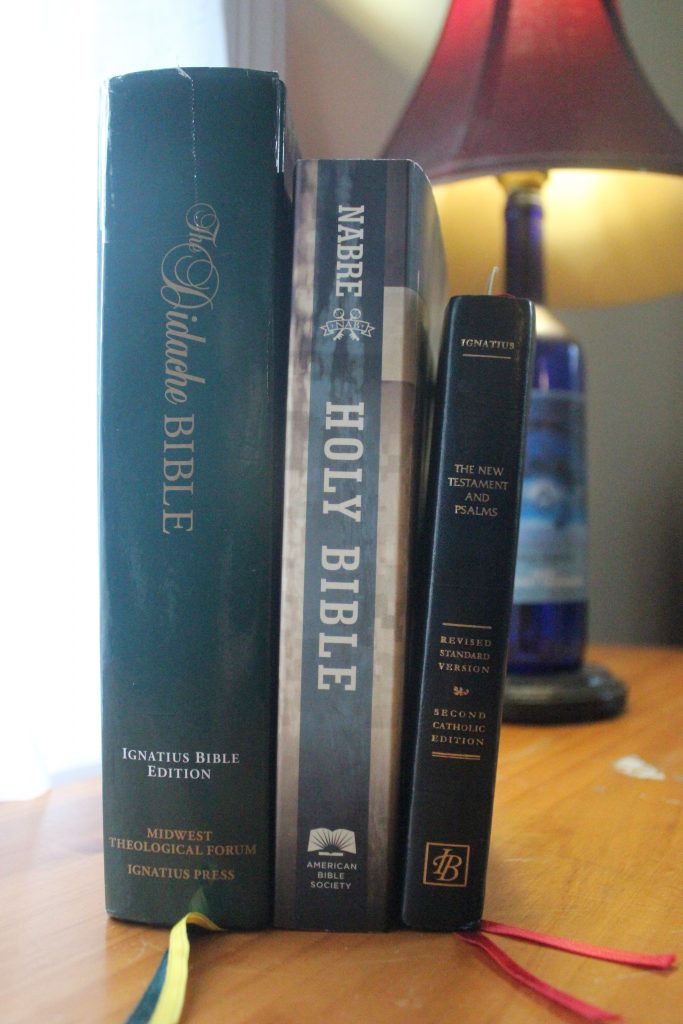 The NABRE E100 Military Edition, published by the American Bible Society at the request of Archbishop Timothy Broglio, has been out for just over six years. According to the Archdiocese of the Military Services news article:
"Bound in water-resistant, earth-toned digital camouflage covers, the special volume of the New American Bible, Revised Edition (NABRE) is durable, lightweight and handy for easy reference in all kinds of circumstances, including combat. The Catholic Bible contains a guide for practicing Lectio Divina—Latin for "divine reading"—a Benedictine tradition of Scriptural reading, meditation, prayer, contemplation and action, as well as the three-year calendar cycle of Sunday Mass readings, a weekday lectionary and collection of Catholic prayers and spiritual devotions including the Hail Mary, Glory Be and Act of Contrition."
A quick swath through your favorite search engine will show that there are practically no reviews of this bible. And why would there be any? It's not exactly an easy one to get your hands on.
The cover has a generic digital camouflage pattern that does not replicate any of the current camouflage patterns of the US Armed Forces. The reportedly water-resistant cover's finish has a matte look and feels smooth to touch and hold. I held this bible under a faucet of running water for 30 seconds to see how the cover would fare, and it does not feel any different from when I first picked it up. You could spill your Meal Ready-to-Eat coffee on the cover and it should be fine, but the pages will definitely stick together.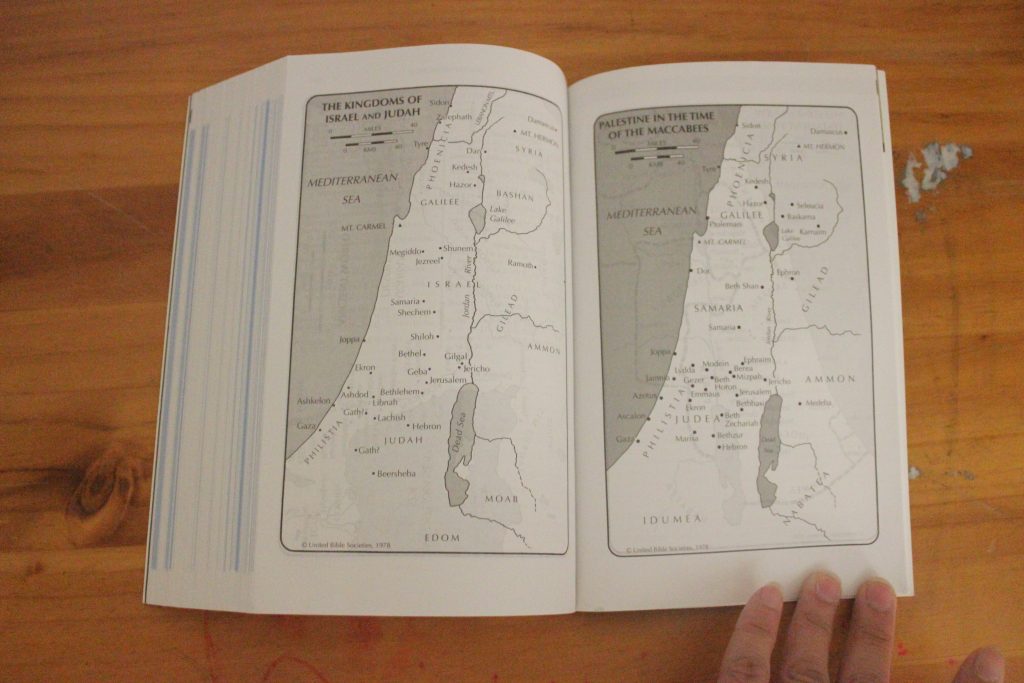 The paper feels on par with the Didache RSV-2CE, is translucent, but has no line matching. The font is rather small and could potentially be an eyestrain for those who have difficulty with small font sizes. Nearly everything is printed in black and white, including the four maps in the back. The exception to the black and white are the passages for the E100, which are highlighted in blue.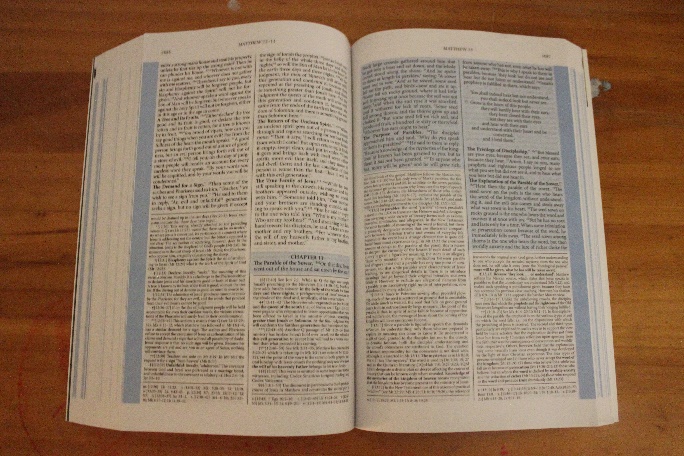 My goal is to breeze through the E100 passages and questions in less than 100 days. Since the E100 was originally developed as a Protestant bible study, then it should come as no surprise that nothing is highlighted blue within the Deuterocanonicals. I think it would be beneficial to come up with five passages and questions for the Deuterocanonicals to give the E100 some Catholic flair, and essentially make it the "E100+." If you just want the questions to the E100, there is a separate booklet available as well.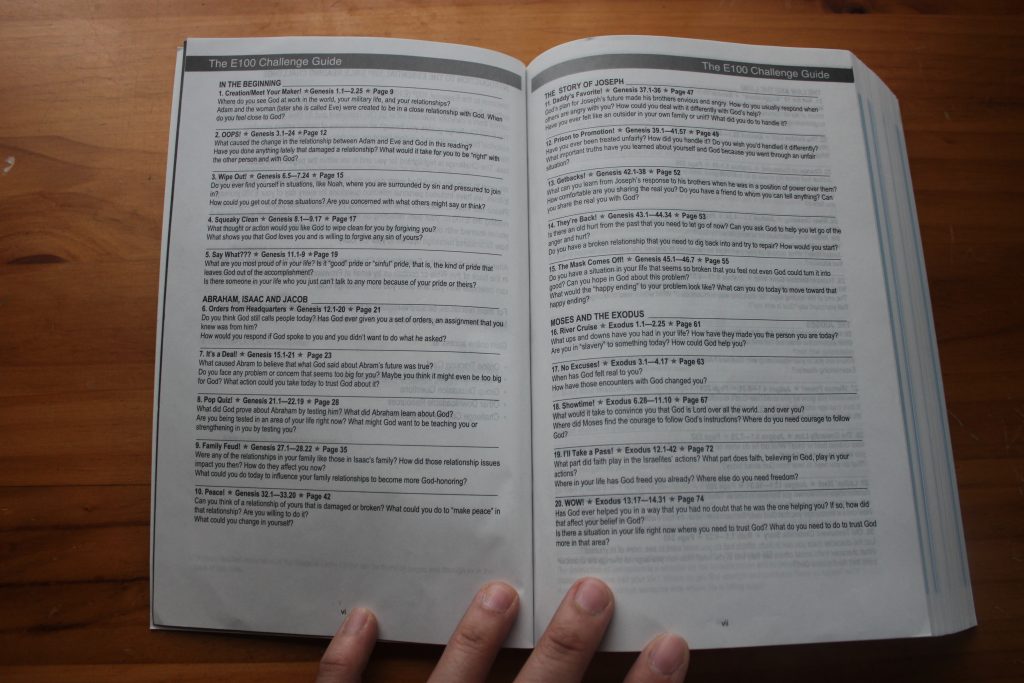 If you're active duty, a veteran, a military retiree, or a family member of the aforementioned, and you don't want to spend a single penny (including shipping!) on a free, printed NABRE, this is practically the only choice out there. I would probably take this with me on a deployment, but it would travel in my rucksack rather than my cargo pocket.
The caveat to getting the NABRE E100 Military Edition or just the separate E100 booklet is that neither can be ordered by just anyone. If you would like to have this free resource available for Service members (current and former) within your congregation, I encourage you to talk with your chaplains or ministry leaders about ordering copies via the Armed Services Ministry website.