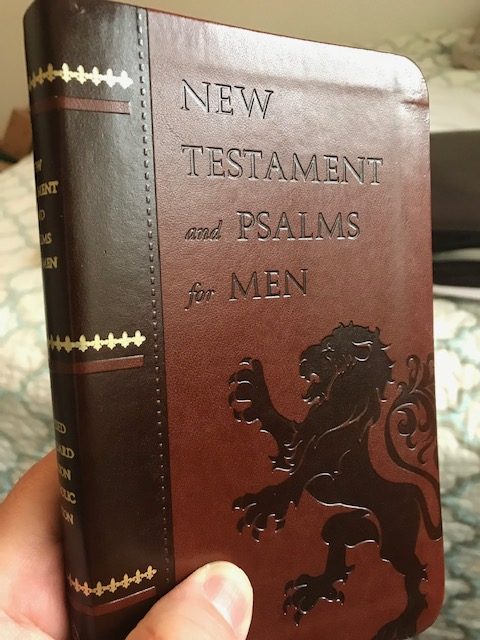 While Timothy becomes familiar with using this new blogging platform, he sent me his first post to share with you. Here is his review of the new RSV-CE New Testament and Psalms for Men from Saint Benedict Press:
Well, for my first review on this site I wanted to look at the recently released New Testament and Psalms for Men, published by Saint Benedict Press (SBP). Saint Benedict Press/TAN have continued to offer editions of the RSV-CE (as well as the Douay-Rheims and NABRE) in unique formats and designs. I give them a lot of credit for taking chances on releasing new bible editions and not simply reprinting the same old look for each of their bibles.
SBP's New Testament and Psalms for Men is clearly designed to have a look and feel that most men would like, while also being portable. The product description notes that "This New Testament & Psalms for Men in the RSV-CE comes in a convenient portable size. Designed for fathers, husbands, sons, brothers and priests, it features a durable imitation leather cover. It also contains prayers, writings from the saints, and more useful tools for men." I would imagine Pope Francis, who has been a vigorous advocate for Catholics to read the Gospels daily for most of his pontificate, would approve of this edition.
The size of this bible is 4.25 x 6.875 and the cover is made of their premium ultrasoft, which is an imitation leather that many of their bibles come in. The cover has a very nice feel and look to it. In particular, I find the blind imprinting of the lion on the front is really well done and goes with the theme of this being a bible for "men." In addition, there is a single bible ribbon and the pages have gilded edges. For many, it will have a similar look and feel to the RSV-2CE NT and Psalms offered by Ignatius Press, although the SBP edition is a tad bigger. However, once you open it up, you will notice that there are considerable differences between the two. One minor issue, which is not new to those of you have SBP bibles, is that the binding is glued. I would think that with a bible this size it would probably be ok, but with the added inserts (which I will talk about later) I do worry about longevity and durability.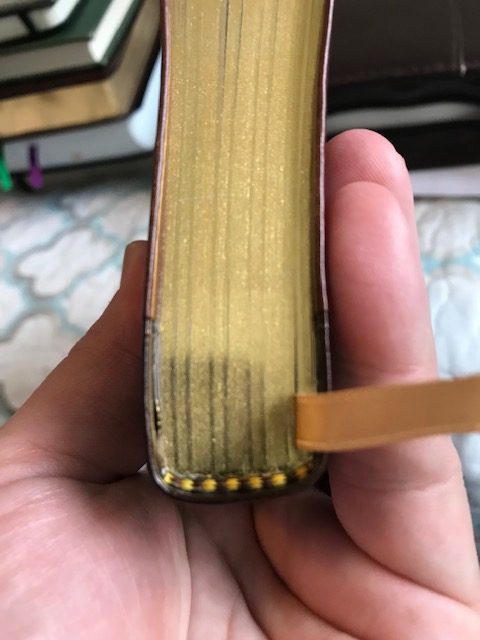 Inside SBP's New Testament and Psalms for Men you will find that the Psalms are placed at the beginning, unlike the Ignatius edition which has them at the end. I am not sure which I prefer, although I lean towards the latter. Both the Psalms and NT are presented in double-column with a very generous sized font on white paper. I find it to be quite readable. In my opinion, the font is preferable to the one used by Ignatius and there is a general feeling of more space on each page. Paragraph headings and chapter numbers are large and bolded, bringing a contrast and spacing for the reader to easily scan each page.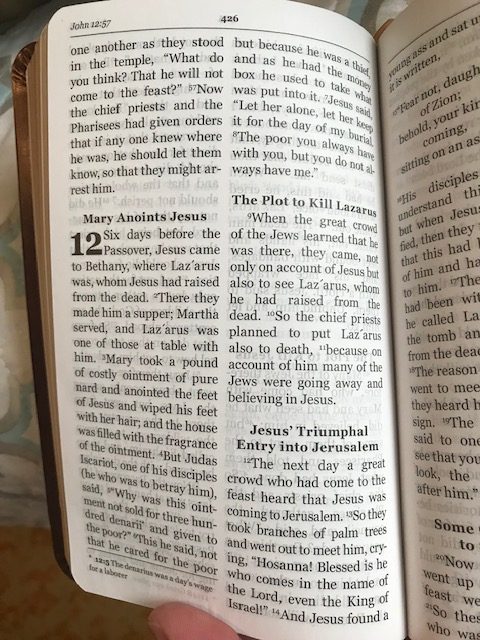 What makes this edition distinct is the inclusion of "special inserts containing prayers, writings from the saints, and more…offering even more tools for men trying to live a Christ-like life." I counted a total of eight sets of these inserts, which deal with the following topics: "The Catholic Man At Home", "The Catholic Man In The World", "The Virtues", "Scripture For Avoiding Vice", "St. Joseph The Just", "Angels, Our Protectors", "Wisdom From The Saints", & "Special Prayers For Men". Each insert set contains 12 pages of material contain prayers, quotes from the Scriptures, Saints and Popes, as well as advice and admonitions. I very much appreciated the section on St. Joseph, which has a number of helpful reflections, hymns, and devotions centered on St. Joseph. In particular, I appreciated the addition of the "St. Joseph Rosary" which is something I was not familiar with before getting this bible. I could see how these inserts could serve as a prayer starter or monthly reading for discussion in a men's group.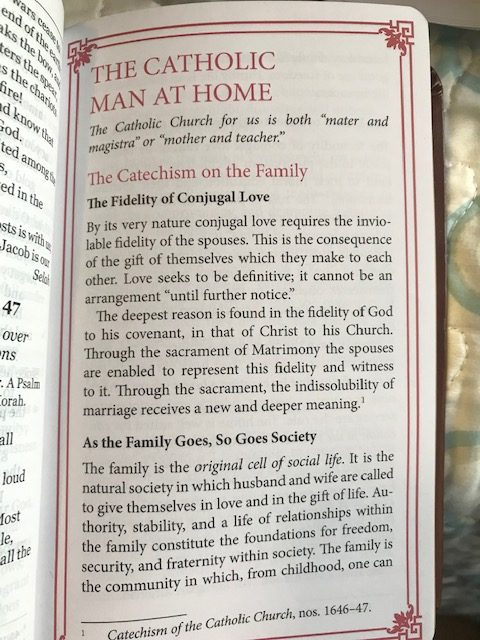 Overall, the New Testament and Psalms for Men would make an excellent Father's Day gift or as a text to use in a men's fellowship group. The added material provides some great quotes and reflections which enhance this highly readable edition. Minus my own caveat (the glued binding), it could serve as a traveling companion for many years. There are a number of "men's bibles" on the market geared to more of a Protestant audience. This might be the first Catholic one which can compare in quality and additional materials with our Protestant brothers.