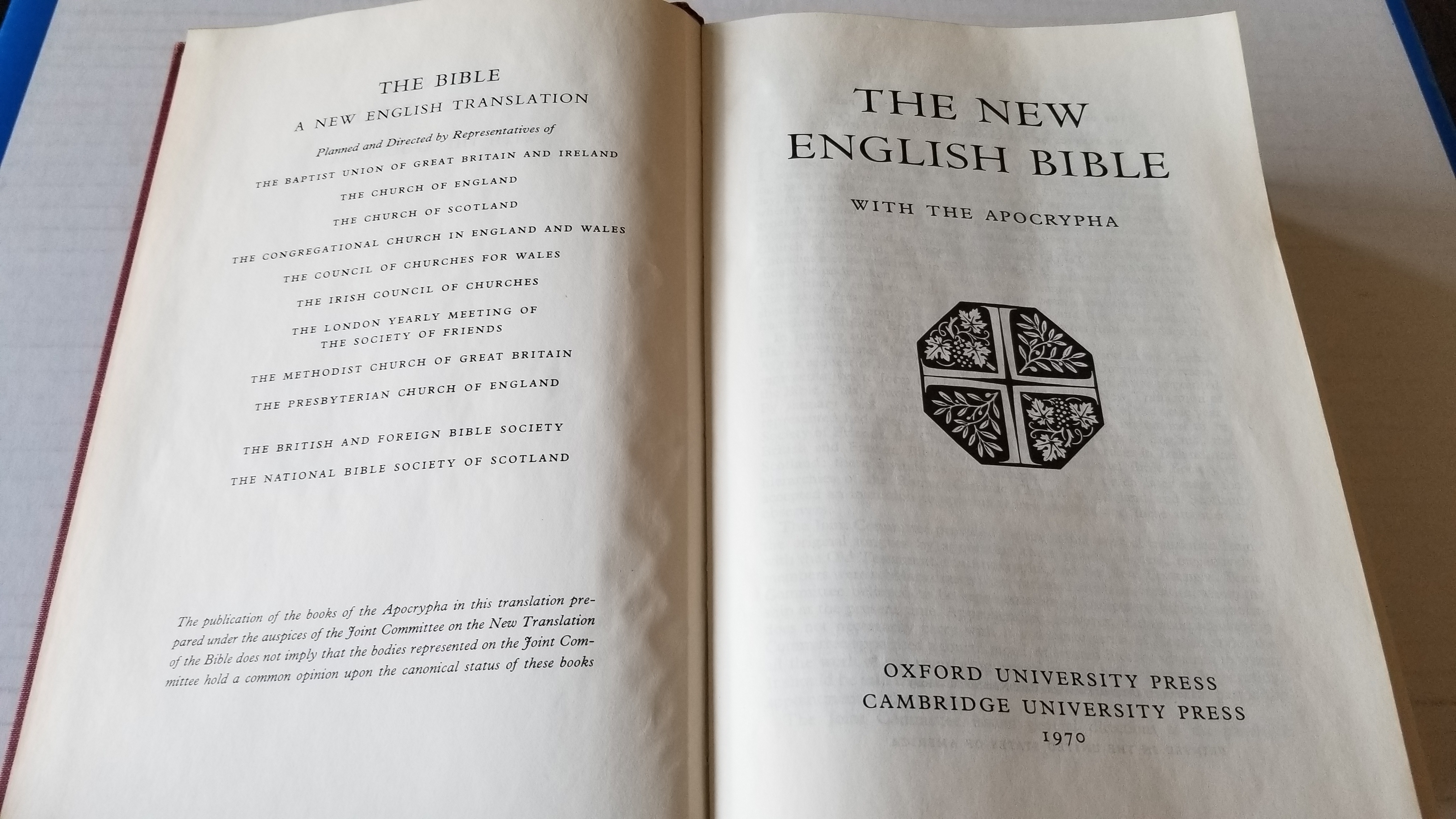 I was browsing the bible section of a used bookstore a few weeks ago and came across an exciting find: an old hardcover Oxford/Cambridge edition of the New English Bible (NEB) with Apocrypha. This is the first time I've laid my hands on a complete copy of the NEB, which was the precursor to my much beloved REB. The complete bible is no longer published in a single volume. The only edition still in print is a paperback edition in three volumes from Cambridge University Press.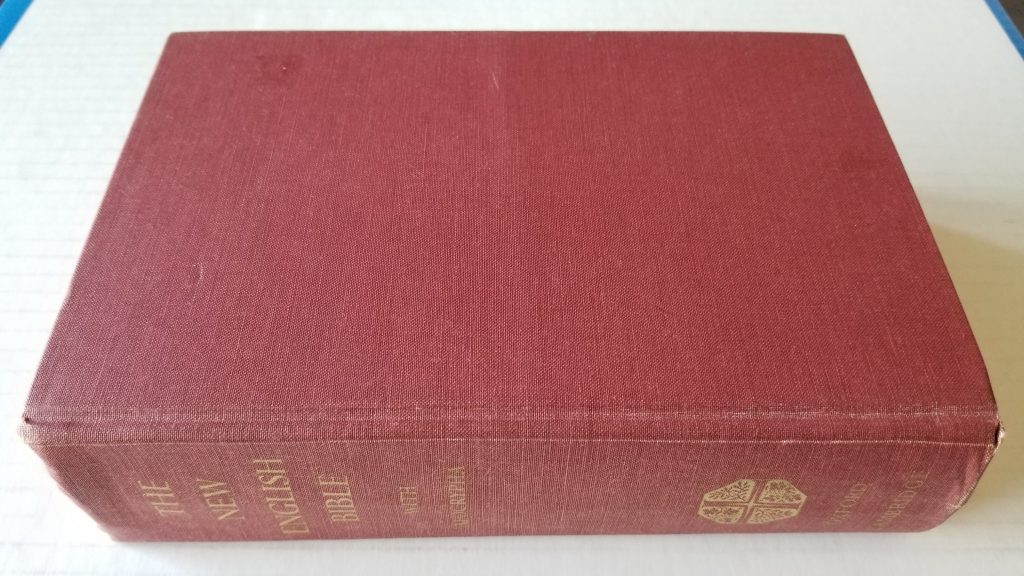 As a brief background, the process of translating the NEB began after World War II. At the time, the King James version was widely used in the liturgies and services of the mainline protestant denominations in the British isles. Regular churchgoers had little interest in a new translation, but church officials realized that many non-religious people struggled with the language of the King James version. A group of mainline protestant denominations commissioned a new translation which could introduce non-religious people to the Bible and help them understand the King James version better.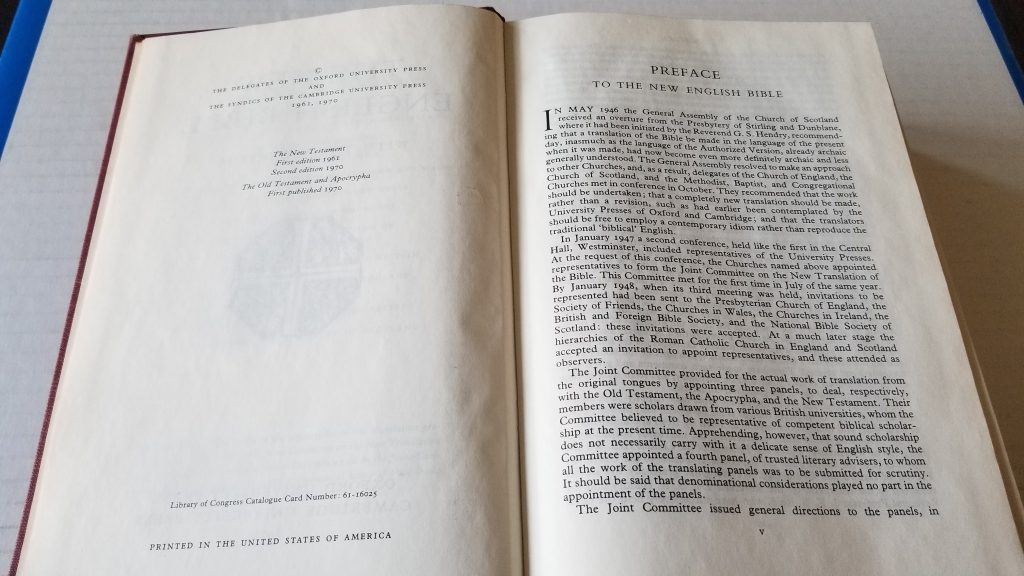 The end result was the New English Bible, which was published as a complete bible in 1970. The Catholic Churches of England, Wales, Scotland, and Ireland became involved in the joint committee sponsoring the translation after Vatican II, and selections from the NEB (along with a few other translations) are used for scripture readings in the Divine Office for Catholics in the British Isles.
The NEB uses the same convention for archaic language as the Revised Standard Version (RSV). All prayers addressed to God use the thee/thou archaic forms, but the rest of the narrative and dialog portions of the text use "you". The NEB was published just 4 years after the original Jerusalem Bible in Britain, and both editions featured a single-column text format.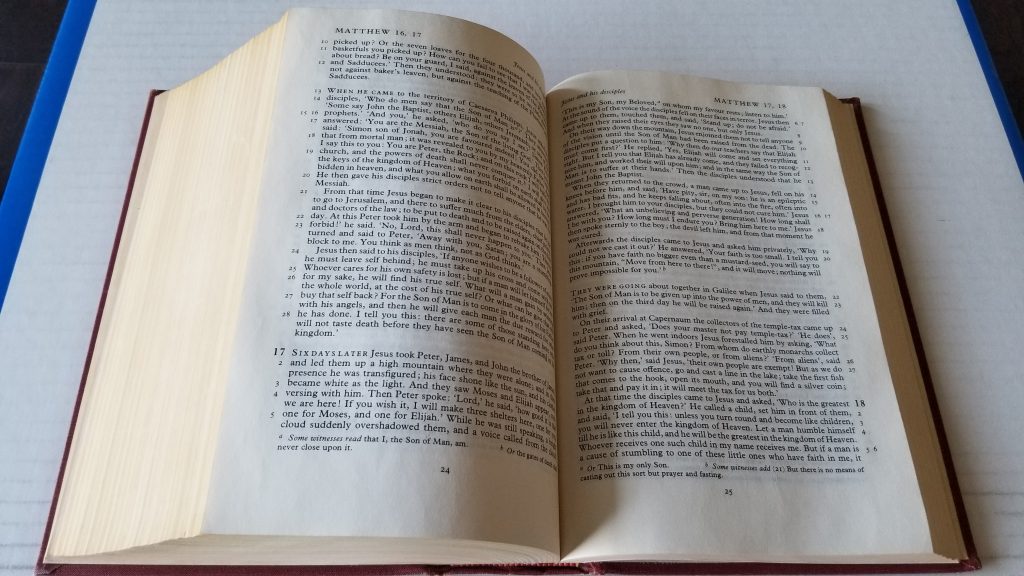 As I thumb through the pages of this old hardcover NEB, I really enjoy the single-column format. I'm often puzzled at the rarity of single-column bibles. They are thicker because single-column pages usually cannot fit as much text per page as double-column pages, but it's such a joy to read a single-column bible — especially in the poetic books.