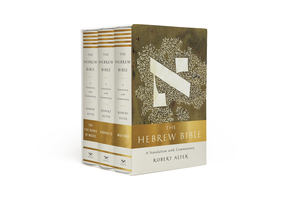 After a journey of more than 20 years gradually translating the books of the Old Testament, Robert Alter has completed his work. His complete translation of the Hebrew Bible along with commentary (not including the Deuterocanonical Books, some of which were written in Greek rather than Hebrew) will be released in a three volume set on December 4th. 
For anyone unfamiliar, Robert Alter is a professor of Hebrew and comparative literature at the University of California at Berkeley. In an interview with the Chicago Manual of Style Blog, he describes himself as "a literary person who happens to have the skill set of a Bible scholar, and as a literary person I read the Hebrew and see that much of it is fantastic, stylistically — wonderfully subtle prose, powerful, resonant poetry — and I think that the existing translations don't do justice to it because the modern translators don't look at the stylistic aspects of the Hebrew"
Alter criticized modern dynamic translations in the preface to his translation of Genesis, which was published in 1997. There, he wrote, "The unacknowledged heresy underlying most modern English versions of the Bible is the use of translation as a vehicle for explaining the Bible instead of representing it in another language, and in the most egregious instances this amounts to explaining away the Bible…Modern translators, in their zeal to uncover the meanings of the biblical text for the instruction of a modern readership, frequently lose sight of how the text intimates its meanings — the distinctive, artfully deployed features of ancient Hebrew prose and poetry that are the instruments for the articulation of all meaning, message, insight, and vision."
These reflections place him in a similar line of thought to translators like Rabbi Everett Fox, who published a new translation of the Torah in 2000. Fox placed a strong emphasis on trying to reproduce the spoken style of the Hebrew text in his translation. Another kindred spirit is John Hobbins, who offers insights on Hebrew translation on his blog Ancient Hebrew Poetry. 
I'm looking forward to this complete collection of Robert Alter's translations. The three volume set is currently available for pre-order on Amazon and ChristianBook.