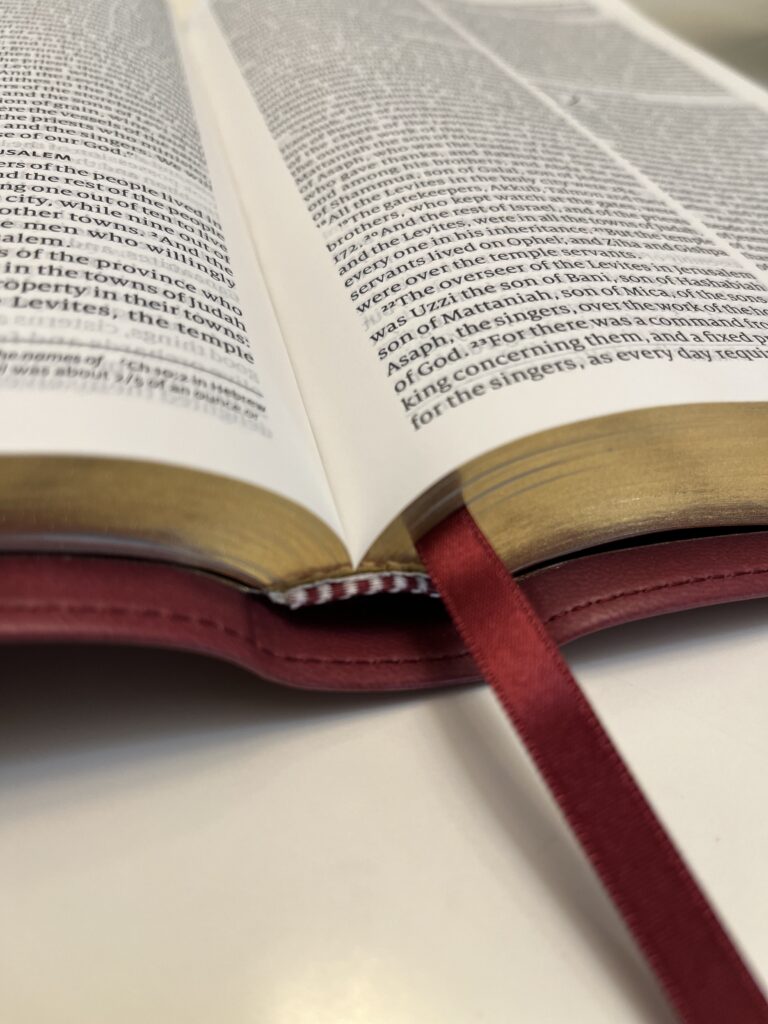 It seems we are amid a golden age of premium bibles that can be utilized and enjoyed by Catholics (and others) who prefer their bibles to contain the Deuterocanonical/Apocrypha. This is most notable in bibles like the Schuyler Quentel RSV w/Apocrypha and the Cambridge Diadem ESV w/Apocrypha. There are also some lovely editions of the NRSV, as well as NRSVUE, that are readily available in various editions and bindings containing the Apocrypha/Deuterocanonicals. Never has there been such an array of quality selections of the NRSV for fans of that translation to choose from. Even the RSV-2CE can be found in many different and exciting editions, though none of them would be considered premium. With everything going on in the world these past few years, including the disruption of supply chains, it is remarkable that a Catholic looking for a high-quality bible has so many options in 2022.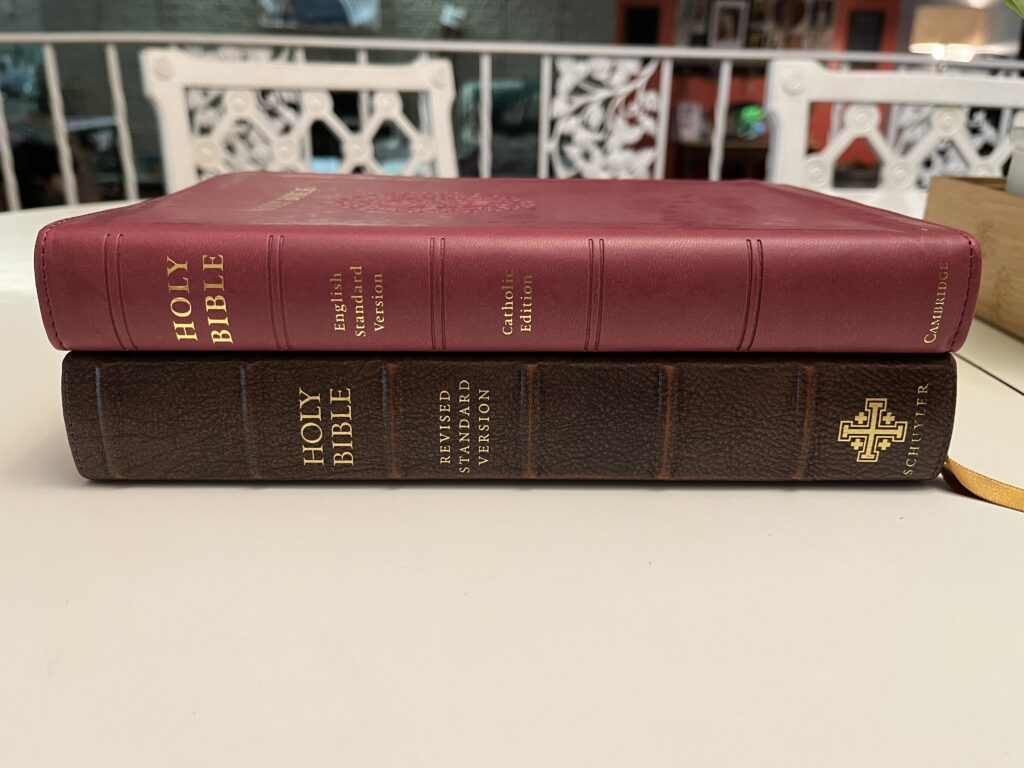 Enter Cambridge's ESV-CE Cornerstone Edition, which will be published in September. Available in two faux leather editions (burgundy and black) and a more premium black cowhide, Cambridge has now firmly entered the bible market for Catholics. My comments will be focused on the burgundy faux leather edition that I received as a review copy from the fine folks at Cambridge Bibles. As I comment on this edition, I will have a few of the more recent premium bibles in mind (Schuyler RSV and Diadem ESV), as well as the imitation leather ESV-CE from the Augustine Institute.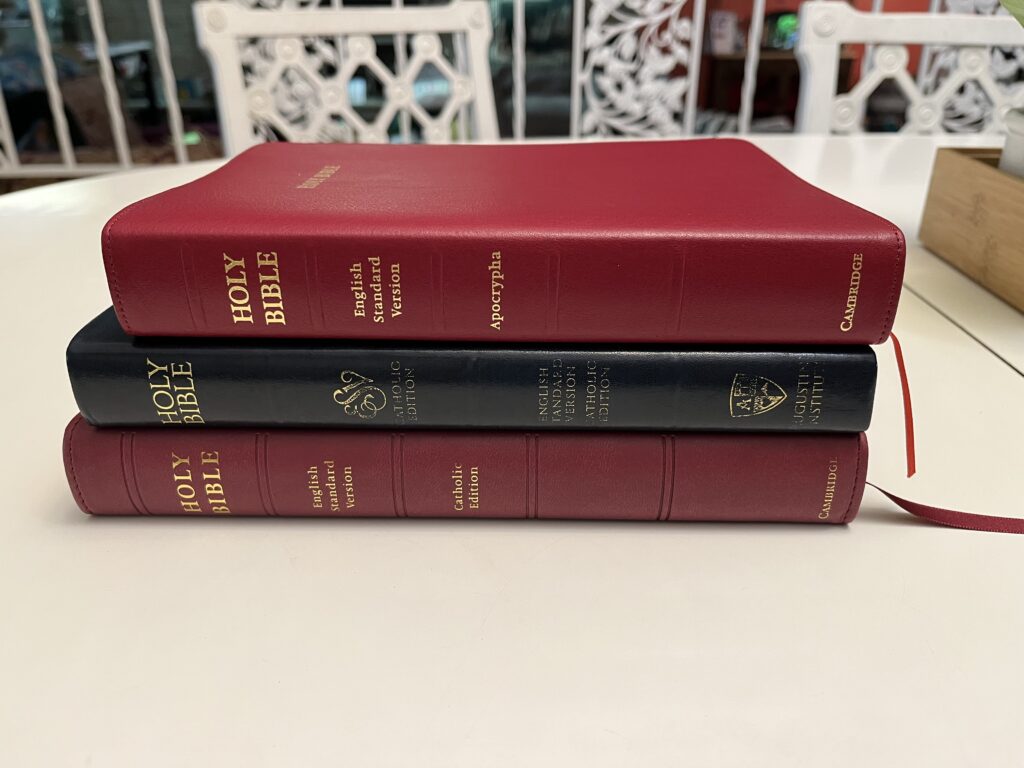 The Cornerstone is listed as a large format Bible. The size comes in at 6.89 x 1.46 x 10.16 inches, which is similar in size to the Schuyler RSV. When you open the Cornerstone, you will find that it indeed opens flat in almost any situation. Printed and bound by Lego S.P.A. in Italy, the binding is smyth sewn and has no issues being open to Genesis while laying on a table or sitting on my lap. After regular use, I am sure the flexibility will only increase. The faux leather is indeed smooth (as advertised) and the etched rose window on the front is a nice touch. The Cornerstone also comes with one ribbon (the cowhide edition comes with two), edge stitching, and the paper has gold gilt edges. Overall, the Cornerstone succeeds in presenting the reader with a traditional look and feel, while also being constructed in a way that will last. If you are not a fan of the faux leather, this bible would be an excellent candidate to have rebound or perhaps go for the cowhide cover.
The ESV-CE Cornerstone is typeset in 9.5 point Milo Serif font by 2K/DENMARK on a creamy colored India style paper. It is a very readable text, which those of you who have the SPCK editions of the ESVCE will instantly recognize. The page is line matched which minimizes most issues regarding ghosting. I know that several of you commented on the previous post that there appeared to be an issue with ghosting. I will say that, in person, it is not an issue. Almost all my bibles have some degree of ghosting. (I have provided a few pictures for comparison.) For many bibles, when you are in a section that contains more blank space, like in the Psalms, you will notice the back page a bit more. But I have been reading from this text in various settings and have not found ghosting to be a problem, say like those older HarperOne NRSVs from over ten years ago. The text is the Anglicized version of ESV-CE approved by the Indian Bishops Conference in 2017. It has also been approved for liturgical use by the Bishops of England and Whales, and Scotland. Unlike the Diadem, it is not red-letter bible, which I think most people will approve of. Along with the biblical text, you will find the standard ESV textual notes at the bottom right of each page. Overall, a very readable, comfortable text to read from in any situation. I love the Diadem ESV with Apocrypha (which is smaller), but I find reading from the Cornerstone to be a better experience overall. I will often read the bible to my kids at night as they fall asleep, which usually means the lights are dimmed. I have had no issues with reading to the kids with the Cornerstone in that situation, which I can't say the same for the Diadem.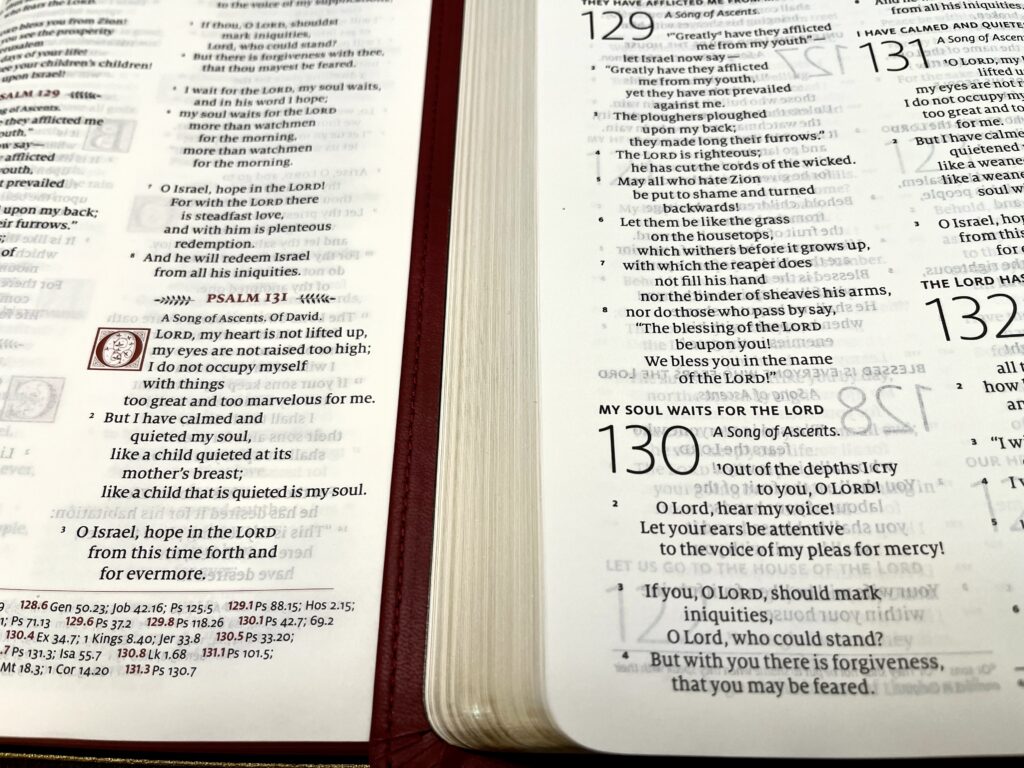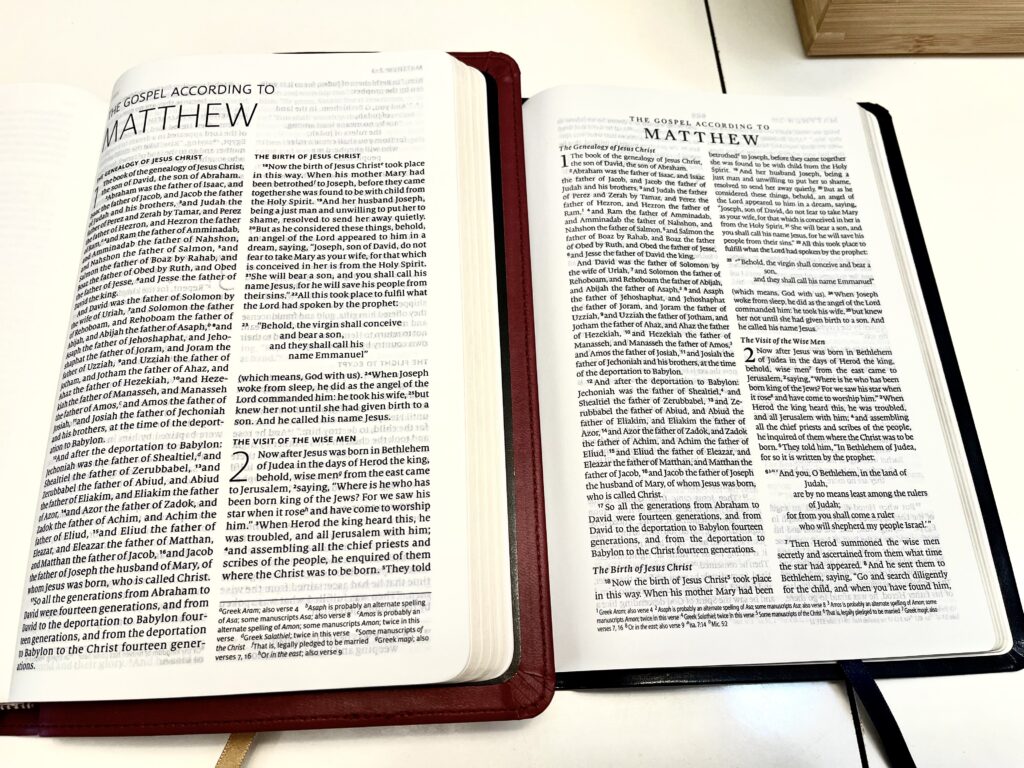 This is a text-only edition, hence there is not much in the form of extras. Outside of the introductory material about the ESVCE, all that is contained is a presentation page, a six-page family records section, a table of weight and measures, and twelve pages of grey scale maps. It is here that I am a bit disappointed with what has been offered in this inaugural offering in the Cornerstone brand. First off, unlike the Augustine Institute ESV-CE which contained cross-references to direct OT references in the NT, they are mysteriously absent in the Cornerstone. I don't know if that was due to a copyright issue or simply an oversight, but I was surprised to see them missing. Secondly, for the price of this edition, I would have hoped that full-color maps would be included. Perhaps I have been spoiled by the Diadem, but for a bible with a list price of $115.00 ($175.00 in the cowhide leather) I would expect something more than monochromatic maps. Even the bonded leather Augustine Institute ESV-CE (which I criticized when it came out due to its list price) came with a set of glossy color maps. It just seems strange to have such a nicely bound and printed bible to close with an inferior set of maps.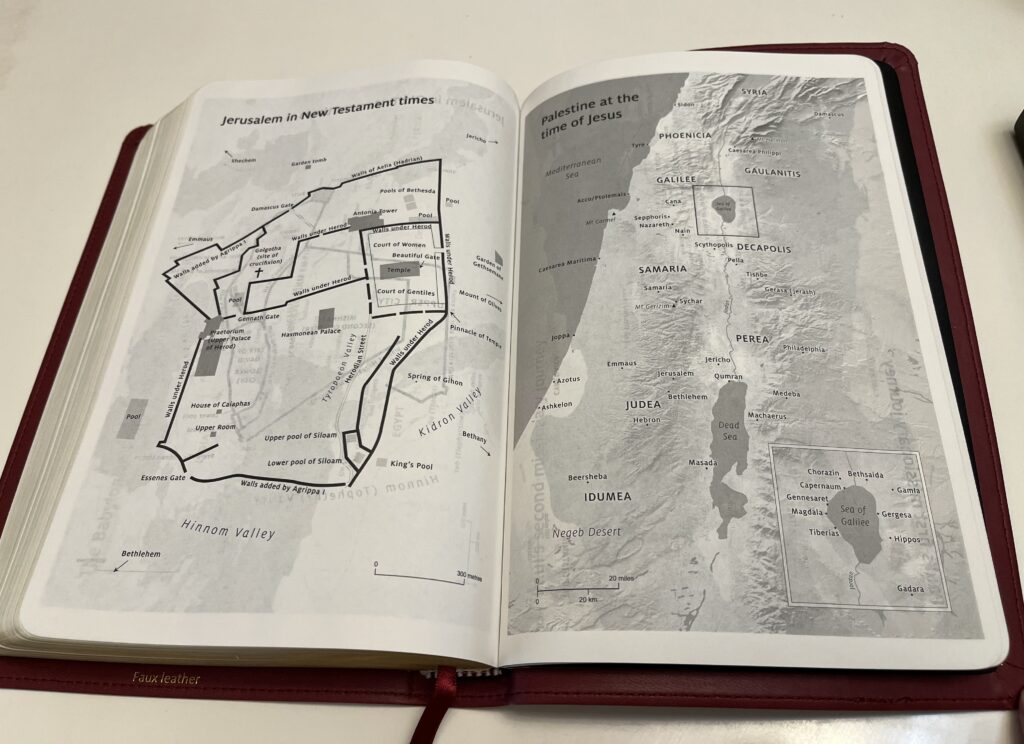 So, let me end with three concluding thoughts: First, I am grateful that Cambridge University Press has offered a high-quality Catholic edition of the Bible. I am not sure that has ever happened before in CUP's history. (Perhaps someone could comment below if I am forgetting something or am completely mistaken.) Either way, I hope this is merely the first of many offerings from CUP for the Catholic bible market. Secondly, in my opinion this is the best edition of the ESV-CE available today, even more so if you purchase the cowhide edition. The binding is solid, the paper has a nice color and feel to it, and the print is eminently readable. This is a bible that can easily become a daily reader that will last a lifetime. Thirdly, my only negative comment is that it feels like it could have been a level better if they had included those things which are found in most of their other editions. Perhaps I have been spoiled in recent months with the Diadem ESV w/ Apocrypha and the Schuyler RSV w/ Apocrypha (each of which is admittedly more expensive), but if you are asking people to pay over $100 for a bible in these days of high inflation, I would expect a little bit more regarding the little things that help to transform a high-end bible into a premium one.
With all that said, if you are eager for an ESV-CE that you can take with you anywhere, read in any circumstance, and keep as a constant companion along your spiritual journey, the ESV-CE Cornerstone is a great option. Even with the aforementioned caveat, I think this bible is well worth your consideration. My wife has already absconded with my edition and has made it her own. She loves it!
I want to thank Cambridge University Press for providing me a copy of the Catholic Bible ESV-CE Cornerstone in exchange for an honest review.