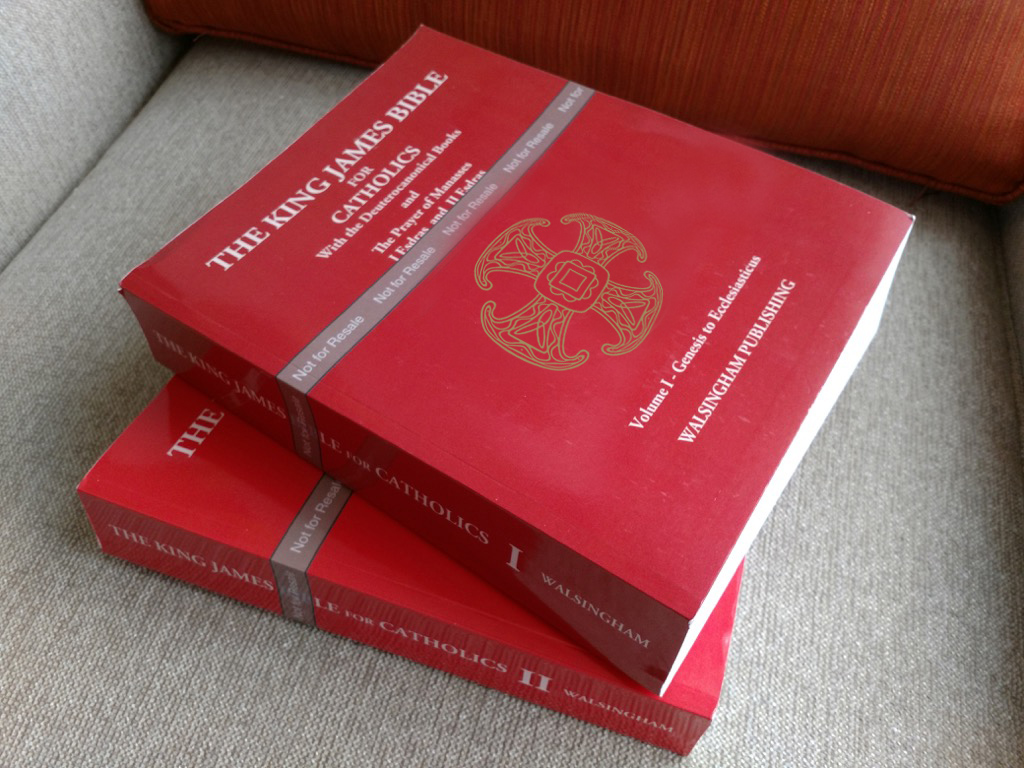 A reader shared this news with me by email a few months ago. MB's recent two-part post on the Coverdale Psalter reminded me of it. Last fall, Walsingham Publishing released a two-volume paperback edition of the King James Version (KJV) for Catholics, featuring the deuterocanonical books in their traditional Catholic order. The original KJV included the deuterocanonical books in a section between the Old and New Testaments, but many modern editions of the KJV omit them entirely, in keeping with recent practice in most protestant churches.
Walsingham Publishing's website includes a dedicated page for this two-volume Bible, including a wealth of background information and frequently asked questions. The original inspiration for this work was the establishment of the Ordinariate (which provides a Church structure for Anglican and Episcopal Christians to enter the Catholic Church). The King James Version has long been a traditional part of Anglican worship, and many converts continue to value its language and know its verses by heart. It also is quoted throughout the liturgical books which are used for worship in the Ordinariate. The introduction on the Walsingham Publishing site explains the importance of the KJV for the Anglican tradition, as well as the English-speaking protestant tradition more broadly:
For over 400 years, Anglicans and most English-speaking Protestants heard, read, marked, learned, and inwardly digested Scripture from the KJV. It was so well established among the faithful that when the modern translations began to appear, and were often favored by those in positions of power, the lay faithful often objected. The arguments advanced in favor of a more modern idiom, and that the KJV was no longer "vernacular," carried little weight.
This edition contains the 1611 KJV text with changes to spelling that were introduced in 1769. Very few modifications were made to this base text, most notably, "Jehovah" was replaced with "The Lord" in eight places to bring the text in line with the 2008 instruction from the Congregation for Divine Worship. Footnotes were also added sparingly.
This Bible has not received an imprimatur, but the publisher points out that the selections of the KJV which are used in the Ordinariate liturgy have already been approved. The FAQ also includes a table of many verses that have been criticized in the KJV, with a brief analysis of each one.
The two-volume set (here are Amazon links to Volume I and Volume II) is currently available for $33.90. An extensive preview of the text layout and typesetting is available here. The biblical text is laid out in two columns in paragraph format (rather than the verse-by-verse format which is used in many KJV Bibles). It also uses a very attractive modern font.