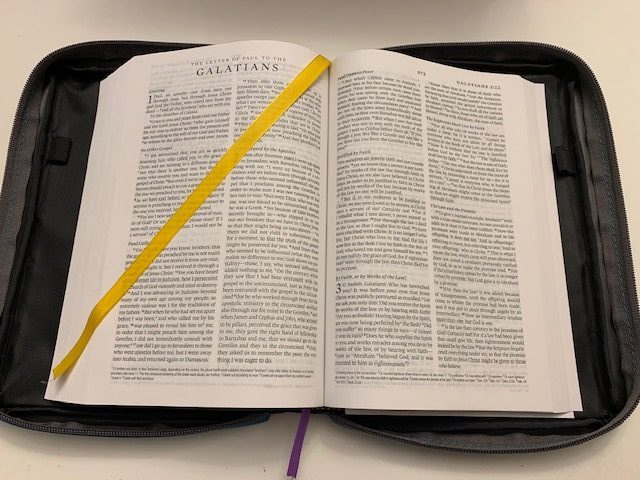 Sort of. Here is the thing, over the years I have been critical and somewhat bewildered by how some Catholics have become desirous of an ESV Catholic Edition. It is a reality now, and I would imagine there will be more editions of it available in the future. I have stated in a few places that I see no real advantage it has over the RSV-CE or NRSV-CE. I am, however, open to being proven wrong about it. Back when I was authoring The Catholic Bibles Blog I would occasionally do something known as One Bible, One Year at the start of a new year. I did this for a few translations and profited from the experience each time. I am in no way desiring to do that with any translation at this point, since I have very much enjoyed making the MSG-CE as a daily part of my morning prayer and devotions. However, I would like to supplement it with something more formal/literal for teaching and study. Earlier last month I had considered using The Bible for Everyone but due to its size and lack of Deuterocanonicals (Apocrypha) I have decided to pass on that one for the time being. So, that makes the ESV w/Apocrypha a good choice as my second Bible for this year.
I plan to use the ESV w/Apocrypha published by Anglican Liturgy Press, which I reviewed in July of last year. Some may ask why I don't get the newest ESV-CE edition published last month? The first reason is that I actually enjoy the hardcover Anglican Liturgy Press edition I already have. I also happened to have a nice Bible cover that fits it perfectly. Secondly, I can't justify paying $50 for a paperback Bible. If the Augustine Institute would like to offer me a review copy I'd be happy to make the switch! 🙂
Let me just say in conclusion that I hope to give monthly feedback on my experiences with the ESV w/Apocrypha. This will most likely take the form of comparisons with other translations and how it was received during a number of Bible studies I am leading. As I stated above, the MSG-CE is my main Bible for prayer and morning devotions, that is not changing anytime soon. But I do recognize that I am in need of a more literal/formal translation to use in other circumstances.
Blessed New Year to Marc and all his wonderful readers.